These Unique Celeb Halloween Costume Ideas Will Ensure You're Not Just Another Cat Costume In The Crowd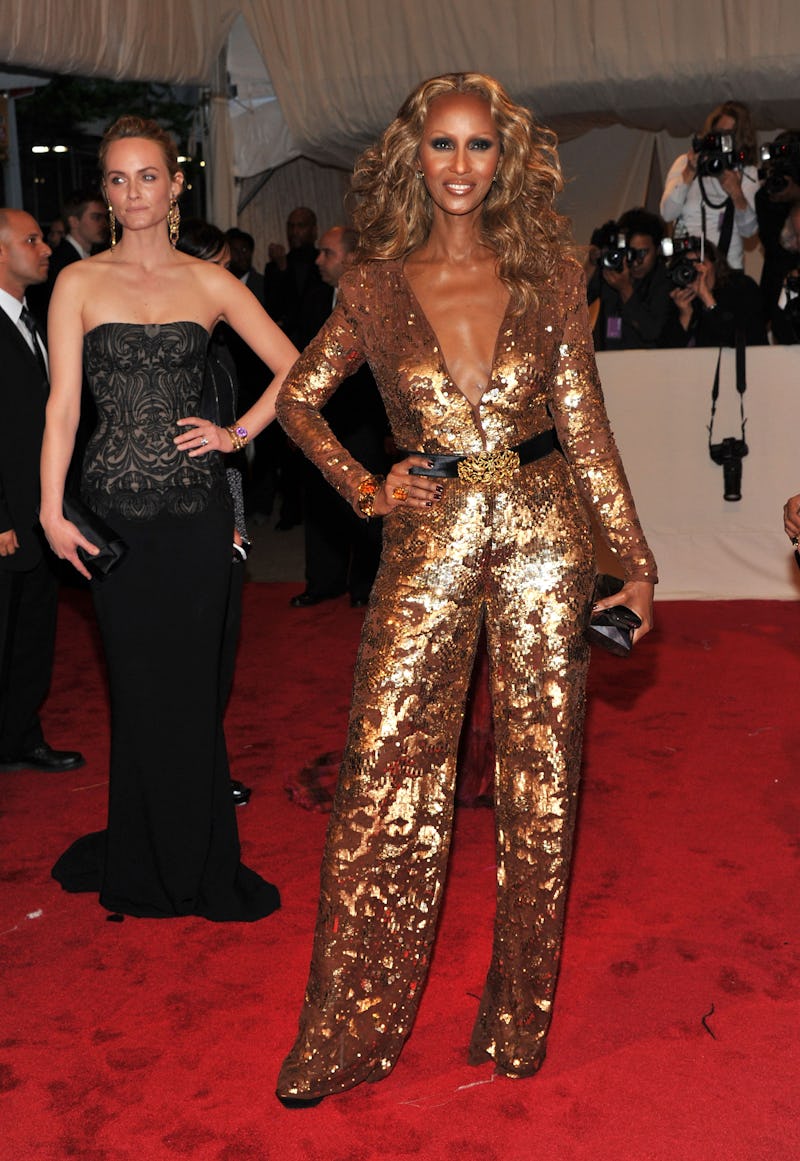 Stephen Lovekin/Getty Images Entertainment/Getty Images
When Halloween rolls around, some people turn to horror and gore for costume inspiration. But for me, the most exciting part of the holiday is that it offers an opportunity to try out an iconic, non-spooky style. I'm not about the scary stuff (and I'm sure I'm not the only one.) So, every October, I dig myself a pretty deep Internet hole, and go searching for the best celebrity looks to emulate for my Halloween costume.
From retro fashion looks, to free-spirited boho looks, there are so many styles to experiment with — especially if you're like me and wear mostly black everyday. Let Halloween be the one day that you let yourself really branch out. Try a style that's so unlike your own, your friends can't even recognize you. Try a look that's so not you, that it becomes a part of you after Halloween.
For instance: one year I wore a pair of glitter go-go boots and ended up actually incorporating them into my wardrobe. I basically used Halloween as an opportunity to test out something that I've always wanted to be cool enough to wear, and once I wore them, I felt like I could own it. So consider dressing up as a celebrity style icon this year who isn't afraid to wear what you are afraid to wear. Who knows — it might end up in your wardrobe, too:
Check out the entire 'What's Up, Boo?' series and other videos on Facebook and the Bustle app across Apple TV, Roku, and Amazon Fire TV.
Naomi Campbell
Red Blazer, $31, Shein | Gingham Dress, $25, Lindy Bop | Black Wig, $10, Amazon | Gingam Glasses, $6, Amazon | Gingham Shoes, $44, Romwe
Perhaps one of the closest thing to a living paper doll, Naomi Campell can pull off the wildest fashion and make it look totally tame and chic. Gingham on gingham? She nails it.
Sarah Jessica Parker
Bright Pink Coat, $23, Miss Guided | Silky Red Dress, $99, Yoox | Ankle Strap Royal Blue Shoes, $98, Macy's | Hat Box Bag, $65, Unique Vintage
You don't need a pair of Manolos to dress up as Sarah Jessica Parker. It's really more about the vibe. She's not afraid to mix and match, because the key is really confidence — OK, fine, and also an awesome pair of shoes.
Twiggy
Ruffle Shift Dress, $19, With Chic | Twiggy Boots, $90, Betsy Johnson | Sweater Tights, $16, Amazon | Disco Earrings, $70, Bluefly | Blonde Wig, $25, Amazon | Fake Lashes, $8, Amazon
Retro, doe-eyed fashion icon Twiggy has a look that's perfect for Halloween, because it's so identifiable. If you get it right, people will know exactly who you are.
Bella Thorne
Multicolored Wig, $21, Maykool | Ripped Jeans, $25, Hollister | Nose Ring, $4, Miss Selfridge | Choker, $29, Gilt | Mesh Top, $26, Pretty Little Thin | Adidas Beanie, $29, Yoox
Bella has made a name for herself this year with her rainbow, punk rock, unicorn fashion sense that she's not afraid to play around with.
Kylie Jenner
Oversized Band Tee, $19, Amazon | Adidas Pants, $35, PacSun | Steve Madden Furry Slides, $40, Nordstrom | Kylie Lip Kit, $29, Kylie Cosmetics
Kylie might be of of the only people in the world who can make a giant t-shirt look chic. If you want to be comfy this Halloween, this is your dream costume.
Kris Jenner
Black Wig, $19, Maykool | Black Faux Leather Bag, $43, Ebags | Black & White Flare Dress, $32, Shein | Strappy Heels, $35, New Look | Square Sunglasses, $37, Net-A-Porter
It's a little bit Coco Chanel, it's a little bit Karl Lagerfeld — say what you will about the woman, but she's definitely got a strong style going on.
Miley Cyrus
Ivory Cashmere Sweater, $70, Uniqlo | White Denim Shorts, $91, J. Crew | Brown Fedora, $56, Larose | Root Wig, $70, Etsy
Miley has taken on so many styles, and they all seem to be iconic. But my favorite is probably her most low-key: No one watched that "Malibu" music video and didn't decide they needed a new cozy ivory sweater.
Dolly Parton
Pink Denim Jacket, $80, Talbots | Glitter Jumpsuit, $37, Nordstrom | Blonde Beehive Wig, $50, Etsy | White Cowboy Boots, $88, Dolls Kill
Best known for her big hair, and big ... boots, Dolly Parton is one fierce force that makes pink look powerful and glitter look sharp.
Diane Keaton
Striped Blazer, $24, Shein | White Turtleneck, $48, Stylebop | Black Trousers, $30, Dorothy Perkins | Neck Scarf, $14, Etsy | Readers, $39, Eye Buy Direct | Floppy Hat, $6, Amazon
The queen of scarves and turtlenecks has a artistic and slightly androgynous style that's so iconic and, more importantly, so comfortable. It's also the perfect fall, metropolitan look.
Iman
Low-cut Dress, $90, Nicole Miller | Caramel Wig, $36, Maykool | Leather Belt, $40, Talbots | Bangle, $35, Talbots | Layered Choker, $14, With Chic
Known for her bold statement pieces, plunging necklines, and eclectic style, this caramel-tressed supermodel is a worldly force who can get away with wearing way more jewelry than anyone else.
Cindy Crawford
Flare Jeans, $50, Polo Ralph Lauren | Black Heels, $13, Pretty Little Thing | Crop Blouse, $32, Pretty Little Thing | Leopard Blazer, $85, Yoox | Cross Pendant, $44, Kohls | Quay Eyewear, $42, Amazon
This supermodel has a gift for making high fashion look laidback. Her effortless American style back in the day was worn-in and authentic looking.