Betsy DeVos Just Got Slapped With A Lawsuit For Killing Campus Sexual Assault Guidelines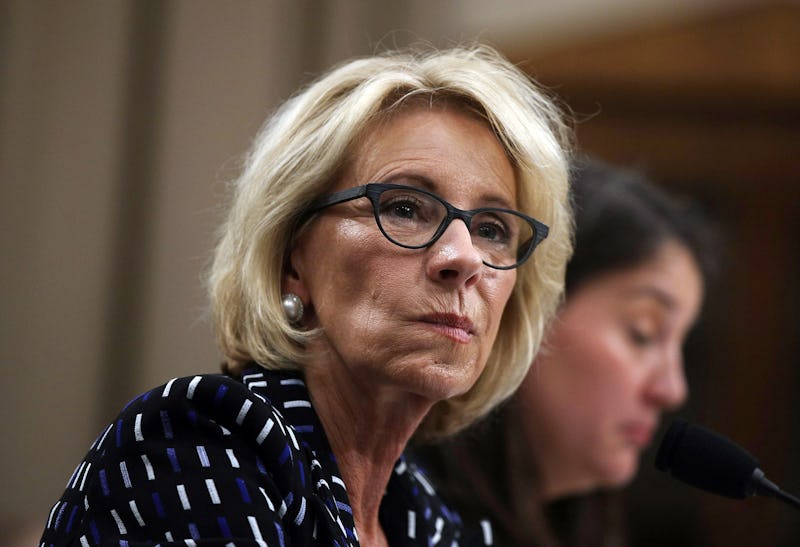 Alex Wong/Getty Images News/Getty Images
The Department of Education came under legal fire on Thursday after three civil rights groups announced it was suing Secretary Betsy DeVos for rescinding Title IX guidelines on campus sexual assault. The lawsuit was filed in the Northern District California court.
The three anti-sexual violence groups to sue DeVos are SurvJustice, Victim Rights Law Center, and Equal Rights Advocates. Several litigators will be representing the groups, including the National Women's Law Center, National Center for Youth Law, Equal Rights Advocates itself, and Democracy Forward Foundation.
In the collective complaint made by the three groups, SurvJustive said that DeVos' rollback of Title IX in September 2017 created a "chilling effect" on college campuses in addition to "confusion." The group added:
As an organization that provides direct assistance and referral services to survivors of sexual violence, SurvJustice's core mission and daily operations have been and will continue to be impeded by the chilling effect that the 2017 Title IX policy has had and continues to have on the reporting of sexual violence.
According to SurvJustice, there has been a "decrease in the number of sexual violence survivors seeking its services" on campuses while a lack of confidence has taken form in colleges after DeVos' rollback. Students have "questioned whether they should continue with their plans to report sexual violence given the uncertainty regarding their legal protections and an anticipated lowered likelihood of success created by the policy change," the group said. So far, neither the Department of Education nor DeVos have responded to the lawsuit. Bustle has reached out to the Department of Education for comment.
Due to the rescinding of Title IX, SurvJustice said that it had to "devote significant staff time to reviewing and understanding the 2017 Title IX policy in order to advise clients in ongoing campus investigations and advocate on their behalf." Having to do so led to a decrease in the time that the group could spend on providing legal services to clients, according to SurvJustice. Furthermore, SurvJustice said that due to DeVos' policy change, the group witnessed a "trend" in colleges not paying heed or responding to complaints made by students.
For both SurvJustice and Equal Rights Advocates, the issue of having to spend resources, time, and organizational labor on clearing confusion for students was a glaring problem. The Equal Rights Advocates group said it "had to divert staff time and resources away from core programmatic activities, such as litigating employment-related civil rights enforcement cases and cases involving Title IX enforcement that do not relate to sexual violence in schools" so that it could help students confused by DeVos' rescinding of Title IX.
Although DeVos rolled back the campus guidelines under Title IX in September 2017, it first appeared in the Education Amendments in 1972. Its basic purpose was to shield American students from sexual harassment and discrimination on campuses. In September, DeVos slammed the guidelines as biased against accused individuals, and said that it was a "failed system." She also called the proceeding that took place under Title IX "kangaroo courts."
After rolling back the guidelines, DeVos said that a "notice and comment" policy would be better for college campuses. In this kind of system, DeVos said that the investigating team on campuses "would incorporate the insights of all parties." There would also be a "regional center" that would work as a "voluntary, opt-in center where professionally-trained experts handle Title IX investigations and adjudications." From the looks of the lawsuit filed by the three civil rights groups, DeVos' "regional center" and "notice and comment" alternatives seemed to have failed their idea of a safe campus for students.