Betsy DeVos Was Asked About Trump's Chuck Todd Insult & Her Answer Just Didn't Cut It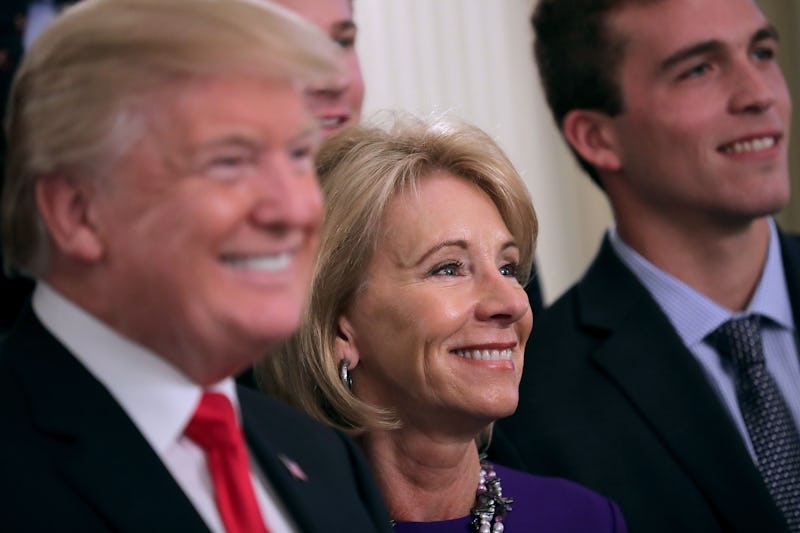 Chip Somodevilla/Getty Images News/Getty Images
While speaking on NBC's Today show on Monday, Education Secretary Betsy DeVos commented on Donald Trump using vulgarity at a Saturday rally. The Education Secretary said that she would have chosen different vocabulary, instead of obscenities.
On the show, Savannah Guthrie asked DeVos about the president using "son of a bitch" to describe the prominent journalist Chuck Todd, from the NBC network, and asked for DeVos' thoughts as someone "who's in charge of what our kids learn. "What do you think of that kind of language?" Guthrie asked. She then asked, "Would you wash someone's mouth out with soap?"
DeVos responded to Guthrie and said,
I would probably use different language myself. I think we all have an opportunity and a responsibility to be examples to our kids. That would include the president as well.
On Saturday, Trump issued a profanity-laced screed against NBC News' Todd while he was present in Pennsylvania during a rally. As he was speaking about former president Barack Obama's administration and its position toward North Korea Trump criticized the previous presidency for not being, in his opinion, aggressive enough against North Korea. He then mentioned "sleepy eyes Chuck Todd," who now hosts Meet The Press, and proceeded to call him a "sleeping son of a bitch" in front of the Pennsylvanian audience.
In response to Trump's profanity, Todd chose not to return the same language and told News4, "I bring my kids up to respect the office of the presidency and the president. I don't allow them to say anything negative, ever, about the president." He then added, "It creates a challenge to all parents when he uses vulgarities like that."
Other members of Trump's administration, like Treasury Secretary Steve Mnuchin, seemed to be comfortable with his choice words for media members as well as fellow politicians. During his Pennsylvania rally on Saturday, Trump called Democrat California Rep. Maxine Waters a "very low IQ individual."
In his address, Trump mimicked Waters and said, "You ever see her? You ever seen her? You ever see her? 'We will impeach him! We will impeach the president!' But he hasn't done anything wrong. It doesn't matter, we will impeach him! She's a low IQ individual. You can't help it. She really is."
When asked by Meet The Press' Todd on Sunday about the president's comments, Mnuchin told the host, "You know he likes to put names on people. He did that through the entire presidential election, including all the Republicans that he beat. These are campaign rally issues." He went on to say, "This is something that is [said] at a campaign rally and the president likes making funny names."
This isn't be the first time Trump chose to use colorful language while referencing other Americans. In October 2017, the president used the same words while speaking of NFL players who took the knee during the national anthem to protest police brutality in the United States.
At the time, Trump was in Huntsville, Alabama, when he said, "Wouldn't you love to see one of these NFL owners when somebody disrespects our flag, to say, 'get that son of a bitch off the field right now. He is fired. He's fired!'" Trump's audience cheered him on during this particularly intense bit of his speech. The president was indirectly referring to former San Francisco 49ers player Colin Kaepernick's symbolic protest.
With these examples in mind, it's not entirely a shock that Trump chose to use those particular words for Todd on Saturday. Perhaps with DeVos' comments on the speech, the president may consider using less invectives on air. But when fellow party members like Mnuchin think it's just the president "making funny names," it's hard to say if things will change for the better soon.