Here's How Betsy DeVos Is Rolling Back Campus Sexual Assault Protections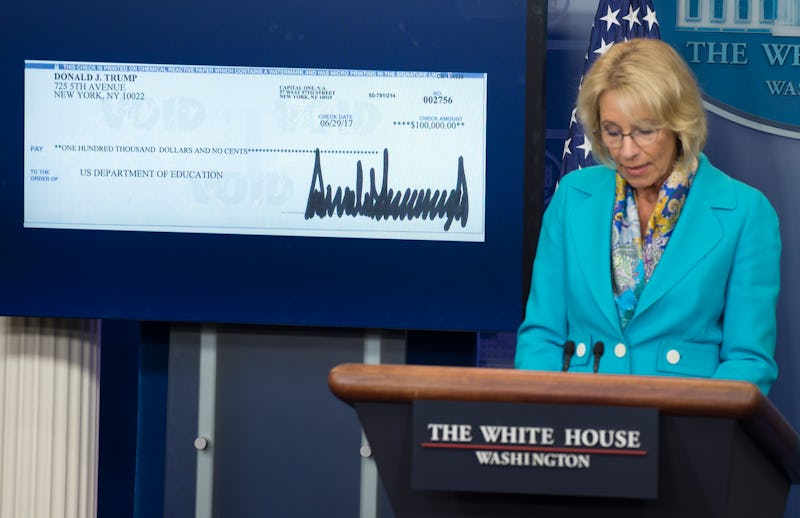 SAUL LOEB/AFP/Getty Images
On Wednesday, Secretary of Education Betsy DeVos announced that her department would be changing Title IX protections against campus sexual misconduct. DeVos said that new rules would be sure to consider those accused of rape or sexual assault appropriately, adding, "Every survivor of sexual misconduct must be taken seriously. Every student accused of sexual misconduct must know that guilt is not predetermined."
DeVos did not include many specifics on what these policy changes would be, but she did say that under her guidance, the Department of Education's Civil Rights Office would implement guidelines that require schools investigating alleged sexual misconduct to hold a "notice-and-comment process." The aim of that process, she said, would be "to incorporate the insights of all parties in developing a better way."
Without mentioning the name of former President Barack Obama, DeVos decried the Obama administration's 2011 policy that pushed colleges and universities to combat sexual violence on campus. "Instead of working with schools on behalf of students, the prior administration weaponized the Office for Civil Rights to work against schools and against students," DeVos said on Wednesday. Obama's policy, which threatened to restrict funding to schools that did not adequately investigate sexual assault, was criticized by some who said it encouraged administrators to infringe on the rights of the accused.
According to the Associated Press, about two dozen protesters assembled outside the George Mason University auditorium where DeVos delivered her announcement. The education secretary's policy speech also received significant negative criticism on Twitter.
"What would DeVos have to gain by turning back Title IX amid an epidemic that impacts 1 in 5 college women & 1 in 16 college men?" tweeted Amy Siskind, president of the advocacy organization The New Agenda, which strives to improve the situation of women and girls.
DeVos's decision to change the Obama guidelines is not unexpected, as she has made a significant effort during her tenure as Trump's education secretary to make sure that those accused of sexual assault are understood. DeVos has also been to criticize the Civil Rights Office's current policies as both insufficient and overreaching.
"No matter where we're coming from, whether you're a survivor, whether you're an accused individual, whether you're part of an institution charged with navigating these issues, it is not working right and well for anyone," DeVos told the Associated Press in July. On Wednesday, she echoed this critique, saying that Obama sexual misconduct guidelines created a "failed system" that "imposed policy by political letter."