Betsy DeVos Thinks Letting Teachers Carry Guns Could Actually Stop School Shootings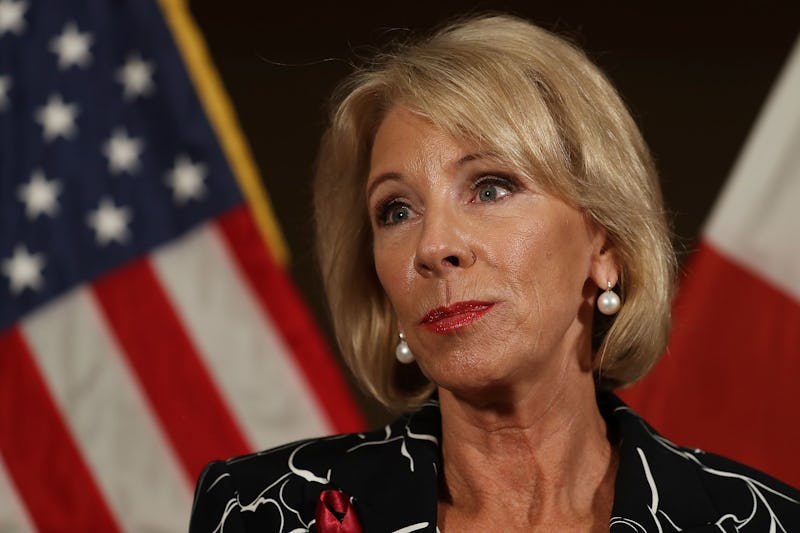 Joe Raedle/Getty Images News/Getty Images
This week, Education Secretary Betsy DeVos backed one of President Donald Trump's most controversial policy ideas to protect schoolchildren from mass shootings, and in doing so, put herself squarely in the middle of a national debate over gun safety reforms. Specifically, DeVos said that arming teachers "should be an option" to combat gun violence in schools, embracing a polarizing idea.
DeVos is no stranger to controversy. When she was first nominated to lead the Department of Education, the news was met with instant outcry and protest from Democrats and progressives, so much so that callers opposing her selection totally jammed up Capitol Hill phone lines. Throughout her more than a year's tenure, the department has made some controversial and scrutinized moves, including reversing the Obama administration's policy on universities handling sexual assault allegations, and scaling back its civil rights investigations.
DeVos backing the president's idea of arming teachers with guns, however ― ostensibly so that they can attempt to kill a gunman in an active shooter incident ― is new, and it comes in the midst of an ongoing national spotlight on gun violence. It's the result of last month's deadly school shooting at Stoneman Douglas High School in Parkland, Florida, after which many students who survived the attack have engaged in activism for gun control.
DeVos did not endorse the idea as a mandatory measure, to be clear, and she further argued that referring to it as "arming teachers" is an "oversimplification" and a "mischaracterization."
Here's what she said on Wednesday, during a press conference following her visit to Stoneman Douglas High School.
"The concept is, for those schools and those communities that opt to do this, as they have in Texas and as they have in Polk County and other places around the country, to have people who are expert in being able to defend, and having lots and lots of training in order to do so," DeVos said.
"I think it's a model that can be adopted and should be an option for schools, for states, for communities," she continued, as detailed by Politico. "But it's certainly not one that needs to be required or mandated for every community."
DeVos reportedly reiterated her stance in support of arming teachers ― albeit highly trained ones, or other deputized members of school staff ― in an interview with 60 Minutes that's slated to air on Sunday. The state of Florida passed a law on Friday tightening some laws regarding guns, like raising the minimum purchasing age from 18 to 21, but also allowing some school staff who meet certain specifications to be armed while on school grounds.
One potential arguement against arming teachers, often made by supporters of laws aimed at reducing the prevalence of guns rather than increasing it, is that teachers or trained members of staff can theoretically commit shootings or acts of violence too. Just last week, a teacher in the state of Georgia reportedly barricaded himself inside his classroom and fired a gun out the window; he was subsequently arrested by law enforcement, and nobody was harmed in the incident.
Trump himself has frequently raised the idea of arming teachers in the weeks following the Parkland shooting, as well as speculating that he would've personally run into the school unarmed to try to stop the shooter. A poll conducted this week suggests that a majority of Americans don't support the idea, with 56 percent of American adults disagreeing, 44 percent of them strongly. By comparison, 80 percent of Republican respondents supported Trump's idea of arming teachers, while a mere 11 percent of Democrats favored the idea.