Why Bette Davis' Other Daughter Wasn't Around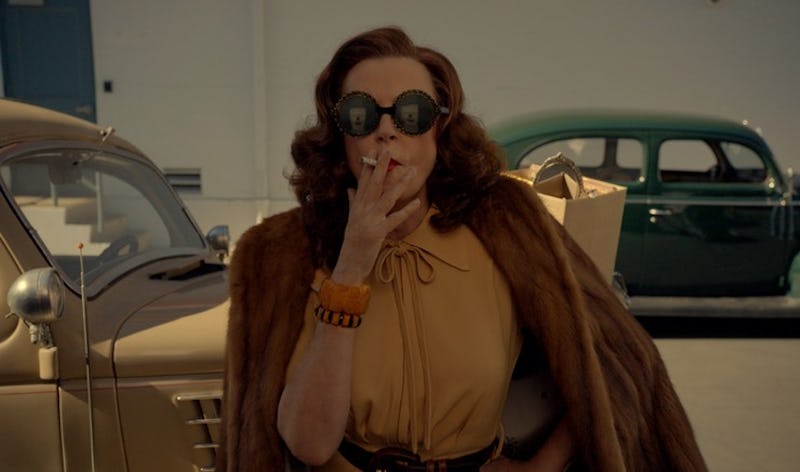 FX
In last week's episode of Feud, Bette Davis (played by Susan Sarandon) had a confrontation with her young daughter B.D. Hyman on the dramatized set of What Ever Happened To Baby Jane? But B.D. wasn't the legendary actor's only daughter. In real life, Bette Davis' other daughter, Margot Merrill, stayed out of the spotlight.
Margot Mosher Merrill was the adopted daughter of Davis and husband Gary Merrill. She was diagnosed with brain damage at age 3. Afterward, Margot received specialized at the Lochland School in Geneva, New York, according to the book Life at the Marmont by Raymond Sarlot and Fred E. Basten.
The brain damage impacted Margot's development. In Ed Sikov's book Dark Victory: The Life of Bette Davis, the film star said that Margot at 8 years old was in "all other ways, except for her size ... about four [years old]." According to the book, Davis described Margot to a magazine writer in 1959 saying, "She still deeply resents authority. ... She is still destructive. She cannot read. And she cannot write." The book detailed Davis' plan to bring Margot home once B.D. had gotten married and Michael went to boarding school, but Gary Merrill and Davis got a divorce and Margot continued to need ongoing care at Lochland — even though she did dream of having traditional life. Gary Merrill said, "She wanted to have babies, hold a job, get married — and she knows she can't."
But like most kids growing up at the time, Margot had "a passion for the Beatles," Davis said, according to Dark Victory. "John Lennon was her favorite. However, the children at school finally told her to stop talking about the Beatles or they'd never speak to her again." Margot would remain at the Lochland School until the mid-1960s, when Davis allegedly moved her daughter to live with several families over the years, located in Philadelphia, Pittsburgh, and Santa Barbara, California. When Margot reached her 30s, she would visit her mother often. "On one of her birthdays, I took her to New York and pulled out all the stops: nightclubs, theaters, the works," Davis wrote in her memoir This N' That, according to Dark Victory.
As close as the mother and daughter may have gotten, Davis left Margot out of something major. When Davis died of cancer at age 81 in 1989, the LA Times reported that Merrill, B.D. Hyman, and Hyman's sons were excluded from Davis' will, while adopted son Michael Merrill allegedly received about half of Davis' estate. It is unknown why Davis chose to exclude the others from her estate.