Bette Midler Wouldn't Be Played Off At The Tonys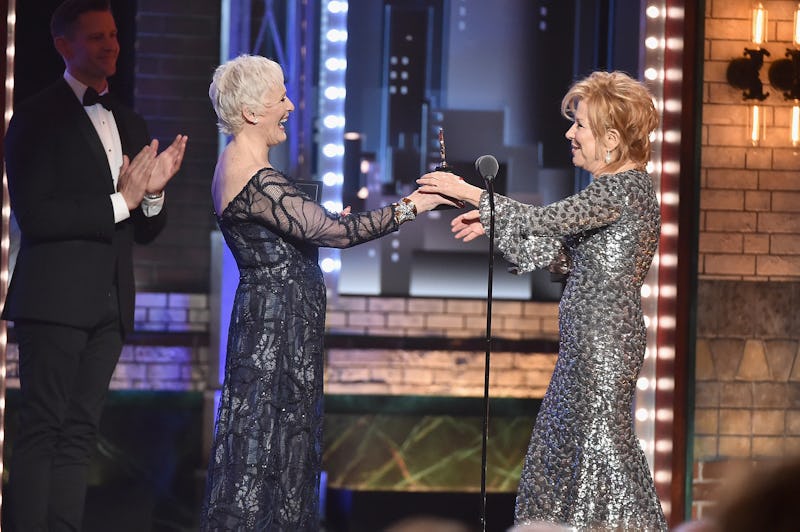 Theo Wargo/Getty Images Entertainment/Getty Images
Once a legend, always a legend, I guess — when accepting the award for best actress in a musical at the Tonys on Sunday night, Bette Midler refused to be played off the stage. She had an acceptance speech, dammit, and she wasn't going to let a little thing like being pressed for time and on a schedule stop her. The orchestra attempted to play her off, but she just wasn't having it.
For me, it wasn't a surprise that Midler won the Tony for her role in Hello, Dolly! If I have seen 10,000 commercials on my morning New York City local news for the musical, that's probably low-balling it. It's Bette Midler! Is there any other choice? Midler thanked nearly everyone on the show, including producers and every cast member (or maybe it just seemed like every cast member). She then thanked every member of the audience and went through the 12 days of Christmas, in order, every single verse. Okay, I kid. But it was a long acceptance speech, and since these shows, you know, usually run on a schedule, the Tonys tried to play her off. Spoiler alert: The Divine Miss M was definitely not having it. Here's how it went down:
While I get that she's Bette Midler and she's a legend and she should probably get a little more time to say her piece on her acceptance speech, she's not giving an address. This show is still on a schedule, okay? Some of us still have to go to bed, which means that no, Bette, you cannot go on and on about the meaning of the word "revival." Even host Kevin Spacey, dressed as Frank Underwood, made a joke about her thanking everyone at the end of the evening.
There's a time and a place for everything, and for that long speech, maybe the final moments of the Tony Awards wasn't the time.