Why 'Better Things' Season 2 Will Dive Deeper Than Ever Before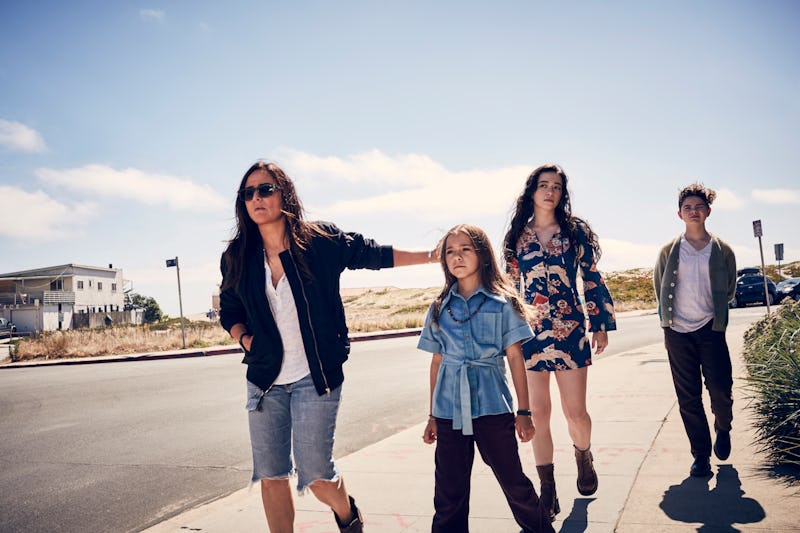 FX/Pamela Littky
Although it seems nearly impossible to outdo the realness of Season 1, Better Things goes even deeper in Season 2 thanks to co-creator and star Pamela Adlon. For the upcoming season of the FX comedy premiering September 14, Adlon took the reigns and directed all 10 episodes of the semi-autobiographical series about life for an actor who's a single mom of three. The Peabody Award-winning show hasn't lost its quirky yet realistic nuance, however, it's noticeably more serious in tone than its first season. At the recent LA premiere, Adlon explains how her determination as a director and storyteller allowed for a shift in deeper plot lines in the show's sophomore season.
Adlon confirms that while nothing in her personal life created the drive to portray more serious topics, she merely embraced the show's process in growing up. "We went deeper and we evolved and visited different characters," she says on the red carpet. "It was just more thought out and I got more confidence as a director and as a filmmaker."
Adlon takes her creative freedom to celebrate the beauty in uncomfortable moments. "I just like everybody to have real feelings and let the feelings happen and linger," the 51-year-old says. And she stands by her process and decisions. "I'm the most proud of this than anything I've ever done."
But, of course, as a female director she dealt with a fair share of skeptics along the way.
Adlon recounts the taxing, nonstop process of shooting Season 2 in 40 days, while directing and being a part of every scene. "I feel like I did Amazing Race and Survivor," she says at the event. The intense schedule raised some doubt. "'Ohhh, how are you going to be directing?'" people would constantly ask her. "The whole season? You're a woman. You're a lady. And you're doing all these things,'" she reenacts. "I was like, 'Should I be scared?'"
Fear or insecurity wasn't an issue for the 51-year-old, though. Her three real-life daughters provided for inspiration and an unparalleled support system. "Have you guys met my daughters?" she asks. "I am so inspired by them every day," she continues, tearing up.
Adlon reflected that same notion during a summer set visit, explaining to reporters, "The other training ground [for directing] is I'm a mother of three girls. Single mom. That is the biggest bootcamp for anything," she says. "That is such a sh*t show that this is nothing."
Watching her multitask on set, it's clear directing (like being a mom) is second nature to Adlon. "It's easier because everything is flowing through me, through this one fun lady. I don't have an email chain to have to go through, I don't have to wait for this person to weigh in," Adlon says.
Adlon says her co-creator Louie C.K. gave her pointers as well. "His advice to me would be like, 'Don't let people be dazzled by that. Get your shots,'" she says. Adlon, who scored a 2017 Emmy nomination for her role in the show, walks that walk and her vision remains clear.
"There's no message, I'm just trying to tell a story and be relatable and expose a part of myself and my friends and my kids and their friends — and share," she says on the red carpet. "Start a conversation for people to not be afraid to share."
Adlon not only handles the realistic material beautifully, but she embraces it. "It's just the way life is. It's not all clean and perfect," she says. Adlon's direction in Season 2 provides for even deeper meaning and a big, old dose of a reality audiences can further relate to.