Is It Finally Haruki Murakami's Year? Nobel Prize Betting Odds Put The Author Near The Top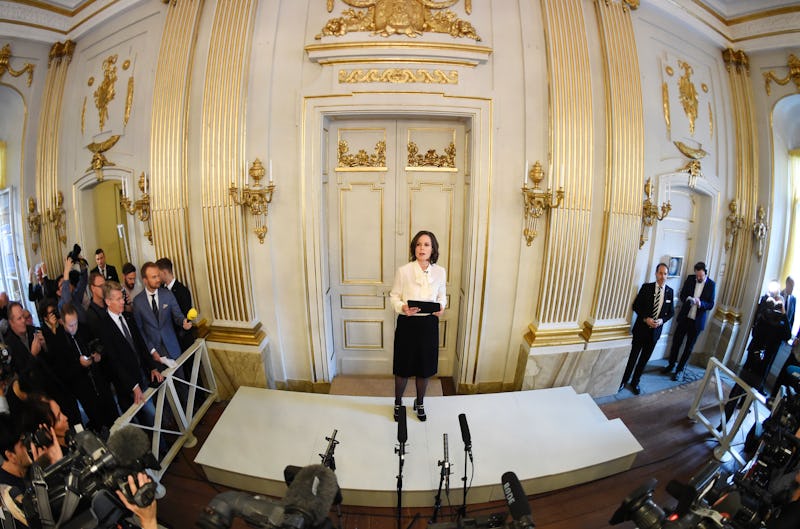 JONATHAN NACKSTRAND/AFP/Getty Images
For over 100 years, the Nobel Prize in Literature has been awarded to a writer for "the most outstanding work in an ideal direction," per the will of creator Alfred Nobel. Past winners have included Alice Munro, Orhan Pamuk, Winston Churchill and, uh, last year's dark horse, Bob Dylan. Given the recent shake-up - many wondered whether Dylan qualified for a literature prize, while Dylan himself remained silent on the matter for nearly a year - people have now started betting on the 2017 Nobel Prize. It's getting a little hot in here, don't you think?
Since its founding in 1901, the Nobel Prize in Literature, awarded by the Swedish Academy, has become one of the most prestigious prizes in the literary world, perhaps because it draws on a creator as a whole, rather than on one specific work. The perks of winning aren't too shabby, either: a nearly $900,000 cash prize, the acceptance of which is contingent on an original lecture, and bragging rights for all eternity.
Last year, Bob Dylan joined the hallowed ranks of literary superstars "for having created new poetic expressions within the great American song tradition." His win was considered an upset to multi-year favorite, prolific Japanese novelist Haruki Murakami. Murakami is once again on the supposed shortlist this year.
Both Ladbrokes and NicerOdds, two UK sports betting giants, have begun including literature prizes in their online offerings. Along with the Nobel, Ladbrokes is currently taking bets on the Man Booker Prize, awarded to the best original novel published in the UK and written in English. Also on the docket? The Turner Prize, a prestigious visual arts award. Over at NicerOdds, the Nobel Peace Prize and Time's Person of the Year are both in full swing.
In keeping with Nobel tradition, the announcement date for the Nobel Prize in Literature has yet to be set, although it will "probably occur" during the first or second week in October, according to the Prize's official website. On "a Monday" (yes, they are really this vague and yes, I think they relish keeping us on edge), a press release will alert the media to the official announcement, which will take place on the following Thursday at 1pm. The prize will be announced by the Swedish Academy's permanent secretary, Sara Danius.
In diving deep into the world of betting for this article, I've learned that folks are willing to stake money on just about anything, so long as they're teased with a nice reward. For all of you bookworms eager to wade into the betting world, keep reading for the top five Nobel Prize 2017 odds.
Oh, and if you like to live dangerously, there are currently six folks slated at 100/1: Karl Ove Knausgard, Kamau Brathwaite, James Kelman, Hilary Mantel, F. Sioni Jose, Don Patterson and A. S. Byatt. Who knows, you might get lucky. Really, really lucky.