I Never Expected Beverly Cleary's Books To Still Have Such An Impact On Me As An Adult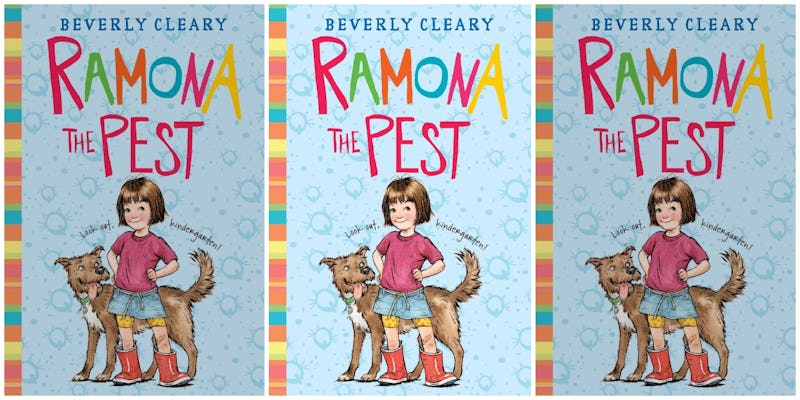 One of the most vivid memories I have of reading a book as a child is of an afternoon spent with Ramona the Pest by Beverly Cleary. I'm not sure exactly how old I was at the time, but I was likely around seven-years-old. But there is a clear image in my head even 20-plus years later of me sitting at my kitchen table, with the bright turquoise hardcover splayed open in front of me, completely enraptured by Ramona Quimby's continuing adventures. Ramona — and her creator, Cleary — are icons of children's literature for a reason, of course. Her tales of trouble-making, sibling relationships, and coping with the changes so many children go through (including financial struggles, death, and divorce) make her stories as relatable now as they ever were. In the mid-to-late '90s when I was reading Ramona's story, these were definitely topics that either my family, or classmates and friends' families were dealing with.
But even as I was reading Cleary's books — and as I grew older, more stories about spunky girls like Ann M. Martin's Baby-Sitters Club crew — and so many other girls like her, I didn't think much about how she would come to influence my personality. Because, well, I didn't really have to. As a kid, I wasn't exactly rebellious, and I didn't get into many scrapes, but I was bold and determined and, except where horror movies were concerned, unafraid. No one had ever told me I couldn't do exactly what I wanted to do and so I never questioned that I could.
And then I grew up.
Ramona the Pest by Beverly Cleary, $4, Amazon
You hear a lot of people talk about how turning 30 completely changed their perspective for the better, but as I edge ever closer to the big 3-0, I have found myself instead slipping farther away from those spunky girls on the page that I grew up with. With the world seemingly in utter turmoil at every turn, and the piling on of real-life adult concerns like career, money, and relationships, I have found it easier, lately, to be afraid rather than bold. To question my choices rather than jump in head first. To hold back instead of speaking my mind. To be more practical, to daydream less. And for Ramona Quimby, that just simply would not do. She was a known rabble-rouser, questioner of authority, adventurer, daydreamer and all-around bold little gal. They didn't call her Ramona the Brave for nothing, after all.
It was a chance rediscovering of a copy of that turquoise blue hardcover of Ramona the Pest at a local used book store that reminded me how much I related to Ramona as a seven-year-old little girl — and how much she could teach me now as a 29-year-old woman. And so I try to reconnect with that childlike awe of the world around me, even through all of the big, bad, scary things that can and will happen. I remind myself that daydreams keep up thriving, boldness is rewarded, and a little rebellion is never a bad idea. There is so much I have learned from my favorite childhood heroines — how to resist, how to find beauty in the every day, how to work toward my goals — but Ramona is still teaching the most important lesson of all: how to live a brave life, no matter what it throws your way.
As Cleary writes: "She was not a slowpoke grownup. She was a girl who could not wait. Life was so interesting she had to find out what happened next."