You Need To See Beyonce's Flawless Response To This Surprise Tour Malfunction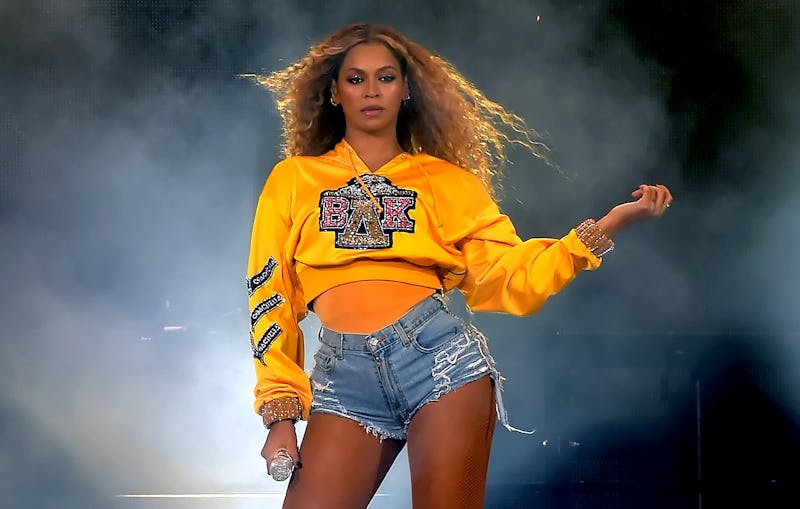 Kevin Winter/Getty Images Entertainment/Getty Images
Just when you think her lifestyle is out of reach forever, Beyoncé gets trapped onstage during her On The Run II tour due to a stage malfunction and has to come down the unglamorous way — quite literally reassuring fans that she's on our level. Or, in this case, stuck just 20 feet above it. Typical Beyoncé, doing it all for the BeyHive.
The incident went down in Warsaw, Poland, on Saturday, where the 36-year-old was performing for a stop on the On the Run II tour, on which we're told a little-known rapper Jay-Z has been performing as well. According to the Daily Beast, Beyoncé uses a flying stage during the finale — when it works, it's a cool effect that allows her to hover over the audience, gazing down at her dominion. But during this particular performance, the mechanism malfunctioned, and the Lemonade singer was stranded in the air with no way to dismount.
This being Beyoncé, of course, crew members quickly rallied to her assistance. The show stopped (as was already planned), but the band continued vamping for time while stage techs produced a ladder from backstage and leaned it against the platform. Twitter user and Beyoncé fan @onthegomez was at the June 30 show, close to the action, and the footage that she captured of the superstar waiting to be rescued is too real.
As she's made plenty clear during her career, in her lyrics, and with her actions, Beyoncé is an independent woman, used to doing things for herself. So having to wait around on a broken platform to descend a regular old ladder in high heels probably isn't how she was expecting to end her night. She's game for it, of course, playfully executing some dance moves and blowing kisses to her fans as she waits to ensure the ladder's safety, but standing there in her spangled bodysuit and thigh-high boots, she does seem to be delaying the inevitable in hopes that a better option will come along.
Just visible in the 18-second clip, there are five people trying to facilitate the exit from this aerial platform, not including the star herself, which is about five times more people than are usually onstage during a Beyoncé show. So it has to be pretty jarring. If you've ever gotten trapped in an elevator before, you'll recognize the body language that's happening here — it's as if the elevator door finally opened to a familiar place, the lobby of your building, except it's full of unfamiliar fire fighters all telling you what to do. Oh, and it's during a concert in front of hundreds of screaming fans.
In a longer video taken by a fan named Kuba Kuca, the crowd can be heard cheering their idol on, chanting, "Beyoncé! Beyoncé! Beyoncé!" to try to urge her down the ladder. The user captioned the "You can do this!" one fan shouts as the singer studies the ladder, seemingly looking for the best way to approach it. And after a few moments, all the encouragement seems to work. After a few missteps and with the help of many steadying hands, the Grammy-winner hands down what looks like a microphone, gets herself facing the right way, and carefully descends the stairs one by one.
And just like that, after about three minutes of video, the whole ordeal is over. The singer arrives safely on the ground, back at stage level, and strides off. Whether it's to do a post-concert ritual or remind the rest of the machinery onstage that she is its overlord is unclear. But with many more stops on OTR II still to come, these Polish fans may have already caught the most unexpected moment of the whole darn tour, along with a reminder that stars — they really are just like us.