Beyoncé Held Blue Ivy's Snacks At The Grammys & Fans Are Loving It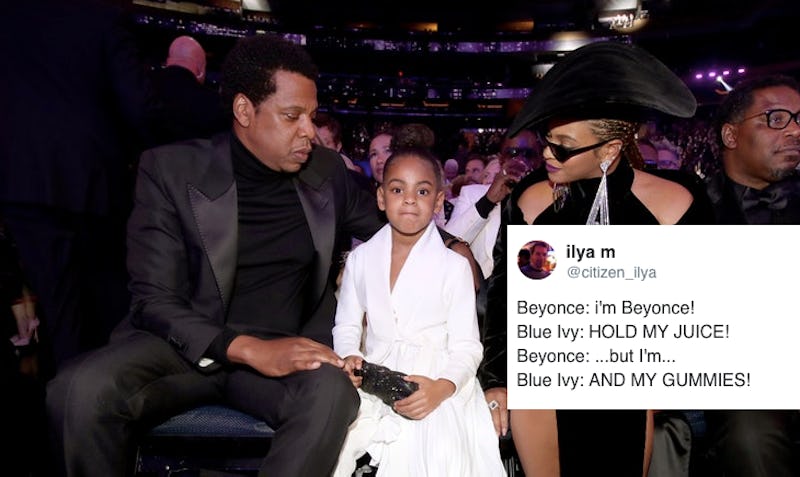 Christopher Polk/Getty Images Entertainment/Getty Images
The Carter family brought the glam to the 2018 Grammys to exactly no one's surprise. They also provided the world with some instantly meme-able moments. In one hilarious moment from the awards ceremony, Beyoncé was Blue Ivy's snack and juice box holder, as noted by Cosmopolitan. And Twitter is loving the Lemonade singer's new role.
Since the Grammys don't offer a dinner buffet or appetizers for its high-profile guests during the ceremony, it's not that surprising that the Carters would come prepared with some snacks for the lengthy show. It's also a totally relatable move from the uber-famous family. As evidenced by some fun photos from the show, Blue Ivy ate some snacks and enjoyed a juice box. The funniest part about the fam's snack break? Queen Bey herself served as the family's resident snack holder. In the photos, Beyoncé can be seen holding her daughter's juice boxes while Blue (and JAY-Z) snack away on some goodies.
This just reinforces what everyone already knew: Beyoncé is multi-talented and Blue's already a total icon. Who else could hold a juice box and look like such a glamorous vision in her Nicolas Jebran, Black Panther-inspired gown? And Blue is just enjoying her snacks and maybe making the Grammys re-think its lack of hors d'oeuvres. She's just being a six-year-old with her Beyoncé-held snacks, but how many six-year-olds are hitting up the Grammys and creating such memorable moments?
This fun moment comes after Blue caught attention for another action at the 2018 Grammys. During a speech from singer Camila Cabello, she appeared to shush her parents as they were clapping. Only Blue could ever get away wth shushing Beyoncé and JAY-Z at an event and look so cute while doing it.
Twitter went wild for the candid moment. And, once again, fans went wild when pictures of of Queen Bey holding Blue's snacks surfaced. Check out the best responses to the singer's new role.
It's Everything
Mike Sington, a senior executive at NBC Universal, pointed out that Queen Bey wore $6.8 million worth of diamonds at the Grammys and she still had to put on her Mom hat and hold her daughter's juice box during the event. Bey is truly an icon.
Kids Will Be Kids
One user hilariously noted that Blue does not care that her mother is basically the most famous woman in the world. When kids want their snacks, they want their snacks now.
Lemonade Feels
Another user made a hilarious joke about Beyoncé's song "Formation". Instead of hot sauce in her bag, it's full of Blue's snacks and juice boxes.
The Movie Purse
This user noted that the singer brought her "movie purse" into the Grammys, aka the bag that you bring to the theater full of snacks because there's no way you're paying for that overpriced popcorn and soda. Leave it to the Queen to always come to an event prepared.
Mama Beyoncé
These pics only prove that the "Single Ladies" singer knows how to go full Mama Beyoncé mode when she needs to. And this user said that Mama Beyoncé is her second fave — after Performance Beyoncé, perhaps?
"Light Years Ahead"
Another Twitter user said that Queen Blue is light years ahead of everyone for making her famous mom be her snack holder. Can't help but agree there.
This Hilarious Imaginary Convo
One user imagined this hilarious convo amongst the Carter family at the Grammys. Honestly, their take on the photo could very well be spot-on.
That's Real Parenting Right There
Another Twitter user said that Beyoncé and JAY-Z are showcasing real parenting here. They're not wrong. Having your mom sneak you something to snack on is only too relatable.
She's Still Waitin'
Can you imagine Blue calling her mother "Beyoncé"? Just thinking about her calling her that is lol-worthy.
Beyoncé's Face Tho
Beyoncé's face here, as she's caught in the midst of her snack holder role, is just so hilarious. This user also, rightly, calls Blue a "queen" for having her mother hold her treats. No lies detected.
The 2018 Grammys will go down in history as being one of the most iconic, if only for the Carter family's appearance at the show.