Twitter Actually Thinks Blue Ivy Threw Shade At Camila Cabello At The 2018 Grammys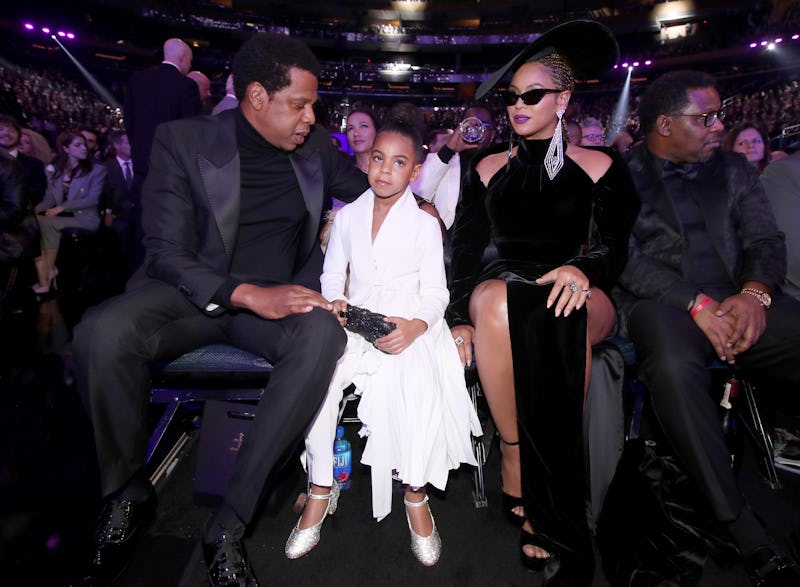 Christopher Polk/Getty Images Entertainment/Getty Images
Perched between her fellow music royalty on Sunday night, Blue Ivy Carter appeared to make a statement. As her parents applauded while former Fifth Harmony member Camila Cabello spoke onstage, Blue shushed Beyoncé and JAY-Z signaling them to stop clapping. Twitter users were quick to notice the moment, and they have some questions. It seems obvious that Blue is saying something to her parents, quieting them for some reason, but it's impossible to tell what she's actually saying. Those who think she's telling JAY-Z and Beyonce to hush seem to think it's due to Cabello's abrupt exit from her former group, Fifth Harmony.
There have been rumors swirling since Cabello's exit that the split from the other women in the group wasn't exactly friendly, and those rumors have only been further fueled and not all of it has looked great for Cabello. Fifth Harmony announced her departure on Twitter in December 2016 and said that the band members themselves found out she was leaving via correspondence from "her representatives." Cabello disputed that statement shortly after, sending out one of her own, saying that her bandmates were well aware of the decision she was making.
"I was shocked to read the statement the fifth harmony account posted without my knowing," she wrote. "The girls were aware of my feelings through the long, much needed conversations about the future that we had during the tour. Saying that they were just informed through my representatives that i was 'leaving the group' is simply not true," Cabello wrote in a statement she posted on Twitter.
Things didn't exactly get better from there. At the MTV Video Music Awards the following August, the remaining four members of Fifth Harmony took the stage for a performance, and seemed to toss a fake fifth bandmate off the stage during the song, according to USA Today. That's not exactly a subtle move. The women, however egregious the statement may have been, claimed that the move had nothing to do with Cabello. "We get asked all the time if we're getting a fifth member and we wanted to show the world in an artistic way that hey the four of us are Fifth Harmony," group member Ally Brooke told Good Morning America when asked about the show, according to People magazine. "And we're stronger and better than we've ever been."
According to Billboard, several sources reported tensions between the women in the group prior to Cabello's exit because she voiced a desire to break out as a solo artist, and that's exactly what she did. Cabello's song, "Havana," has been one of the top songs all over the charts since its release, so it seems Cabello knew what she was doing. Though no one truly knows what happens between the group's members, Fifth Harmony fans have tended to choose sides, and now it appears as even Blue Ivy isn't immune to getting in the middle of the Fifth Harmony drama.
Of course, it's entirely (and likely) possible that the 6-year-old was not trying to make a statement. Many other people on Twitter suggested that Blue was just trying to hear Cabello, and thought her parents were inhibiting her ability to do so. Or maybe she just didn't think their clapping was appropriate yet because Cabello wasn't finished speaking. Who among us has not shushed our parents because we thought they were being obnoxiously loud or embarrassing us by clapping too much? Of course, our parents aren't Beyonce and JAY-Z. It might be a little more fun to think this adorable child holds firm opinions about Fifth Harmony's split, but it could have been anything. One thing is certain — Blue may now exist on this planet as the only human who has ever hushed that power couple, and it was a sight to behold.