Twitter Thinks Beyoncé's Babies Will Save Us All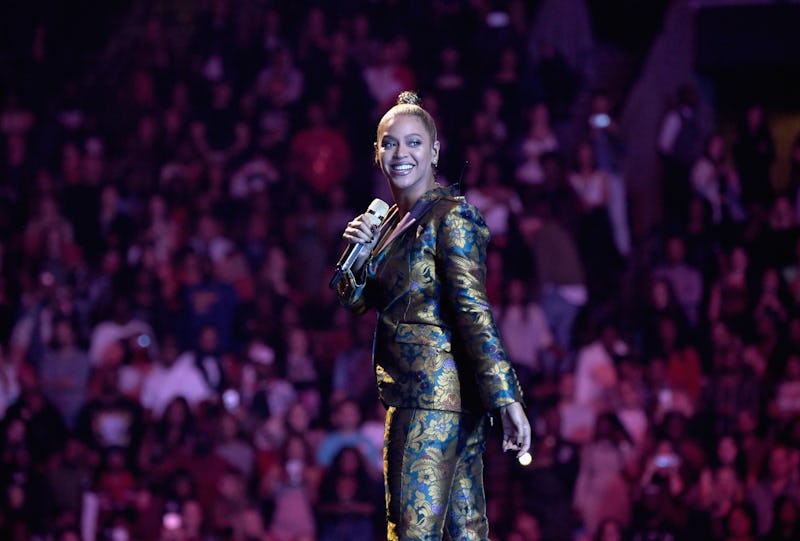 Larry Busacca/Getty Images Entertainment/Getty Images
Stop what you are doing at once. Beyoncé and Jay Z are expecting twins and Twitter can barely take it! Queen Bey chose to usher in Black History Month on the happiest of notes by posting a drop dead gorgeous photo of herself cradling her growing baby bump on Instagram, to which Twitter resoundingly replied, "Praise BEYSUS!" Fans reactions are ranging from shock and awe to 2020 election bids for the Carter-Knowles twins. Leave it to Mrs. Carter to "pull a Beyoncé" and break the internet as only the diva knows how — in a secretive, sleek yet chic, and always subtle way.
The "Run the World (Girls)" singer accompanied her photo with the caption: "We would like to share our love and happiness. We have been blessed two times over. We are incredibly grateful that our family will be growing by two, and we thank you for your well wishes. - The Carters." And with that, members of the Beyhive proceeded to lose their minds. Check out some of the most humorous tweets and figure out what kind of Beyhive tweeter you are!
The Fan Who Believes The Twins Will Save Us From Doom
The Fan Who Needed A Break From Politics
The Fan Who Already Gave The Twins A Greater Purpose
The Fan Who Got Poetic
The Fan Who Claimed The Twins As America's Own
The Fan Who Gave The Word "Twins" A Whole New Meaning
The Fan Who Made This Spot-On Pop Culture Reference
The Fan Whose Calls To Bey Were Answered
The Fan Whose Hope In The Universe Has Been Restored
The Fan Who Believes In Signs
The Fan Who Has Her Priorities Straight
The Fan Who Sees The Bright Side
The Fan Who Thinks The Twins Will Lead A Revolution
The Fan Whose Mental Health Was Improved
Congratulations to The Knowles-Carters, especially future big sis, Blue! I wonder if the twins will have equally colorful names? Whatever the case may be, the Beyhive is raising a glass of lemonade today!