The 'Dear Evan Hansen' Cast Had The Best Reaction To Meeting Beyonce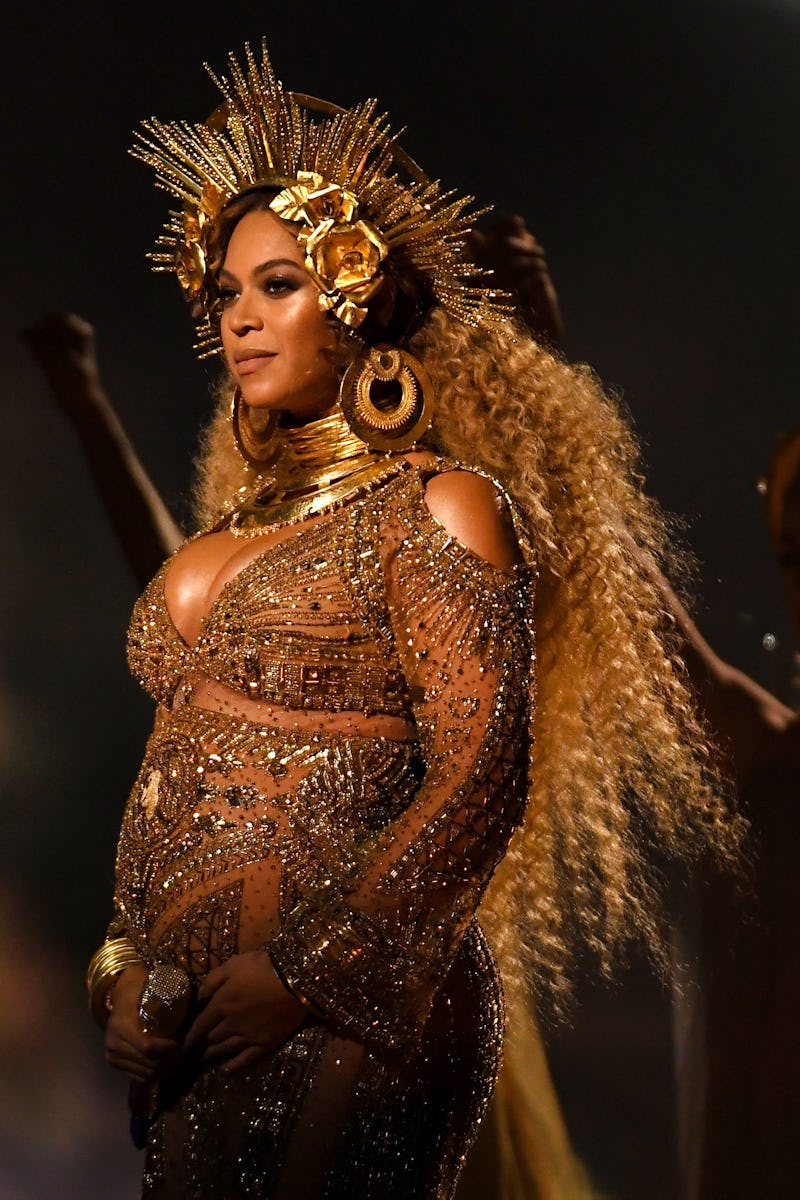 Kevork Djansezian/Getty Images Entertainment/Getty Images
Ben Platt and his Dear Evan Hansen co-stars may be have reached superstar status by starring in a Tony Award-winning Broadway show — but that certainly doesn't mean that they're above getting super emotional when they're in the presence of music royalty. Beyoncé surprised the cast of Dear Evan Hansen after their performance on Thursday night and, understandably, the show's stars reacted exactly how you'd have expected them to. Beyoncé posted photos from the night on her Instagram account on Saturday, Sept. 16, and they are amazing.
During a romantic night out in New York City, Beyoncé and JAY-Z took a trip to the Music Box Theater to see the highly acclaimed musical and, shortly after the show, the Lemonade singer made her way backstage to surprise the cast. Needless to say, the reactions from everyone are priceless. Ben Platt, who you probably recognize from his big screen role in Pitch Perfect, announced last month that he will officially end his run as the show's star in November, so it's a good thing that the singer got to see him perform with the cast a few months before his final show.
Laura Dreyfuss, who plays Zoe Murphy in the show, posted a photo of the cast huddled around Queen Bey alongside a caption that reads, "I'm not okay."
To be honest, who wouldn't totally freak out like that when meeting literal music royalty? In addition to posting about the exciting moment on Twitter, Platt also took to his own Instagram and posted a photo of himself while he and Beyoncé are in mid-conversation. Judging by his caption which reads, "The alien called me an alien and I'm no longer living," Queen Bey was probably giving him props on a good show. Seriously, what an honor. There probably aren't too many feelings that can top getting a seal of approval from Beyoncé.
And the reactions to the sweet surprise don't stop there. A short video posted to Kristolyn Lloyd's Twitter account shows the cast trying to pull themselves together once Beyoncé left the room, but it's very clear that everyone in the room was on cloud nine and it probably took a while for them to stop being emotional.
Beyoncé's series of photos from the night on Instagram feature a few snaps of her outfit, a gold off-the-shoulder top and a black miniskirt. One of the galleries she shared features the same photo taken of herself and Ben Platt having a chat. That comes right before a short video of Platt showing his appreciation for the singer as he sings that famous run she performs at the end of "Bootylicious."
Naturally, Platt expressed his excitement on Twitter.
This is only one of many romantic date nights that Beyoncé and JAY-Z have been spotted out on lately. After officially growing their family by two back in June when Beyoncé gave birth to twins Sir and Rumi Carter, the power couple is definitely showing the world how they keep their spark alive.
A few weeks ago, the pair turned heads when they went out for a night on the town. Beyoncé later shared a short video from the night to her Instagram page, in which she's seen posing in photos wearing a curve-hugging, red dress from House of CB.
Last week the pair made an appearance at Rihanna's star-studded Diamond Ball benefiting the ANTI singer's charity, the Clara Lionel Foundation. Beyoncé shared a few photos from her time at the event — including one of herself and Rihanna that fans still can't get over — and all of them were nothing short of flawless. The Queen sported an emerald green, silk gown with a slit on her left thigh while JAY-Z wore a navy blue suit.
Beyoncé's visit may have been a few days ago but it's probably a safe bet that the cast is still freaking out about it. I mean, it's Beyoncé.