There's Yet Another Reason To Love That Beyoncé & Rihanna Photo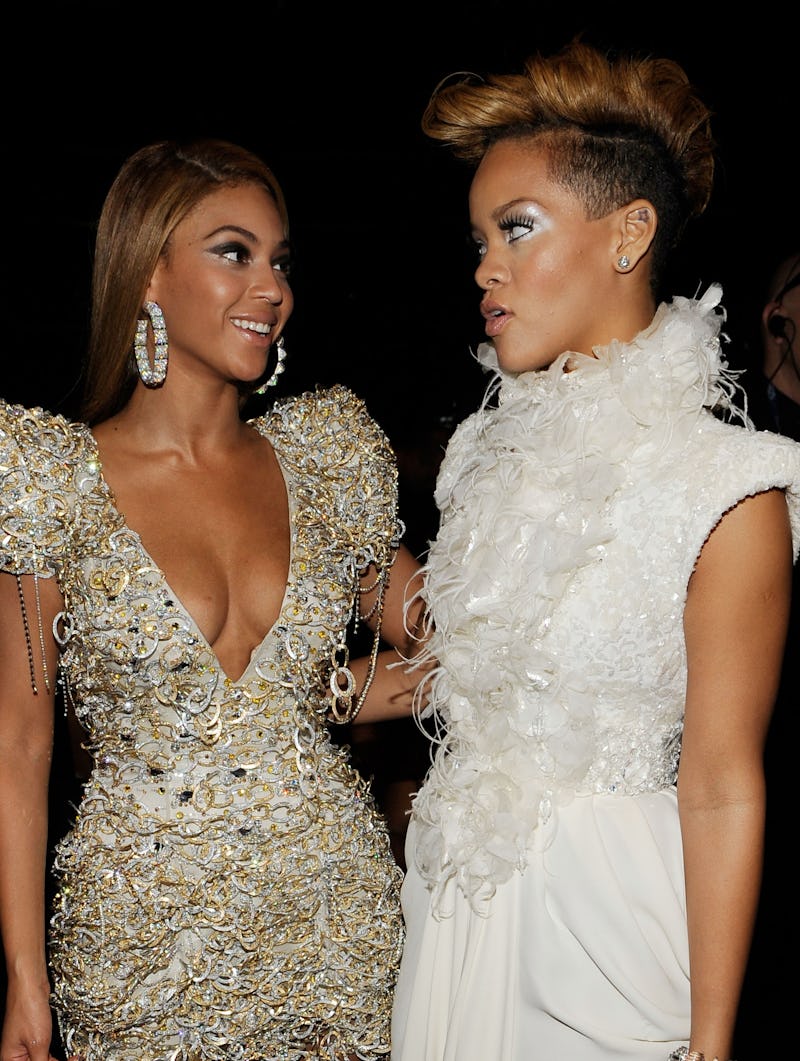 Larry Busacca/Getty Images Entertainment/Getty Images
Without a doubt, two of the most influential women in the music industry right now are Beyoncé and Rihanna. That's likely the reason why the internet collectively lost its minds when photos of both ladies posing next to each other at Rihanna's Diamond Ball were shared on social media. But that's not even the best part — not only did fans find joy in seeing the two superstars come together, but the pair was supporting an invaluable cause in the process. On top of that, the photos also reassured everyone that, despite past rumors of them not being on the best of terms, there really isn't any bad blood between the two.
Both artists attended Rihanna's star-studded 3rd annual Diamond Ball benefiting her Clara Lionel Foundation in New York City on Thursday night. The Clara Lionel Foundation is a non-profit organization that the ANTI singer created back in 2012 to provide children in impoverished communities all over the world with equal access to education. The glitzy event boasted appearances from JAY-Z, Cardi B, Future, La La Anthony, and Emily Ratajkowski, among many others. It was definitely a night for the books, because of the great cause everyone was supporting, and also because of the friendship between Bey and Rihanna that's currently making fans lose it.
Like most of the famous faces in attendance, Beyoncé shared a few photo galleries on Instagram from her time at the event, and one of them included a picture of herself and Rihanna, all smiles while sitting next to each other at a fancy dinner table. Later on, Rihanna shared the same photo of the two on her Instagram story, only she placed an emoji crown over Bey's head. It goes without saying that fans of both artists freaked out over this, mostly because of the presence of past rumors of a long-standing feud.
Plus, Beyoncé and Rihanna are rarely seen in photos together, which is why the photo caused such an uproar. Some fans couldn't do anything but appreciate the moment.
While others couldn't resist acknowledging just how rare this is.
Fans suspected at one point that their lack of socializing in public was due to a rumored affair between JAY-Z and Rihanna. However, this affair has obviously never been confirmed and likely never will be, as it's just a rumor that fans seemingly created purely out of speculation. Still, there's no denying how great it is seeing two talented female artists supporting each other, even if they aren't necessarily the best of friends.
Maybe these photos (as well as other photos the two have taken in the past) can finally put to rest the rumors of this imaginary feud. More importantly, fans are already begging for the singers to collaborate on a project, so maybe they'll finally get what they've been asking for for what feels like ages now. A Bey and Ri collaboration would be legendary, and it's long overdue.
There's no word on whether a collaboration would happen any time soon, and even if there is one on the horizon, it'll probably completely take the world by surprise, since everything Beyoncé has released in the past few years has been kept top-secret up until the big reveal.
So, for now, you'll just have this epic photo of these two to keep forever — and the only thing that could top that is a picture of RiRi with Blue Ivy and the twins. Dare to dream.