Cross Your Fingers About This Beyoncé Grammy News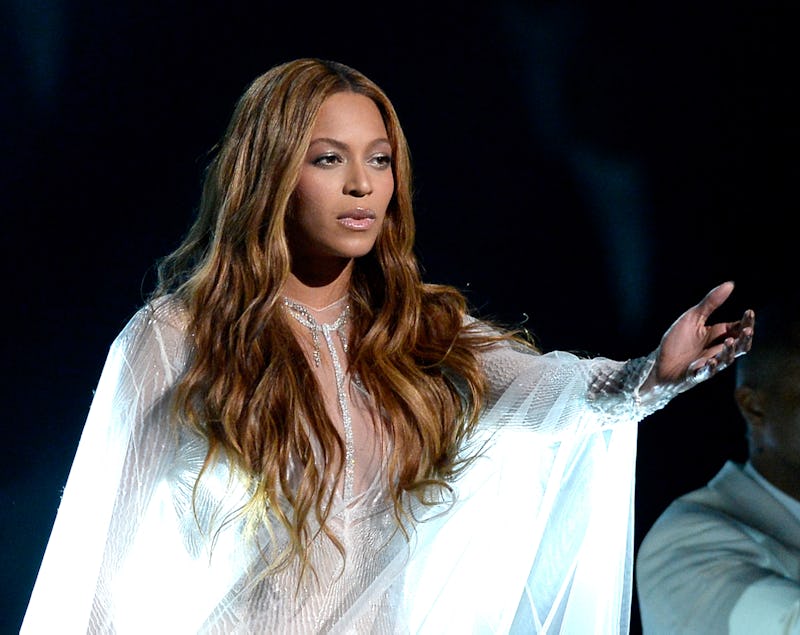 Kevork Djansezian/Getty Images Entertainment/Getty Images
Maybe you heard the news, maybe not. It's not like the announcement became Instagram's most-liked photo of all time or anything. (Just kidding, it did.) On Feb. 1, Beyoncé confirmed she is pregnant with twins. Hey, look! Some good news in 2017. Who would have thought? Now, to make things even brighter, a few sources are reporting that Beyoncé will perform at the 2017 Grammys. It's yet to be confirmed by both parties, but according to Entertainment Tonight, Bey — America's singing deity — will take the stage during the award show on Feb. 12. An award show in which Bey has been nominated nine times. Bustle has reached out to the Recording Academy and Beyonce's publicist for comment, but did not receive an immediate response.
ET reported that Queen Bey was seen "rehearsing" at "a secret location in Los Angeles, California" with a "glam squad, camera crew and her team of dancers all in tow." So, either she's getting ready to perform for the 2017 Grammys or we're getting a Lemonade Pt. II? Or neither, and we can all hang our heads and cry? And sing "Hold up, they don't love you like I love you" in unison? All of these questions and more are now worth pondering.
Even if the inevitable answer is, "Sorry, Bey won't be performing at this year's Grammys," one thing is certain: It won't be because of the twins. She performed at the 2011 Grammys while pregnant with Blue Ivy, so Bey can perform under many different circumstances. Pregnancy and sequined blazers included.
On behalf of her (growing) family, Bey penned the following message on Instagram:
We would like to share our love and happiness. We have been blessed two times over. We are incredibly grateful that our family will be growing by two, and we thank you for your well wishes. - The Carters
Unfortunately, after spending a few hours trying to dissect the message for secret codes, the post didn't elucidate anything further about Bey's alleged Grammys performance. But at least I tried. What are you doing for the cause?
If Bey did take the Grammy stage this year, she'd be joining the likes of Adele, John Legend, Bruno Mars, Metallica, Carrie Underwood, The Weeknd, Daft Punk, Alicia Keys, Maren Morris, A Tribe Called Quest, and Dave Grohl — to name a few. All those aforementioned names will have to hold tight though, since Bey and her reps still haven't confirmed the news. Until that actually happens — or until she surprises everyone on Feb. 12 — this is all hearsay.
I'm not saying that we need Beyoncé to perform at this years Grammy Awards. I'm just saying don't mess with the hearts of Beyhive. Because they will come for you. And though they might be unsettled at the uncertainty of this performance, here's a reminder specifically for them (and frankly, for everyone): Beyoncé will headline Coachella this spring. Sure, in four or five months, she will be significantly more pregnant, but this is not Bey (or her uterus') first rodeo.
If all else fails, at least we have Coachella. (That's a sentence I never imagined I would write.)