The Fan Tweets About Beyoncé Being In 'Lion King' Are Truly Next Level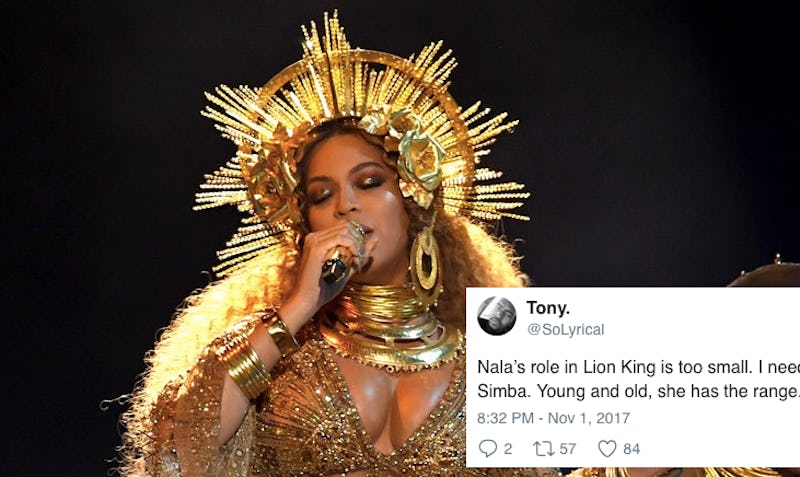 Getty Images/Bustle
There had been a lot of speculation about who would be part of the cast of Disney's latest remake, and now that it's confirmed, the truth is even better. It's official: Beyoncé will star in The Lion King as Nala, and the internet is freaking out. Of course, the cast includes a lot of other amazing actors, like Donald Glover, Seth Rogen, and James Earl Jones reprising his role as Mufasa, but honestly, can any living celebrity top Beyoncé? No. No, they cannot.
Of course, as soon as the news broke, Twitter lit up with excitement. People are thrilled that the Lemonade singer is going to bring Nala to life, especially with Donald Glover as Simba — and especially, especially because this means there's serious potential that her take on "Can You Feel The Love Tonight?" could end up on the soundtrack. There's so much nostalgia attached to these classic Disney films that remaking them, even with a new, more realistic CGI twist, can be a dangerous game to play with fans. But this time, few people are grumbling about it. How could Beyoncé ruin The Lion King? Beyoncé can only improve upon it, honestly.
Here are some of the best reactions to the exciting news. Is it summer 2019 yet?
This Tweet Is An Incredibly Important Reminder
If you want to use The Lion King as a metaphor for the United States as it is right now, it may offer you some comfort in these difficult times. In the movie, Scar gets eaten by hyenas while Simba and Nala bring new life and leadership into the world. It could happen in real life, too, since Beyoncé could totally save the day.
Some People Were Less Philosophical But Just As Pumped
There have been rumors that Beyoncé would be in the remake for months, but to see it finally official and confirmed? That's when it's finally safe to get excited, and that's exactly what happened to the entire Bey Hive.
There Are So Many Ways Beyoncé's Presence Will Change This Movie
Nala in the original movie is the kind of woman/lion who offers forgiveness. Beyoncé, though? Well, she may interpret the role of scorned lover a little differently. Simba is wrong, as any man is who would choose to leave Nala in the dust. You swing that bat, girl.
This Is Going To Be The Sweetest Thing
One of the coolest things about Beyoncé taking on a role like Nala is the fact that she's going to be part of a legendary movie all kids love — and it's quite possible that her children fit into that category, too. How cool would it be to hear their mom's voice in The Lion King? It's going to be special for the rest of us, but she actually gave birth to them.
The Potential This Has For Award Shows In 2019 & 2020
Oscars, Grammys... we already know that Bey is going to kill it, so this career move may actually be the one that seals her as the queen of the entire entertainment industry. What can't she do?
What Should Happen With Beyoncé In The Cast
So true! The original Lion King has far too little Nala for it to be sufficient for a star like Beyoncé. If she were Simba, she'd get so much more screen time. And maybe she could change the song to "I Just Can't Wait To Be Queen (Spoiler Alert: I Already Am)".
Simba's Reaction When Nala Shows Up
Same, honestly.
And These Tweets That Are Truly All Of Us
Move out of the way, kids. The real fans are coming through.
With Beyoncé in this cast, The Lion King is going to be even more epic than it would have been otherwise. It's going to be so exciting to see what she brings to the role of Nala... and, you know, watching the 30 other superstars in action, as well. But mostly Beyoncé.