Beyoncé Officially Joins The Star-Studded 'Lion King' Cast & It's OK If You're Freaking Out Right Now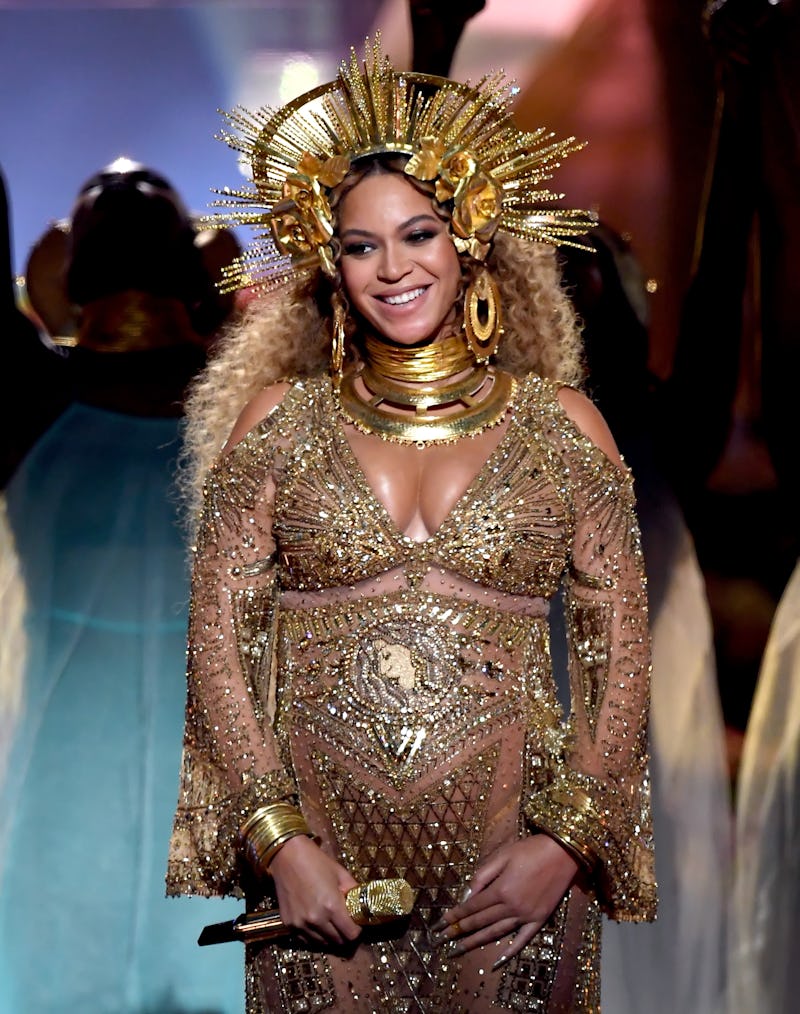 Kevin Winter/Getty Images Entertainment/Getty Images
As if the news of a Lion King remake wasn't enough to get excited about, just wait until you hear the cast list. On Wednesday, the full Lion King cast was announced, and yes, it includes Beyoncé as Nala. Rumors of the "Sorry" singer's involvement have been circulating since March, but this is the first official confirmation. She joins an already star-studded line-up, featuring Donald Glover as Simba and James Earl Jones reprising his role as Mufasa. The movie hits theaters on July 19, 2019, but chances are, you'll be wishing it was here already.
In a press release, Lion King director Jon Favreau said, "It is a director's dream to assemble a talented team like this to bring this classic story to life." And he's not wrong; in addition to Beyoncé, Glover, and Jones, the cast list includes Seth Rogen as Pumbaa and Billy Eichner as Timon. The Disney classic, famously a kid-friendly adaptation of Shakespeare's Hamlet, hasn't seen a full-scale adaptation since its 1997 Broadway debut. If they're going to remake a film as iconic as The Lion King, it's reassuring that veteran director Favreau (Elf, Iron Man, Monica's rich boyfriend that flies her to Italy for dinner on Friends) assembled the true dream team of performers for it.
The highlight of the new Lion King, of course, is that the cast is predominantly made up of actors of color. The Lion King is presumably set in Kenya, according to MentalFLoss, though that's never explicitly stated in the film. It explores the Kenyan wildernesses, follows animals that are native to the hills and plains, and most of the characters have Swahili names. Disney should have known that an overwhelmingly white cast was an odd choice for the original film. Ultimate '90s babe Jonathan Taylor Thomas voiced the original young Simba, with Ferris Bueller's own Matthew Broderick as teenage and adult Simba. (Hopefully, that helps you understand your lifelong crush on those guys.) Furthermore, though James Earl Jones famously took on the role of Mufasa, actor Jeremy Irons played Scar, Rowan "Mr. Bean" Atkinson voiced Zazu, and the list of white actors goes on and on.
It's refreshing to see actors of color in the majority of the new Lion King's roles. Hollywood historically struggles with inclusive casting, and manages to trip themselves up at every opportunity. That The Lion King cast so many talented, incredible performers of color of all ages is flat-out important. Plus, Beyoncé as Nala and Chiwetel Ejiofor as Scar. So, you're attracted to Simba and his evil uncle, now. Where is an old-timey fainting couch when you need it?
Every time you scan the cast photo Beyoncé posted to Facebook, it just keeps getting better. The legendary Alfre Woodard as Sarabi. Comedians Eric Andre and Keegan-Michael Key as Azizi and Kamari, who are likely the 2019 answer to 1994's questionably named hyena minions. (Banzai sounds just like Bonsai, which is Japanese, and Ed obviously doesn't make any sense as a name.) The preening Shenzi gets to keep her name, and will be voiced by Wonder Woman's Florence Kasumba. Seriously, this film! Even the comic relief seems like it was cast in a wonderful fever dream. Eichner, the loudest person in America, will ascend to the role of Nathan Lane's iconic meerkat Timon. His sweet, self-conscious pal Pumbaa will be voiced by Rogen, which is weirdly a role he seems destined for.
The Lion King won't hit theaters until Summer 2019, and that's a frightfully long ways away. Until then, fans can soothe themselves by imagining what Glover and Beyoncé might sound like in a duet. Actually, maybe don't do that. Eight bars of a Glover-Knowles-Carter rendition of "Can You Feel The Love Tonight?" is likely enough to make a person faint. No, it definitely is.