Yes, There's A Beyoncé Cameo On '4:44'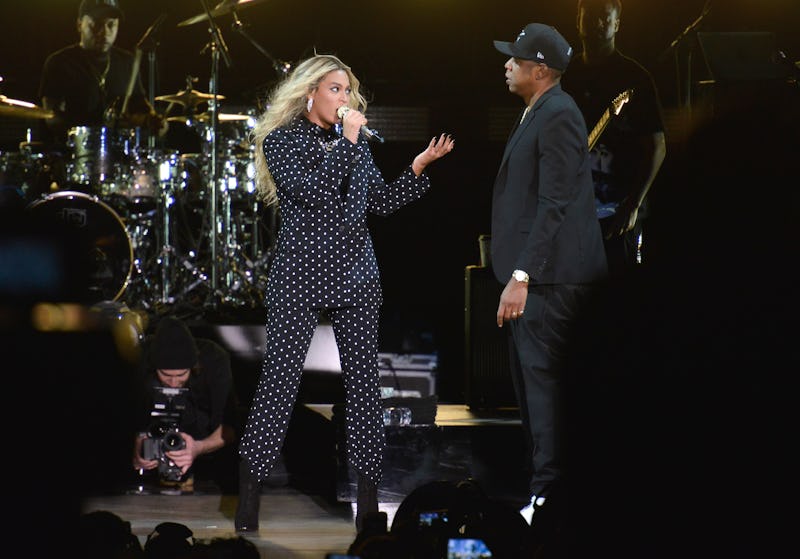 Duane Prokop/Getty Images Entertainment/Getty Images
The thing you hoped and crossed your fingers for is here: Not only is there a brand new album from JAY-Z, but Beyoncé's surprise cameo on 4:44 proves that the pair is stronger than ever. And not just romantically, but creatively too, because on the track "Family Feud," Beyoncé sings the background vocals.
You might assume from the title and Beyoncé's presence on the track that it's all about their marital strife — and sure, that's in there, too. But, according to JAY-Z, who commented to iHeartRadio, the sixth track from 4:44, "'Family Feud' is about separation within the culture. Like, new rappers fighting with old rappers, saying all these things. So, the line is, 'Nobody wins when the family feuds.'"
We see this same rivalry with other rappers spun in a positive light when he asks, "What's better than one billionaire? Two." This references the race Forbes has previously covered between JAY-Z, Sean "Diddy" Combs, Andre "Dr. Dre" Young, Bryan "Birdman" Williams, and Curtis "50 Cent" Jackson in 2011 to become "hip hop's first billionaire," a race which, according to Forbes again, in recent years has narrowed to being a race between just Jay and Diddy.
However, here Carter documents the upside of that rivalry: It's given both men motivation to strive to make more money and, in the process, to make history and help usher in social change. Why stop at one hip-hop billionaire? Why not have two? In short, why shouldn't musicians in the genre be aiming for bold new levels of commercial success?
But it's not just about his pride in male musicians' success. Beyoncé sings backup vocals on the song for a reason. When the first verse begins on the phrase "Super Bowl goals," it seems likely he's not talking about his own aspirations to headline the Super Bowl, so much as describing Beyoncé's flawless performance at the 2016 Super Bowl. After all, it was so powerful that Global News claimed she "stole the halftime show at Super Bowl 50, yanking the spotlight away from British band Coldplay, who were the planned headliners" and which even inspired the Saturday Night Live skit "The Day Beyoncé Turned Black."
Presumably, its significance wasn't lost on her husband, who documents in the following line, "My wife in the crib feedin' the kids liquid gold." He's not just proud of his wife's creativity, but of the fee she commands for a Super Bowl performance, here translated into an image of the singer being so wealthy that liquid gold flows out of her breasts, not milk.
Of course, as Lemonade hinted, it may not be all sunshine and roses in the Carter household, and it appears that JAY-Z is committed to being authentic about the issues the 2016 album raised. He concedes his own weakness when he raps:
Yeah, I'll f--k up a good thing if you let me
Let me alone, Becky
A man that don't take care his family can't be rich
Sure, these lines are a neat response to the much-discussed "Becky with the good hair" from Lemonade fame, but it also condenses the message of the song into just three lines. Money is important, but it's just that — money. In contrast, family is essential and indispensable, and, without your family around, you can be a billionaire and still be broke. It suggests that while he's well aware of Beyoncé's ability to financially and emotionally support their kids, he's still acknowledging his own responsibility to be engaged and present in his family's life.
Which sounds like someone's been reflecting on their issues (something that "Smile" also acknowledges, with him seemingly reporting from the therapy couch). If you were going to take some hope about the state of the Carter marriage, do it from this song. JAY-Z clearly worships Beyoncé and is owning up to his own s--t, and what could be more refreshing than that?