Is JAY-Z Admitting To Cheating On Beyoncé?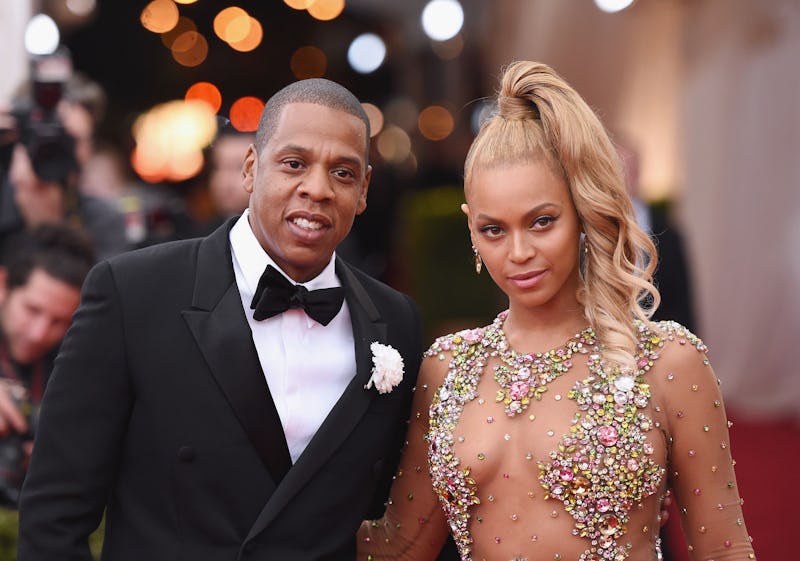 Mike Coppola/Getty Images Entertainment/Getty Images
After much anticipation, fans can now listen to 4:44, which was released through TIDAL on Friday. What makes the album all the more intriguing are the lyrics for the song "4:44." It kind of appears JAY-Z might be admitting to cheating on Beyoncé. Bustle has reached out to JAY-Z's rep for comment, but did not receive a response at the time of publication.
The entire song sounds like a confession from JAY-Z. At the beginning, he raps, "Look, I apologize, often womanize/Took for my child to be born/See through a woman's eyes." He later says, "I never wanted another woman to know/Something about me that you didn't know/I promised, I cried, I couldn't hold/I suck at love, I think I need a do-over."
The song becomes even more telling when the 47-year-old says:
And if my children knew, I don't even know what I would do
If they ain't look at me the same
I would prob'ly die with all the shame
"You did what with who?"
What good is a ménage à trois when you have a soulmate?
"You risked that for Blue?"
Cheating allegations first surfaced when Beyoncé released Lemonade in April 2016. "Are you cheating on me?" she sings. Then, in what is now one of the most famous musical lines ever, Bey sings about "Becky with the good hair" and makes it seems like Becky is a mistress.
In May 2016, JAY-Z responded to the album by releasing "All The Way Up." It wasn't exactly the response fans were hoping for, but he did rap: "You know you made it when the fact/Your marriage made it is worth millions/Lemonade is a popular drink and it still is/Survival of the littest."
Speaking of "Becky with the good hair," JAY-Z mentions her in "Family Feud." He sings, "Yeah, I'll f*ck up a good thing if you let me/Let me alone, Becky." He even mentions Eric Benet in "Kill Jay Z," who is known for his infidelities that led to his divorce from Halle Berry. In JAY-Z's song, he raps:
You almost went Eric Benét
Let the baddest girl in the world get away
I don't even know what else to say
N*gga, never go Eric Benét!
JAY-Z never straight up says, "I cheated on Beyoncé," but, like with Lemonade, it certainly is hard to ignore many of the lyrics.