'Big Little Lies' Is Bigger Than The Murder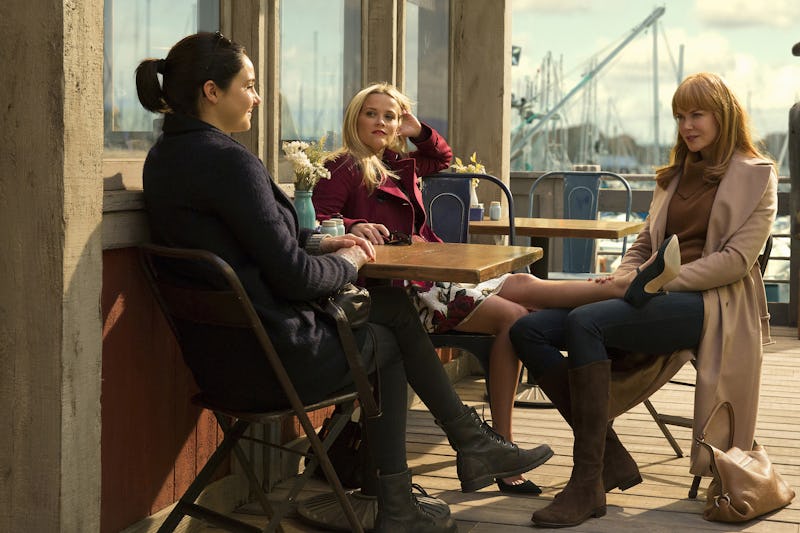 Hilary Bronwyn Gayle/HBO
Much of the discussion surrounding Big Little Lies has been about its central mystery: who was killed (and who's behind it) in the murder hanging over its highbrow community. But readers of the book it's based on will already know those answers, and those who don't needn't look any further than a Google search to find them. Big Little Lies knows this, and it does well to flesh out its splashy melodrama with universal struggles: loneliness, parenting, and hyper-relevant issues like sexual assault and domestic abuse. In fact, it does it so well that Big Little Lies isn't really about the murder; it's about the women.
There's Madeline (Reese Witherspoon), a fiery matriarch who's as overbearing as she is compassionate; Celeste (Nicole Kidman), her enigmatic, former lawyer BFF silently navigating an abusive marriage; Bonnie (Zoë Kravitz), the zenned out earth mom married to Madeline's ex; Renata (Laura Dern), the high-strung, fiercely protective working woman; and Jane (Shailene Woodley), a young, single mother attempting to heal from a disturbing trauma.
At surface level, their world may seem privileged and frivolous, and in many ways, it is. But these aren't the usual gossipy, status-conscious elites that have come to comprise shows like the wildly popular Desperate Housewives. Sure, they live in idyllic, oceanside mansions, drive luxury cars, and engage in petty power plays over children's birthday parties, but behind all that soapy excess are real and imperfect women. They get jealous. They have affairs. They bury themselves in denial. They even break their heels. They're human, and Big Little Lies makes no apologies for it.
That's actually the reason Witherspoon signed on to the project in the first place. "For 25 years, I've been the only woman on set," she told The Hollywood Reporter in January. "We have to start seeing women how they actually are on film. We need to see real women's experience — whether that involves domestic violence, sexual assault, romance, infidelity, or divorce. We as human beings learn from art."
As Big Little Lies presses on, it's become clear that that was always the intention: to show women as they are, flaws and all. The murder is just white noise.
Perhaps appropriately, the series has its own set of shortcomings. The cast, though impeccable, is largely white, and its experiences — with the exception of Jane — are all impossibly rich. But it delivers an emphatic exploration of the extraordinarily affluent that makes their lives seem more familiar, softening the tinted windows and gated neighborhoods that typically separate them from the rest of society. Only three episodes in — long before its big reveal — Big Little Lies is already less about its flickering crime scenes and more about the women we're getting to know in between.