Bill Clinton Took A Photo Between Two Bush Statues & The Internet Loves It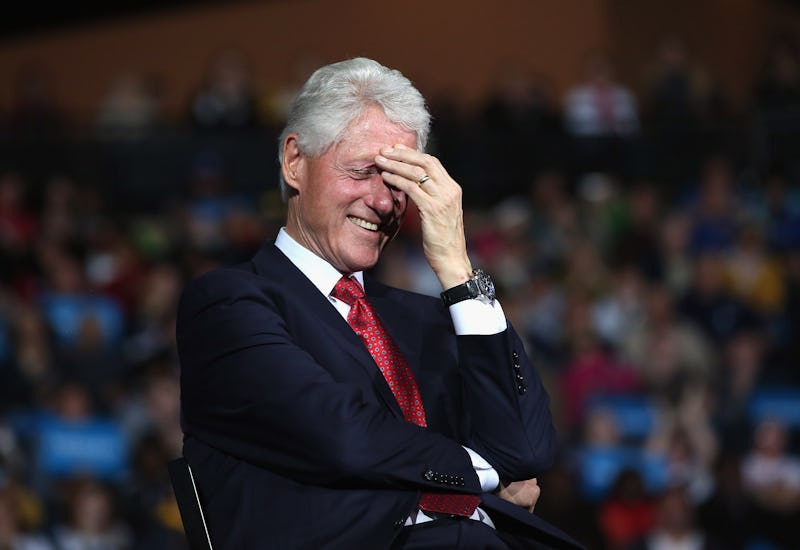 John Moore/Getty Images News/Getty Images
You might say that former President Bill Clinton perpetually finds himself caught between a Bush and a Bush. On Thursday, the 42nd president poked fun at where he falls in the list of U.S. presidents with a photograph that has taken Twitter by storm. In a snap captured outside the George W. Bush Presidential Center in Dallas, Texas, a cheeky Clinton literally squeezed himself between two Bushes.
While in Dallas for a Presidential Leadership Scholars graduation event, Clinton took a few minutes to pose for a photograph that, when posted to Twitter, quickly went viral.
"Everything's bigger in Texas," Angel Urena, Clinton's press secretary said in a tweet posted alongside a photograph of Clinton slyly peeking out from between larger-than-life statues of his predecessor, George H.W. Bush, and his successor, George W. Bush.
The fact that Clinton, whose presidency fell between those of George H.W. Bush and George W. Bush, was now literally hiding between the Bushes was not lost on most social media users, who gleefully responded to the photo with a few puns of their own.
"Bill Clinton should write a memoir called 'My Life Between the Bushes,'" D.A. Powell suggested in a tweet posted Friday.
Others wondered if Clinton was also poking fun at White House Press Secretary Sean Spicer. "Bill Clinton doing his Sean Spicer impression," comedian Chelsea Handler said in a tweet referencing theWashington Post's report that Spicer once "spent several minutes hidden in the bushes" before speaking to reporters back in May.
Clinton, however, remained relatively mum on just what exactly had inspired his pose, tweeting only, "Note: Not to scale," while posting a re-tweet of the photo Urena had snapped.
Clinton joined his successor, former President Bush, for a chat about life post-presidency, what it takes to be a leader, and their unique friendship during a Presidential Leadership Scholars graduation event at the George W. Bush Presidential Center in Dallas, Texas on Thursday.
At the event, Bush claimed Clinton was like "a brother with a different mother" to him and joked that Clinton hung out with his father at George H.W. Bush's summer home in Maine more than he did. The two former U.S. presidents also indulged in a little competitive bragging about their grandchildren, boasting of the foreign language abilities their toddler-age granddaughters already possess.
Interestingly, this isn't the first time a photograph of former President Clinton goofing off and enjoying life's small pleasures has gone viral. Perhaps you remember Clinton's unabashed expressions of joy and wonder following the balloon drop at the 2016 Democratic National Convention? Which leaves only the question: What will Clinton's next viral moment look like?