Bill Clinton Is Calling Trump Out On Twitter This Father's Day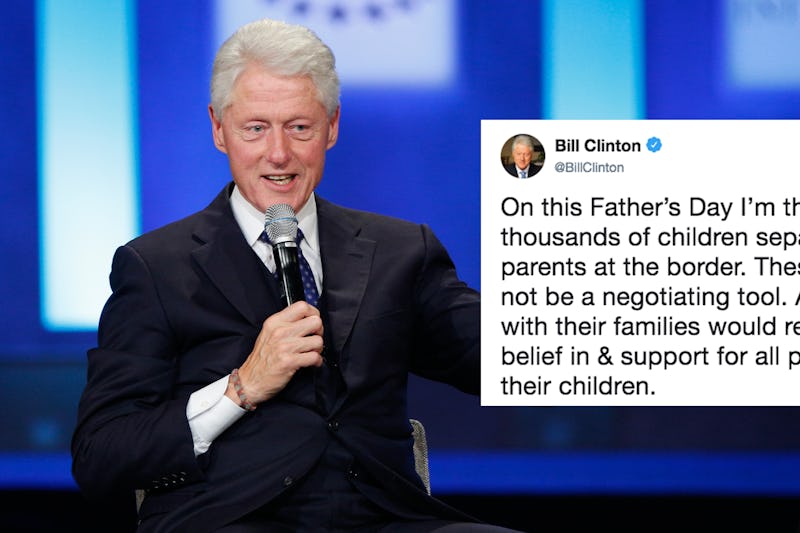 JP Yim/Getty Images News/Getty Images
The husband of President Trump's Democratic opponent from 2016 is speaking out on Father's Day about children being separated from their parents at the border. Hillary Clinton's husband and former president Bill Clinton tweeted about Trump's immigration policy that has taken about 2000 kids away from their parents since the middle of April. Clinton called for reuniting the families to show "America's belief in" and "support for" all parents.
"On this Father's Day I'm thinking of the thousands of children separated from their parents at the border," Clinton tweeted Sunday. "These children should not be a negotiating tool. And reuniting them with their families would reaffirm America's belief in & support for all parents who love their children."
The policy affected nearly 2000 families over a six-week period from mid-April to the end of May, the Associated Press reported on Friday. Under the new "zero tolerance" policy, adults who have arrived at the southern border with their children are now being charged with a criminal offense of illegal entry — something that past administrations had decided against.
Attorney General Jeff Sessions, who first announced the policy, defended it last week using the Bible. "I would cite you to the Apostle Paul and his clear and wise command in Romans 13, to obey the laws of the government because God has ordained them for the purpose of order," Sessions said on Thursday.
Clinton was not alone in using Father's Day to criticize the policy. In fact, he wasn't even the only Clinton to do so. His daughter Chelsea included her own message about the policy, quote tweeting a post about a tent city in Texas that was opened near El Paso to house immigrant children. Chelsea posted:
On #FathersDay & every day, I could not imagine a better dad for Charlotte & Aidan than Marc. I also could not imagine being forcibly separated from my children as I sought sanctuary. No parent, no person should support this.
Chelsea also responded to haters who responded to the post. "Hi Brad - I love my dad, thank you for asking," Chelsea wrote to one Twitter user who blamed parents for putting "their kids in this position" and mentioned Chelsea's focus on her husband and not her father.
"Seeking asylum isn't a crime," Chelsea continued. "It's our government who has "put" these children "in this position" of being ripped from their parents. It's unconscionable. Wishing all the dads in your life a very Happy #FathersDay."
The most famous Clinton spoke up too. Hillary also tweeted on Father's Day. She quote tweeted her husband and added, "YES!"
This is not the first time Hillary has tweeted about the matter, though. She first spoke out at the beginning of June when the policy was first reported. Hillary wrote, "There is no more important test of our country than the way we treat the most vulnerable among us, especially children. We cannot turn away from what's happening on our watch — we have to act."
Clinton has also retweeted posts about the push for a bill in the Senate to stop the family separations.
In another attempt to draw attention to the policy, a group of seven members of Congress from New York and New Jersey showed up at an Immigrations and Customs Enforcement (ICE) detention facility in New Jersey to try and speak with fathers who had been separated from their children. After the visit they held a protest outside and denounced the policy as "terror."
The White House and surrogates for the president have defended the policy and said the president will not act unilaterally to stop his own administration's policy.