These Reps Are Visiting Detained Dads For Father's Day — And ICE Tried To Stop Them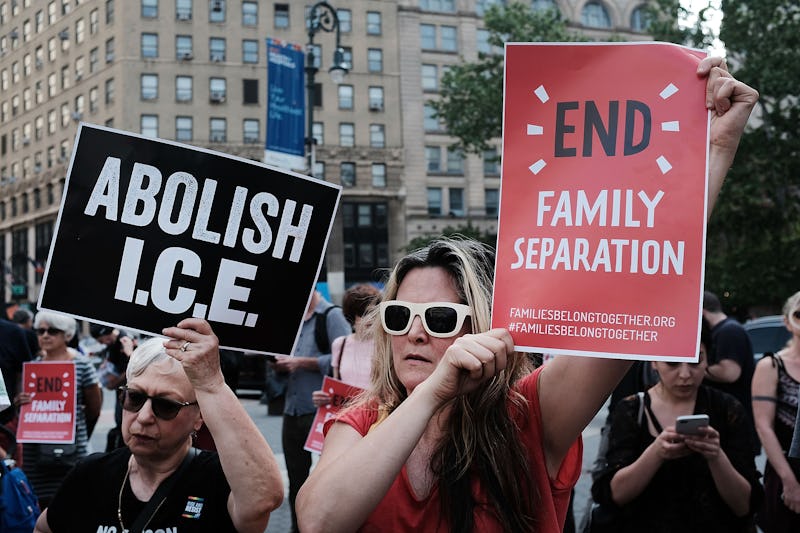 Spencer Platt/Getty Images News/Getty Images
A group of New York and New Jersey representatives have gained entry to an Immigration and Customs Enforcement (ICE) facility in Elizabeth, New Jersey, after hours of waiting and a visit from local police. The representatives are visiting immigrant fathers who have been separated from their kids. ICE didn't want to let them in but the members of Congress prevailed on what some are tweeting as a #FathersDayofAction .
The Father's Day visit is meant to draw attention to the controversial "zero tolerance" Trump administration policy that has resulted in more than 2,000 children being separated from their parents at the border.
Rep. Frank Pallone explained the group's decision to visit the ICE detention center. "We're here to stand against the Trump admin's policies that have led to a sharp increase in detained immigrants and separated families," Pallone tweeted. Rep. Adriano Espaillat wrote on Twitter that the policy is wrong. "It's unfair. It's unconstitutional. It's un-American," he tweeted.
The social media accounts of the seven members of Congress detailed their difficulty gaining access to the ICE jail — the visit was unannounced in order to inspect the day-to-day conditions at the facility. "Detention center employees have covered the window with paper to block our view," Rep. Bill Pascrell Jr. wrote on Twitter. "The supervisor is attempting to justify it. We are still being denied access."
After great difficulty, the reps did gain entry. "After being made to wait over an hour. After having to deal with local PD. After banging on the door and making it clear that we WILL NOT MOVE until we're allowed in, ICE is finally granting us access to see individuals who have been separated from their families," Rep. Carolyn Maloney tweeted just before 12 noon ET.
Rep. Hakeem Jeffries also tweeted that ICE was letting the group he deemed #TheElizabethSeven in. "The local defenders of the Trump/Republican immoral policy of separating vulnerable children from their families at the border backed down. We're going in!
Once they were allowed access to the facility, the representatives spoke with detainees, five of whom were expected to be fathers separated from their children. "We are now inside speaking with detainees who were separated from their children when they sought asylum in the US from terrible violence and danger at home," Rep. Jerry Nadler wrote on Twitter as the group entered.
After the visit, the representatives described their conversations with the detainees inside the facility. "They're like the majority of migrants from Central America who are fleeing violence that has been well documented by the U.N. Commission on Human Rights," Nadler told the crowd.
"Parents fleeing such unspeakable violence will do almost anything they can to protect their children from this violence." Nadler continued. "They came to this country in search of the protection and refuge that the proud inscription on the Statue of Liberty to those fleeing terror. But instead, they are being welcomed by more terror."
"What can be more terrifying than have your seven-year-old taken out of your arms?" Nadler asked.
He detailed what those in the detention facility had told them. "We've heard about children physically being pulled from the arms of their parents, nursing babies being separated from their mothers," Nadler said. "These are the misdeeds of an administration speaking in our name, that appears to lack a moral compass."
Nadler's colleagues took to Twitter after the visit, also calling on President Trump to reconsider the policy. "As @realDonaldTrump celebrates #FathersDay, I urge him to rethink the hardline immigration rhetoric put forth by his Administration that creates an environment of unjust racial bias, distrust, profiling & the separation of families," Espaillat tweeted.
ICE may have resisted the representatives' access, but the Father's Day action did succed in drawing attention to these detained fathers' experience.