Bill Cosby Said Labeling Him A "Sexually Violent Predator" Would Violate His Rights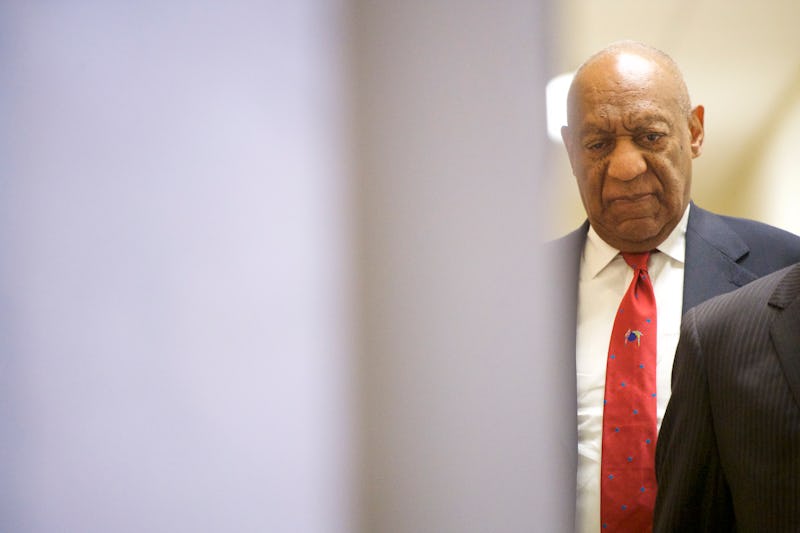 Mark Makela/Getty Images Entertainment/Getty Images
In a court filing Monday, convicted sexual assaulter Bill Cosby said being designated a "sexually violent predator" would violate his state constitutional rights, because it would damage his reputation. In April, Cosby was found guilty of drugging and molesting Andrea Constand in 2004, and has been accused of sexual misconduct by at least 60 women in total. He is currently awaiting sentencing, and faces the possibility of 30 years in prison — effectively a life sentence for the 81-year-old.
In July, the Pennsylvania Sexual Offenders Assessment Board recommended that, as part of his sentencing, Cosby be labeled a sexually violent predator. This would require him to register with state police and attend sex offender counseling for the rest of his life, and he would be subject to community notification if ever released from prison.
Cosby's lawyers, however, argued that this would violate Cosby's "state constitutional fundamental right to reputation." Designating Cosby a violent sex predator "is by any measure excessive when applied to an 81 year old blind man," his attorneys wrote in a court filing, and would create "substantial interference with his relationships with children and grandchildren."
Cosby pled not guilty to rape. However, he did acknowledge in a deposition that, in his interactions with Constand, he went into "the area that is somewhere between permission and rejection."
Although dozens of women have accused Cosby of sexual assault, the statute of limitations on most of those allegations had expired by the time they were made public. But while most states have a statute of limitations of 10 years or less for sexual assault charges, Pennsylvania gives accusers 12 years to bring charges. As such, Constand's allegations were the only ones that resulted in criminal charges.
Both Constand and Cosby agree that the comedian invited her to his Philadelphia compound in 2004, and that he gave her some manner of pills under the pretense that they would help her relax. Constand says, however, that they quickly rendered her immobile and unable to speak, and that Cosby molested her soon thereafter.
"I was weak, I was limp and I couldn't fight him off," Constand testified during Cosby's trial.
Cosby acknowledges that he had a sexual interaction with Constand that night, but says be believed it was consensual.
"There's a certain area with a woman, which I imagine if she doesn't want she will stop you there," Cosby said in the 2005-2006 deposition. He went on to suggest that he inferred Constand was consenting to the interaction through her body language; however, he also acknowledged that he never asked her for verbal consent during their interactions, and that she never gave it.
Cosby also said that the pills he gave Constand were over-the-counter Benadryl, but that he falsely told her they were "herbal medication." In the same deposition, Cosby acknowledged that in the past, he'd given Quaaludes, a powerful sedative that has since been banned, to women with the goal of having sex with them, although he didn't say that he gave Quaaludes to Constand.
Cosby will be sentenced for his convictions on September 24th.