The Strongest Evidence Against Bill Cosby Could Be His Own Words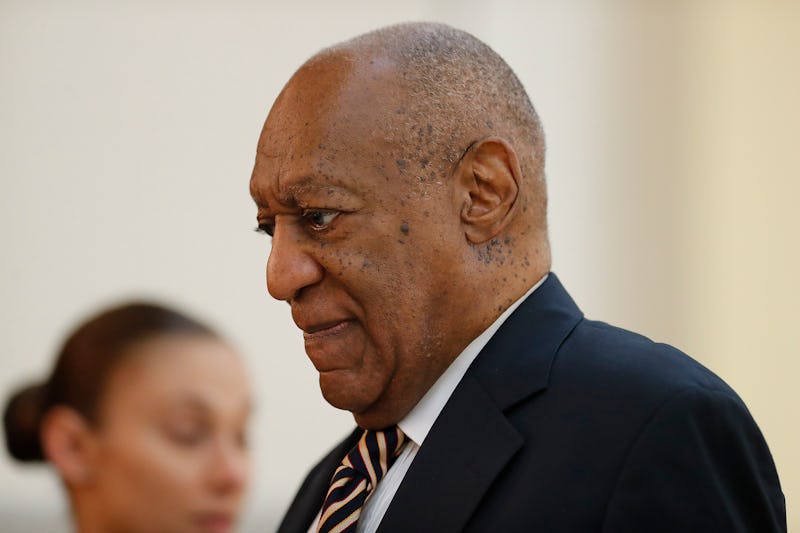 Pool/Getty Images News/Getty Images
Bill Cosby's sexual assault trial kicked off on Monday at the Montgomery County courthouse in Norristown, Pennsylvania. The former TV actor faces three felony counts of "aggravated indecent assault" for allegedly drugging and sexually assaulting Andrea Constand in Philadelphia in 2004, and, if convicted, he could serve up to 30 years in prison — effectively a life sentence, given that Cosby is 79. But what's the actual evidence against Bill Cosby?
On the one hand, there's no "smoking gun" that proves beyond any possible doubt that Cosby is guilty. There's no video tape of him assaulting Constand, for instance, or any record of him confessing to having done so, and, according to The Washington Post, the case lacks any physical evidence. On the other hand, the circumstantial evidence is plentiful.
Constand and Cosby have both said in separate statements to investigators that Cosby invited her to his Philadelphia home in 2004. Additionally, the two concurred that after she arrived, Cosby gave her some manner of drug. That's where the stories diverge, however.
Constand claimed that Cosby gave her some type of pills, and that after taking them, she became immobile and couldn't speak. Cosby, she alleged, then "fondling her breasts, put his hand in her pants," and "penetrated her vagina with his fingers," according to the arrest affidavit. Cosby denies her allegations. In a 2005-2006 deposition he gave as part of the civil suit that Constand filed, he told a different story. While acknowledging that that he gave Constand several pills, Cosby claimed that they were over-the-counter Benadryl. He also acknowledged that the two had sexual relations, but he says that they were consensual.
But the most important evidence against Cosby could be his own word. In his 2005-2006 deposition, he confirmed many aspects of Constand's story and admitted that he'd given Quaaludes, a powerful prescription sedative, to multiple women, and that in at least one instance, he had sex one of the women afterwards. And while he said that the pills he gave Constand were Benadryl, he also said that he told her they were "herbal medication."
Cosby also said in the deposition that when he initiated physical contact with Constand, she didn't affirmatively consent to his advances. Speaking in the present tense, he said, "I continue and I go into the area that is somewhere between permission and rejection." Asked to expand on this, Cosby said that "there's a certain area with a woman, which I imagine if she doesn't want she will stop you there." In another segment of the deposition, Cosby claimed that Constand had said she wanted a "tight butt." When asked if he interpreted that comment to mean that Constand was giving him permission to touch her butt, Cosby replied, "you're darn right."
What we have, then, are several damning statements from Cosby himself. He said that on at least one occasion, he gave a powerful sedative to a woman before having sex with her. He acknowledged that he took his sexual advances on Constand into a realm "somewhere between permission and rejection," and expressed his belief that if she'd wanted him to stop, she would have told him to. He said that he interpreted an offhand comment about Constand wanting a "tight butt" as consent (which it is not), and admitted that he misled Constand as to the nature of the pills he was giving her.
There are other bits of evidence to support Constand's side of the story, like the fact that over 50 other women have accused Cosby of sexually assaulting them, with many claiming that he drugged them first. (Cosby similarly denies these accusations.)
None of this is irrefutable proof that Cosby assaulted Constand, of course. But the distance between Cosby's account of his own behavior and Constand's accusations against him isn't very large, and that's arguably the biggest piece of evidence against the former comedian and actor.