Bill Cosby Was Just Sentenced To Prison For Sexually Assaulting Andrea Constand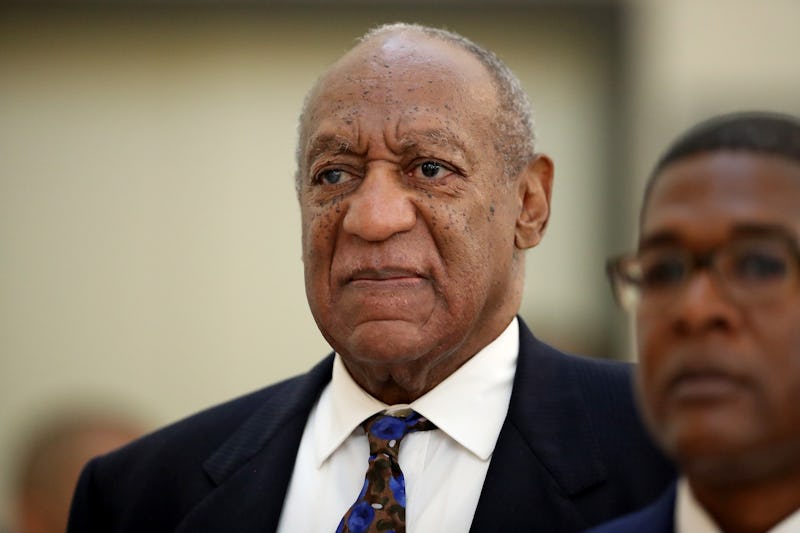 Pool/Getty Images Entertainment/Getty Images
Months after a jury found the 81-year-old comedian guilty on three counts of aggravated indecent assault, Bill Cosby was sentenced to three to 10 years in state prison on Tuesday. Andrea Constand, the woman Cosby was convicted for drugging and sexually assaulting in 2004, asked the judge for justice in a Pennsylvania court the day before his sentencing.
Cosby has been accused of sexual assault by dozens of women, but he has repeatedly denied the allegations and claimed the incident with Constand was consensual. Montgomery County District Attorney Kevin Steele asked the judge to sentence Cosby to the maximum five to 10 years behind bars to convey "that you can no longer get away with this," The New York Times reports.
The judge agreed with a psychologist for the Pennsylvania Sexual Offenders Assessment Board who testified in the sentencing hearing that Cosby should be categorized as a "sexually violent predator." When Cosby's lawyer asked how an 81-year-old man could still pose a risk to society, the psychologist responded, "It is possible that he has already met someone who could be a future victim." He'll now be required to register as a sex offender for the rest of his life, as well as attend mandatory counseling, according to CNN.
Constand's full impact statement was released on Tuesday morning ahead of Cosby's sentencing, describing how the assault has impacted her life for the past 14 years. "Nothing could have prepared me for an evening of January 2004, when life as I knew it came to an abrupt halt," she said, per Alanna Vagianos at HuffPost.
Constand was the women's basketball coach at Temple University in 2004, where Cosby was a member of the Board of Trustees. She said in her victim impact statement that she felt "powerless to protect herself" when a man she "had come to know as a mentor and friend" drugged and assaulted her. She went on to describe how grueling it was for her to see him around campus afterwards.
"The sound of his voice over the phone felt like a knife going through my guts. The sight of the man who drugged and sexually assaulted me coming into the basketball offices filled me with dread," she said, adding that she thought she'd feel better when she went home to Canada. "Instead, the pain and anguish came with me."
The Television Critics Association (TCA) rescinded Cosby's Lifetime Achievement Award the day of his sentencing. "Since the inaugural TCA Award for Lifetime Achievement was presented to Grant Tinker in 1985, this is the first time there has been a groundswell to vacate an honor," TCA President Daniel Fienberg said in a press release, per The Daily Beast's Kevin Fallon.
Cosby's trial was the first major conviction of the #MeToo movement, as most men accused of sexual misconduct only lost their jobs (and many got big payouts upon their exit). As Steele told the judge on Monday, Cosby's sentencing sends the message that "you can no longer get away with this" — to both Cosby and everyone following his trial.