Bill O'Reilly Officially Will Not Return To Fox News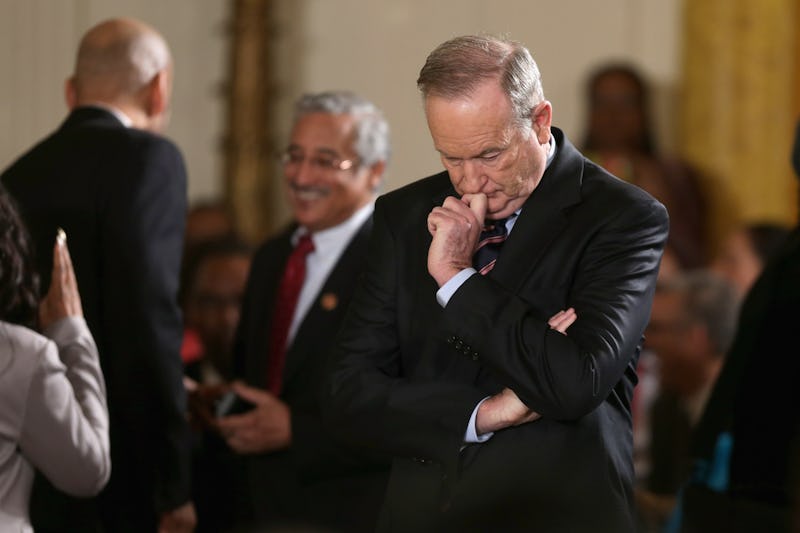 Chip Somodevilla/Getty Images News/Getty Images
Amid massive loss of sponsorship and boycotts at Fox News headquarters, news that Bill O'Reilly will not return to Fox News at the end of his vacation was confirmed Wednesday afternoon. The news came after speculation that the Murdoch family, who owns 21st Century Fox and the News Corp, were considering giving O'Reilly the boot due to increased pressure from advertisers and the public following the revelation that O'Reilly and Fox made a total of $13 million dollar payouts to settle lawsuits over the years that included multiple allegations of sexual harassment and other grievances from former Fox News employees. O'Reilly has denied allegations of wrongdoing and says he only settled the lawsuits to protect his children.
"After a thorough and careful review of the allegations, the Company and Bill O'Reilly have agreed that Bill O'Reilly will not be returning to the Fox News Channel," read a statement from 21st Century Fox.
After news surfaced of O'Reilly and Fox's settlement, advertisers began dropping from The O'Reilly Factor like flies — another reason New York Magazine's sources claim that the Murdochs were considering firing O'Reilly.
The same day that reports that the Murdoch family were considering cutting ties with O'Reilly, another woman accused the conservative host of harassment anonymously. These accusations were brought to light by Lisa Bloom, the attorney for fellow O'Reilly accuser Wendy Walsh. Although the woman's name hasn't been revealed, we do know that she is African-American and claimed that O'Reilly reportedly called her "hot chocolate" and allegedly leered at her during work.
This most recent O'Reilly accuser is not interested in telling her story for money, but rather to come forward because, according to Bloom, "she wants them to know her story."
Along with media interest in the O'Reilly scandal came protests against the seasoned host at the Fox News headquarters in New York demanding that he be fired. The protests were led by women's group Ultraviolet, and they also flew a plane with a banner that read "Fox: #DropOReilly, The Sexual Predator" in Manhattan.
Although the lawsuit settlement bombshell first reported by The New York Times was the impetus for this most recent scandal, this is not the first time O'Reilly has been publicly accused of sexual harassment. The most recent of these allegations took place in January, when the Times revealed that O'Reilly and Fox secretly settled a lawsuit with former Fox broadcaster Juliet Huddy in the weeks following co-founder Roger Ailes' resignation for his own sexual harassment scandals. In her suit, Huddy alleged that O'Reilly made advances toward her while in a position of power over her, and claimed that when she denied his advances, he tried to end her career. Fox denied the claims in January, and after the Times' broader story of O'Reilly settlements broke, the host himself denied the claims.
O'Reilly's exit from Fox leaves open the prime slot formerly occupied by The O'Reilly Factor, and it remains unclear who will replace the veteran broadcaster. This announcement marks the end of O'Reilly's run as "The King of Cable News," and the end of his 21-year-long tenure with Fox.