These Bill O'Reilly Settlement Details Will Make You Want To Scream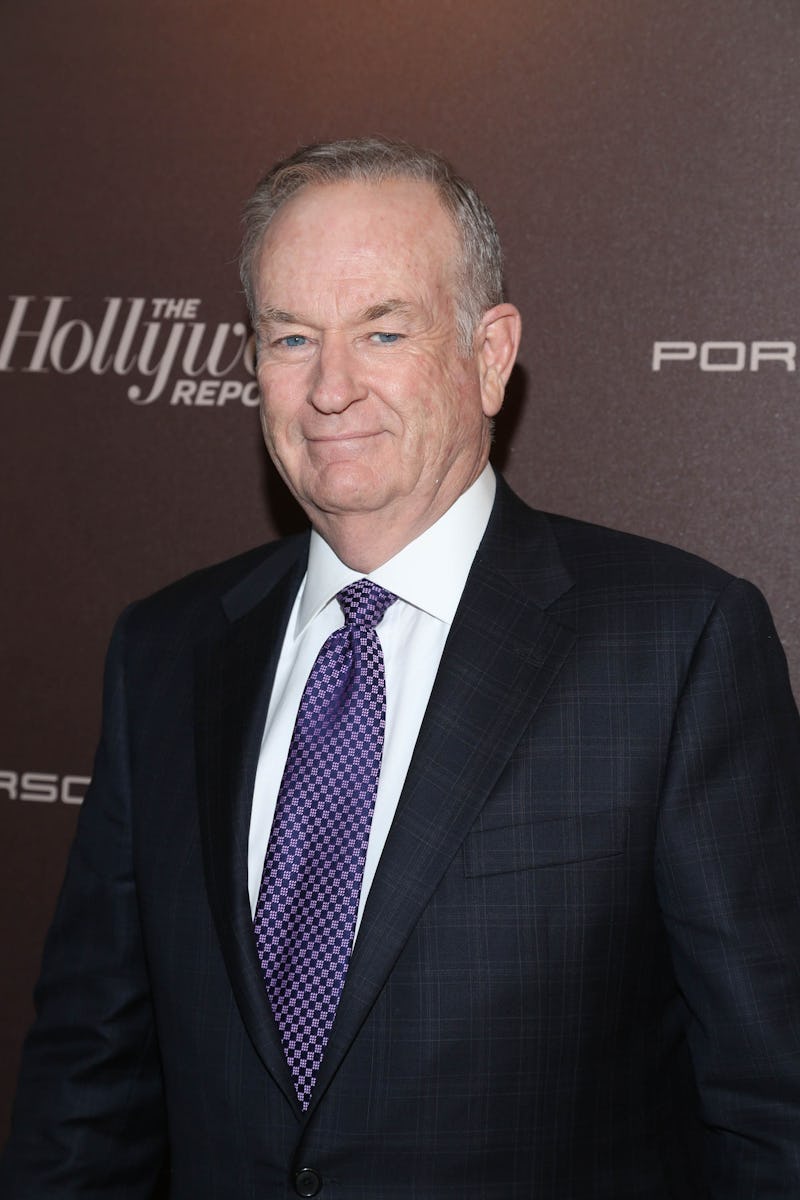 Rob Kim/Getty Images Entertainment/Getty Images
Former Fox News host Bill O'Reilly may not work for the cable network any longer, but the sexual harassment allegations that ended his career appear to be far from over. In fact, recently released documents show how O'Reilly and Fox News worked to silence women with sexual harassment allegations against the one-time host of The O'Reilly Factor.
The documents themselves pertain to two suits settled out of court between O'Reilly and former Fox News employees Andrea Mackris and Rebecca Gomez Diamond. As part of their settlement agreements, both women were required to give crucial evidence over to O'Reilly. According to the New York Times, sources say that both Mackris and Diamond had O'Reilly on audio tape.
In other words, they no longer possess key proof of O'Reilly's alleged harassment. O'Reilly has consistently denied all allegations against him, claiming he agreed to settle with the six known women accusers as a way to protect his family. Bustle has reached out to O'Reilly and Fox News.
The total payments for those settlements now stand at roughly $45 million. The largest of those settlements came to light in October, with the revelation that O'Reilly had shelled out $32 million to former Fox News contributor Lis Wiehl.
With a judge's decision Tuesday to release court documents from O'Reilly's settlements with Mackris and Diamond, the public learned just how far O'Reilly was reportedly willing to go to keep his female accusers silent.
For starters, O'Reilly and Fox News hired Bo Dietl, a private investigator and himself a Fox News contributor, to investigate the personal life of Mackris. According to The Hill, that amounted to a collection of supposed evidence potentially meant to smear Mackris' character, including tapes, photos, emails, and diaries. Dietl did not deny he had engaged in such work, and has indeed done the same type of investigative work on another female Fox News employee with sexual harassment allegations — Gretchen Carlson.
The settlement with Mackris stipulated that this material about her would be destroyed once all parties agreed to a final deal.
To take another example, as reported in The Daily Beast. Mackris reportedly would have been forced to lie if details about her case against O'Reilly ever became public. Even if Mackris herself said nothing about the sexual harassment allegations, she was bound to "disclaim them as counterfeit or forgeries" publicly, if they ever came to light. Additionally, if she herself told her story, the settlement stipulated that Mackris would be required to return all the money O'Reilly paid her, as well as any additional payment she might receive from speaking out.
If the original settlement were allowed to remain in place, Mackris could be legally forced to lie — an argument her lawyer made effectively to the judge who ordered the recent document release.
Another eyebrow-raising detail in the settlement is the fact that Mackris' lawyer, Benedict Morelli, agreed to advise O'Reilly on sexual harassment matters and not take on any other clients accusing O'Reilly. As CNN reports, her lawyers argued "this profoundly unethical conflict left Ms. Mackris virtually without legal counsel."
Morelli says that is an unfair characterization of him and his actions. He released a statement that read in part, "The claim that I did not vigorously represent her, or that I represented O'Reilly during or after the settlement process, is absolutely false."
Both Mackris and Diamond have joined a defamation suit brought by another former Fox News employee, Rachel Witlieb Bernstein. Bernstein's lawyers stated, as reported at the New York Times, that O'Reilly and Fox News "have made false and disparaging claims" all while knowing that "Ms. Bernstein and Mr. O'Reilly's other victims are afraid to speak out because he and Fox forced them to sign nondisclosure agreements."
Bernstein's case is not one of sexual harassment, but rather against O'Reilly for workplace harassment. According to the Times, witnesses saw O'Reilly berate Bernstein while she worked on his show. Shortly after that incident, and following several reports by Bernstein to Fox News' human resource department about his behavior, she left the company. As part of her defamation lawsuit, Bernstein's lawyers say she was "forced out."
As the recently unsealed court documents show, O'Reilly and Fox News used air-tight non-disclosure agreements to keep his female accusers quiet about their allegations. It seems that strategy may not pay off the way they'd planned.
Correction: This post previously mischaracterized the origin of Morelli's relationship with O'Reilly. It has been updated.