Billie Lourd Posted the Sweetest Birthday Tribute to Debbie Reynolds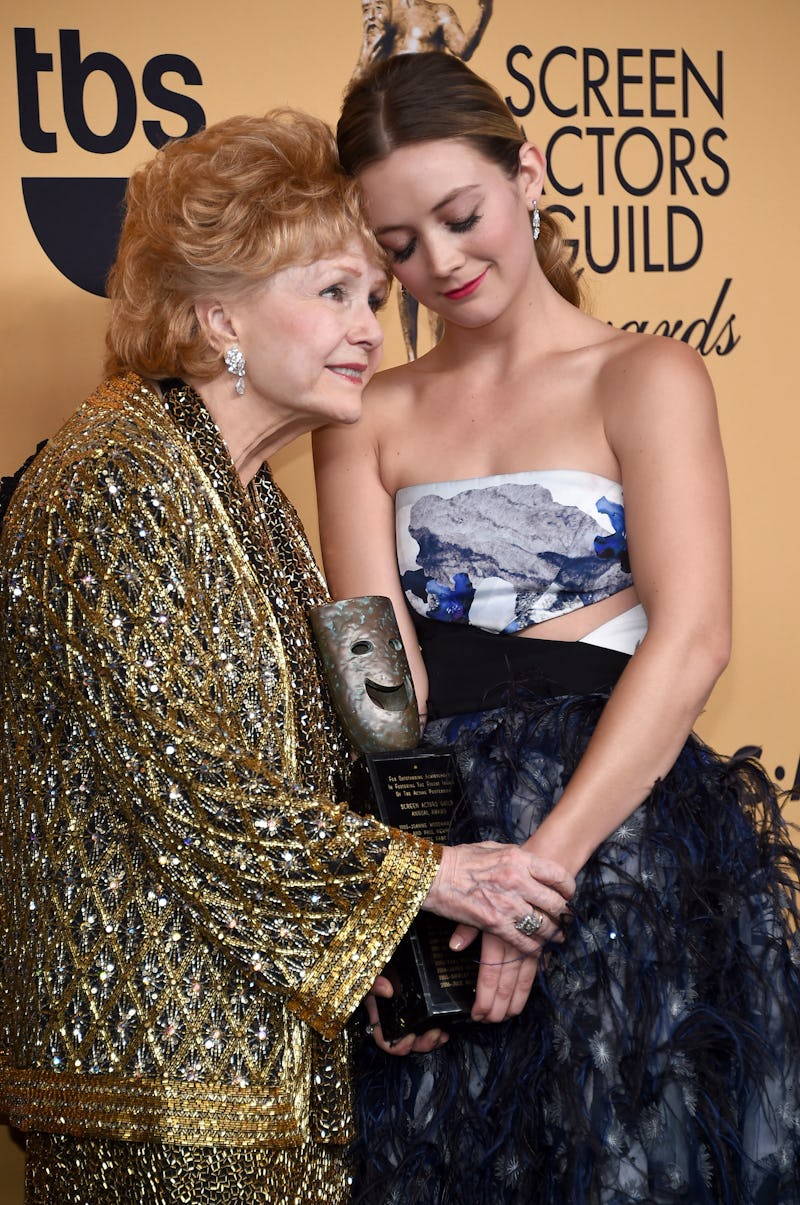 Ethan Miller/Getty Images Entertainment/Getty Images
Billie Lourd honored her late grandmother, Debbie Reynolds, for what would have been her 85th birthday on Saturday. Billie Lourd's sweet birthday tribute to Debbie Reynolds on Instagram was a throwback photo post of Reynolds alongside Lourd's mother, Carrie Fisher, with the caption, "Happy 85th to my constantly classily clad Abadaba." According to E! News, Lourd's nickname for Reynolds comes from the cover of "Aba Daba Honeymoon" Reynolds once sang with Carleton Carpenter in the 1950 film Two Weeks With Love.
In the photo, which appears to be a candid shot, the Halloweentown actress is wearing bright green outfit with a pair of large sunglasses. Fisher stands just behind her wearing an all black outfit complete with a colorful scarf. Reynolds passed away in late December after suffering from a stroke. Just a day before, on December 27, Reynolds' daughter Carrie Fisher died a few days after suffering a heart attack during a flight from London to Los Angeles. Following both of their deaths, Lourd received an outpouring of support from some of her over 700,000 Instagram followers and her Scream Queens co-stars.
The actress stayed pretty quiet on social media until early January when she took to the app to share a photo of her mom and grandmother captioned by a message thanking her fans for the support.
"Receiving all of your prayers and kind words over the past week has given me strength during a time I thought strength could not exist," she wrote. "There are no words to express how much I will miss my Abadaba and my one and only Momby. Your love and support means the world to me."
Just last Saturday, Carrie Fisher and Debbie Reynolds were honored during a public memorial service hosted by Reynolds' son Todd Fisher. The event took place at the Hollywood Hills' Forest Lawn Memorial Park where both icons were laid to rest, and featured appearances from friends and family members, and even a cameo from R2-D2.
With that and Lourd's lovely tribute, it shows that Reynolds and Fisher are still very much missed.