Billie Piper's Dream "Idea Of Chaos" Is About To Become A Reality With This News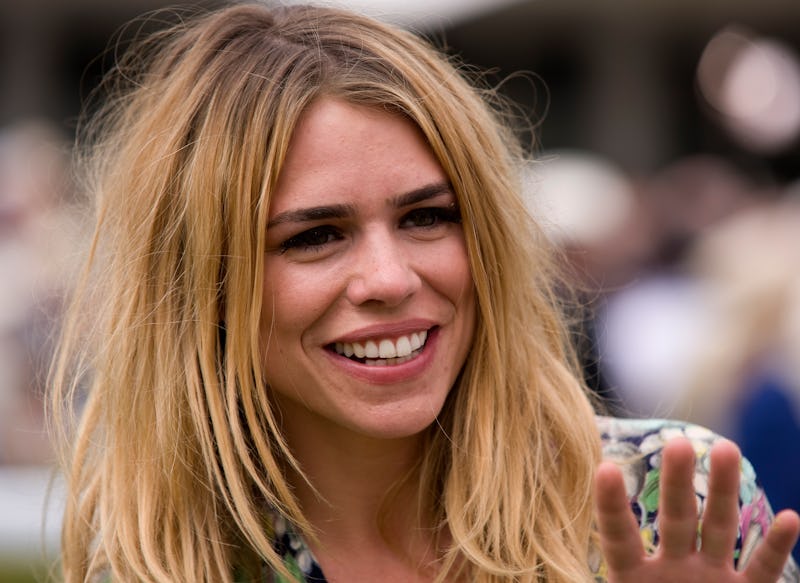 Alan Crowhurst/Getty Images Sport/Getty Images
Confetti and congratulations are in order today as it turns out that Billie Piper is pregnant with her third child. The Diary of a Call Girl star is expecting a new addition to her growing brood with her boyfriend Johnny Lloyd, the frontman of Tribes. Piper and Lloyd have been very quiet on social media about the pregnancy, however the happy news was confirmed by their representative to the Press Association.
A source told the Daily Mirror, "Billie and Johnny are delighted. They can't wait to welcome the new addition to their family." The pair have reportedly been dating for two years, according to The Sun, and while they've been spotted at high profile events including a recent British Vogue shindig, they tend to keep to themselves and lead a life out of the public eye for the most part. It's definitely exciting times for the Secret Diary of a Call Girl star and takes her one step closer to her dream of having a gigantic chaotic family.
The Daily Mirror reported that she said earlier this February, "In my dream world I'd have loads [of children]. I was one of four and it's taxing for both parents and kids. I do like the idea of chaos." Bustle have reached out to Piper for comment on the news but have yet to receive a response.
It certainly won't be long before Piper has her own little army of Whovians ready for world domination, as she currently has two children: nine-year-old, Winston James, and six-year-old, Eugene Pip.
Billie Piper spoke candidly about juggling motherhood with her career last year, saying to the Irish Examiner, "I think working in any job is hard when you have children. It's a constant push and pull and enormous sacrifices made and financial worries, it's all pretty tricky...I think everything has its taxing moments professionally as a working mum."
The boys are both from her previous marriage with actor Laurence Fox, who she met while starring alongside him in a play called Treats and later married in 2007, according to the BBC. They separated in 2016 and finalised their divorce in November 2017, during which Piper cited "unreasonable behaviour" as the cause for the split, as the Daily Mail reports.
The divorce and ensuing custody battle sounds like it was tough for both of them, as Fox told The Sun he felt like he "couldn't go on" while Piper said in a separate interview with The Sun that she "had to laugh otherwise it just kills you".
We're happy to see that they've both since moved on and found happiness with other people: Piper with Lloyd, and Fox with radio DJ Lilah Parsons, as the Daily Mail reports.
Prior to Laurence Fox, Billie Piper was married to Radio 2's Chris Evans (note: not Captain America) after secretly eloping in Las Vegas in 2001. At the time, she was better known for being a pop singer and was eighteen years old when they tied the knot, after dating for just six months, as Hello! reports. They were later divorced in 2007.
It sounds like it's going to be a busy few months for the actress, as besides literally growing another human being, she'll also be taking the reins on a new film called Rare Beasts that will begin production later this year. Recently announced at Cannes and written by Piper, the self-described anti rom-com will mark her directorial debut and she'll also be starring in it as a single mother named Mandy. She said to Screen Daily, "I have been looking for a home for this film for a long time now...I'm so excited to shoot this year."
Fingers crossed she manages to find a couple of seconds to catch her breath amidst the production hijinks.