This 'Making It' Star Is Dismantling Gender Stereotypes In Crafting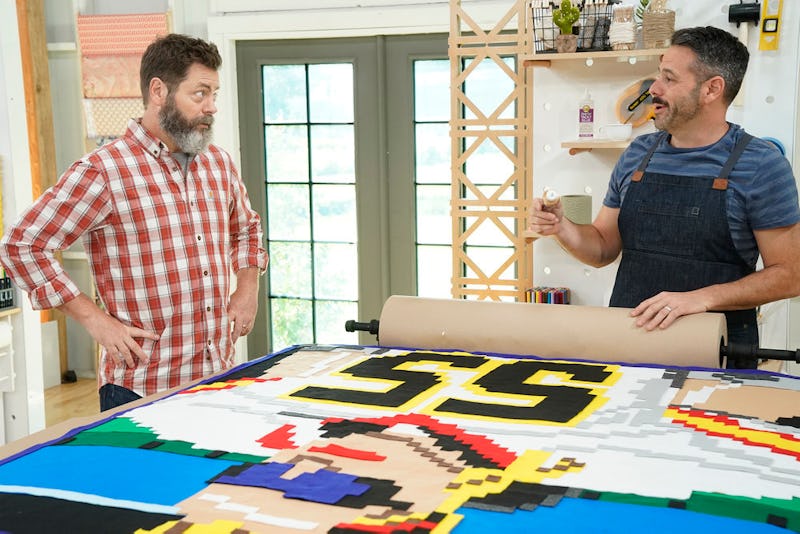 Paul Drinkwater/NBC
What the world needs right now is more pure reality shows. If you love shows like Queer Eye and Trading Spaces, you'll want to tune into Making It, a series hosted by Parks and Rec stars Nick Offerman and Amy Poehler. The show is a competition series, but it's light on the competition and strong on the power of craft-making. It focuses on several skilled artists who are put through various crafting challenges to see who's the craftiest of them all. One of the eight creators is Billy Kheel, who joins Making It with a background in felt art.
His bio on the NBC site states that it's this unique medium that sets him apart from the other craftsmen. Felt art is certainly a category unto its own, and that's what appealed to the 43-year-old. He told the Los Angeles Times that he wanted to give felt a new look through his art.
"I am not interested in making cutesy cupcakes or putting a bird on something," he said. "I like to flip felt on its head. It can be cuddly and crafty, but it's also sporty and used in athletic pennants and varsity jackets. That dichotomy interested me and I started using felt to make images. Then I got interested in taxidermy and it became sculpture."
He echoed this sentiment to Helena Daily. "I love sports and was inspired by old school pennants to use felt in my artwork," he said. "I love making stuff like sports portraits, trophy fish, or the Los Angeles River in a soft, inviting material that people usually associate with flower headbands and little dolls."
Kheel is not here for any gender stereotypes in art. Just as he can make more "masculine" objects out of soft felt, he wants his children to grow up knowing they can be interested in any number of hobbies. He has two children according to the Los Angeles Times, and he told NBC, "I'd like it if my kids wanted to be involved in sports, but also if they wanted to become quilt makers." In other words, he's allowing them to be free in expressing who they are, because he knows how important creative projects were to him as a kid as well.
Kheel is also on the same page with the real core value of the show, which is, according to Poehler and Offerman, that it's a TV show designed to make you turn off your TV and get inspired to make your own stuff. He told BSC Kids, "I think it's sort of counterintuitive, but I hope people tune in to get inspiration and make their own stuff. It was really inspiring to be there and see the awesome crazy stuff these folks could make." He added to NBC that he wants to make arts and crafts more appealing and accessible to viewers of the show. Seriously, could a show be any more pure?
If you want to check out Kheel's work ahead of the Tuesday, July 31 premiere of the NBC series, head over to his website or his Instagram. He also has an Etsy page where you can purchase some of his felt works.
Like This Stunning Felt Portrait Of His Daughter
Realistic Felt Food
Sports & Fish Images
I mean, how do you not want more of these? See how Kheel takes on Making It's crafting challenges Tuesdays on NBC at 10 p.m. ET.