This Bipartisan Resolution Wants Trump To Get Serious About Condemning Hate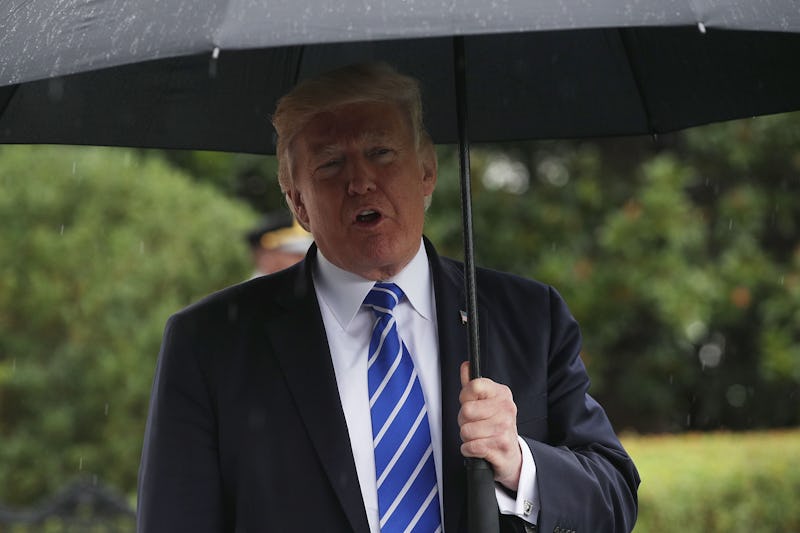 Alex Wong/Getty Images News/Getty Images
A group of bipartisan senators is finally telling President Trump to put up or shut up when it comes to his comments in August that only mildly condemned hate groups. Now, these senators want to see Trump fight hate by allocating money and resources to worthy causes. But conservative groups are fighting for the exact opposite cause, and are lobbying the media to stop using the "hate group" label for certain far-right organizations. Trump's conscience is up for grabs, and it's anyone's guess which side will win.
Trump's remarks following the violence in Charlottesville that stemmed from a far-right, white supremacist rally in August were considered an abysmal condemnation of the hate groups. According to a Washington Post-ABC poll in August, 56 percent of Americans disapproved of Trump's response to Charlottesville, and nearly 6 in 10 voters say Trump has encouraged white supremacists, according to a Quinnipiac poll also taken in August. To make matters worse, former KKK leader David Duke has publicly praised Trump's comments.
In response, a bipartisan group of four senators has requested that the Trump administration make a stronger showing of its purported position against hate groups. Furthermore, it's pushing the White House to "use all available resources to improve data collection on hate crimes and to work in a coordinated way to address the growing prevalence of hate groups."
Two democratic senators, Virginia's Mark R. Warner and Tim Kaine, have joined forces with Republican senators Cory Gardner of Colorado and Johnny Isakson of Georgia, to push the Senate to pass their resolution. The proposed legislation calls on the Department of Homeland Security to investigate all "acts of violence, intimidation and domestic terrorism" by known hate groups. It also advocates for improved reporting of hate crimes to the FBI. The goal is to make sure law enforcement agencies are thoroughly investigating these incidents to determine if any criminal laws have been violated, and to help prevent future violent incidents.
Trump's words have real consequences, something the president seems to have been slow to grasp with his penchant for off-the-cuff, ill-advised tweets and remarks. The number of hate groups in the country has grown for the second year in a row, according to the Southern Poverty Law Center, a trend that corresponds with Trump's full-blown emergence onto the political scene.
"2016 was an unprecedented year for hate," said the SPLC's Mark Potok. "The country saw a resurgence of white nationalism that imperils the racial progress we've made, along with the rise of a president whose policies reflect the values of white nationalists. In Steve Bannon, these extremists think they finally have an ally who has the president's ear."
Approving funding for improved hate crime tracking and hate group dismantling seems like a no-brainer. But it gets more complicated for Trump, whose base is decidedly far-right, and has a different perspective on the dangers of these hate groups.
A coalition of more than 40 conservative organizations penned an open letter to the media this week, requesting that news outlets stop using the Southern Poverty Law Center's designations for hate groups in their coverage of far-right organizations. They say that the SPLC is partisan, and seeks to disparage these groups by labeling them as hate groups simply because they don't agree with their political views. SPLC disagrees, saying that for an organization to be named to its roster of hate groups, it must "attack an entire class of people for characteristics central to their identity, like race, religion or sexual orientation." The SPLC tasks itself with maintaining the most robust hate crime tracking records and statistics in the country, is often considered an authority on the subject, and is cited frequently.
Trump's conscience is faced with an important decision: to support the bipartisan lawmakers in identifying and condemning hate groups that go against the fabric of our nation or to support the isolated ideology of his base. I wish I could say it's hard to say how this will go, but if Trump's track record is any indication, he's not one to stand up for what is right in the face of political gain.