The Internet Is Applauding 'black-ish' For How It Addressed Race & Mass Incarceration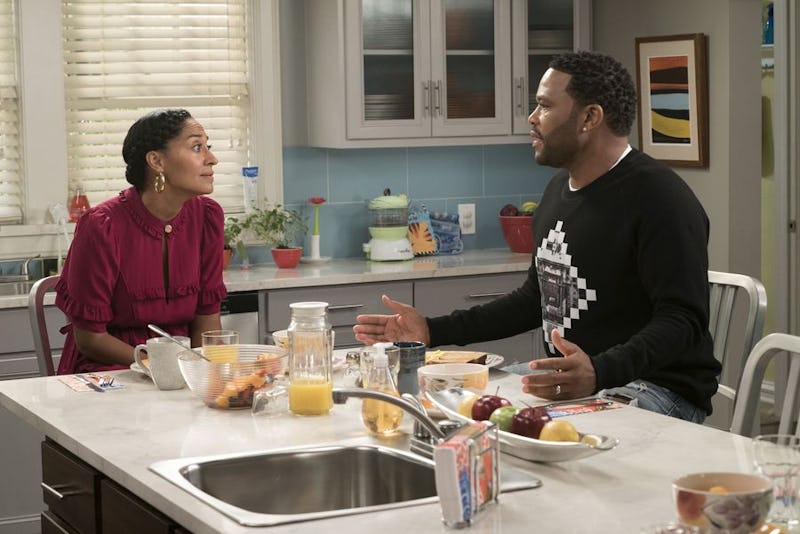 Ron Tom/ABC
The latest addition to the black-ish extended family is Dre's godbrother, Omar, who is being released from prison in the Nov. 14 episode. In addition to introducing us to Omar (who remains offscreen, perhaps to be stunt-cast for another day), this black-ish episode explores mass incarceration, and how it's not just Omar who's left struggling after imprisonment, but everyone who knows and loves him.
Bow was happy to call Omar and tell him about the new Beyoncé record so he wouldn't feel left out, or send him some money and bikini selfies to make sure he was being treated well inside, but now that he's going to be readjusting to his life, she doesn't want a convicted felon staying at her home with her kids. Dre, by contrast, is hyper-aware that as someone from a poor neighborhood who is now wealthy and successful, that he can offer material as well as emotional support to his friend.
The series handles big issues in the context of its core family. And in this case, the show points out that even this privileged family has connections to people who have been incarcerated — not just Omar, but also Ruby, by the way. And while she may be a habitual exaggerator, it's true that she, too, went to prison back in the day, as a result of blowing up Pops' boat. It's something that was hidden from the Johnson kids while they were younger — another reminder that black children often are forced to deal with this complicated subject at a young age, but it's also a reminder that Jenifer Lewis is an incredible comedic performer who can take this otherwise quite serious episode and make it feel light with just a few key lines. And we're seeing yet again how the Johnson kids are growing up. They no longer need to be protected from the fact that their grandmother is a complicated woman.
Because in addition to getting emotional with Dre and Bow as they struggle to decide how best to help Omar, black-ish drops some serious history and stats about mass incarceration. The NAACP supports the show's claim that nearly 35 percent of incarcerated individuals in the United States are black. The show also specifically mentions Kalief Browder, a young man who took his own life after being imprisoned for three years and awaiting trial, as a tragic example of how the issue affects black men in the United States. Dre and Charlie also school their coworkers on the sentencing differences between a cocaine charge and a crack charge. (In 2010, according to US News & World Report, Barack Obama signed the Fair Sentencing Act to reduce the disparity in sentencing, perceived by many as evidence of how the system supports racial bias.)
For a broad and popular comedy to be able to weave this information into a half-hour episode is seriously impressive, and will continue to spread the knowledge of how prison has touched so many black Americans' lives. And while jokes about how all of Dre's white coworkers are always suspicious that he's stealing or committing crimes aren't edgy anymore, going through that routine after hearing what happened to Omar feels a little darker than usual.
Ultimately, the show splits the difference between Dre and Bow's point of view. Though the episode ends before they can meet up with Omar at Roscoe's, a pile of waffles already on the table, the conclusion is clear: while Dre may tend to overpromise and overcommit while Bow is more skittish and protective, they're both ready to help Omar transition back into civilian life. Either way, Twitter was here for black-ish getting real about this topic:
According to Slate, studies from Daedalus show that "poverty creates prisoners and how prisons in turn fuel poverty, not just for individuals but for entire demographic groups." While Bow and Dre might disagree about how to help Omar, they both know how seriously the deck is stacked against him, and want to work together to help this new member of the black-ish family to thrive — another way in which the Johnsons actually reflect the reality of millions of American families.
If you or someone you know are experiencing suicidal thoughts, call 911, or call the National Suicide Prevention Hotline at 1-800-273-8255.