How 'Black Lightning' Star Nafessa Williams Went From Working A Desk Job To Living Her Dream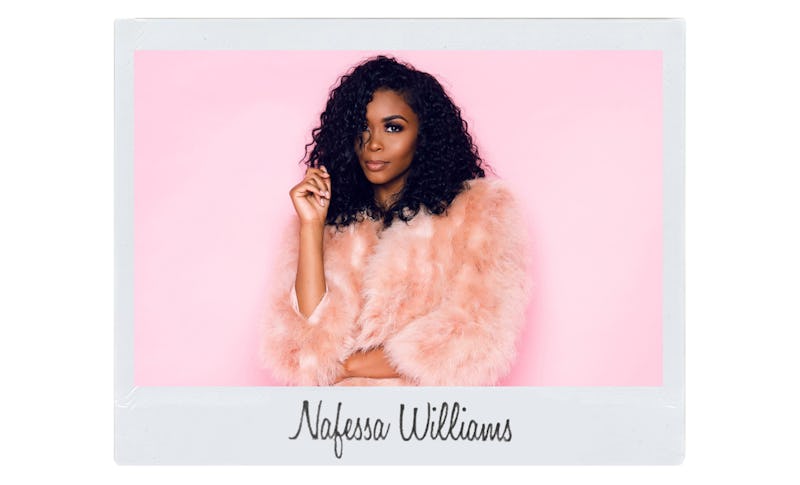 When celebrities hang out with Bustle writers, we want to give them the chance to leave their mark. Literally. So we hand them a pen, a piece of paper, a few questions, and ask them to get creative. The rest is up to them. This time, Black Lightning star Nafessa Williams is leaving her mark in the Bustle Booth.
Nafessa Williams is a woman on the move. She's so busy, in fact, that she has to squeeze in our interview while in the car, rushing from one engagement to the next — a testament to how much her life has changed within just the last year.
It wasn't long ago that she was working a desk job, putting her criminal justice degree to good use while dreaming of something bigger. After deciding she could no longer delay her passion, she began picking up small parts in shows including One Life to Live, Code Black, and Twin Peaks, then finally took a leap of faith, called out of work, and auditioned for The CW's Black Lightning. The risk was worth the reward: She now stars as Anissa Pierce/Thunder, TV's first black lesbian superhero. It's a part Williams feels she was destined to play.
"When Black Lightning came through, I truly believe it had my name on it," she tells Bustle over the phone. "It was here waiting for me since before I was even [born] and it was written for me."
Thunder is strong, confident, and fiercely determined — a social justice revolutionary with an ironclad resolve. Williams shares that conviction; it's what got her the role. Like many actors, she heard "no" hundreds of times before finally getting a "yes," but she credits faith and integrity for getting to where she is today.
"Being authentically who I know I am is how I've evolved, and just really staying true to that little girl I've always been from Philly and making sure that I'm walking in my truth," she says.
And now, with her TV career flourishing, Williams is setting her sights on the next thing: rebranding Saturday Dreaming, a clothing line she started with her fashion stylist BFF Michelle Savage. For the duo, the company was a lifelong dream, and they're working to take it to the next level. "We're coming up with concepts and setting a plan in motion to see what that next step is," Williams affirms. "We've evolved, you know, companies change and they rebrand and they grow. So, we are trying to find out where we are right now."
If her current rise to stardom is any indication of what's to come, then she won't have any problems making her mark on the fashion industry, too. Find out more about Williams in her Bustle Booth below.