'Black Lightning' Stars A Man, But Season 2 Puts Women In Charge Of Their Destinies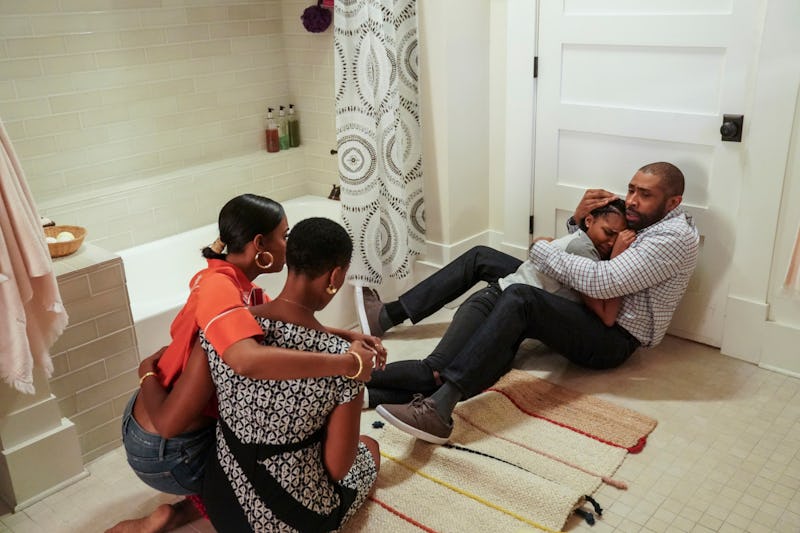 The CW
Black Lightning made history when it debuted last season. The CW's latest superhero series is one of very few to star a black male superhero on television, and the only one of those to air on network TV. The series also made history in depicting the first black lesbian superhero on a network series when Jefferson Pierce's daughter Anissa (Nafessa Williams) learned how to control her blossoming superpowers and put on a superhero suit for the first time. And as Black Lightning Season 2 begins, showrunner Salim Akil isn't planning on stopping there.
Despite the fact that Black Lightning's main character is a man, Akil is dedicated to elevating female voices both on and off screen. The passionate executive producer is telling more feminist stories this season, with Anissa's love life, her little sister Jennifer's (China Anne McClaine) struggles with her own uncontrollable (and unwanted) powers, and their mother Lynn (Christine Adams) getting her hands dirty trying to help the Green Light Babies who were experimented on by the government all being focal points of the action. But in order to tell those stories, one must first start by populating the ranks on set and in the writers room with women.
When Bustle visited the Atlanta-based set last week, Akil revealed that while he's not pushing for change by taking to the streets in protests, he's moving the needle forward in the best way he can: by creating authentic and responsible television. "Not everybody is an activist; I'm not a person that's going to go out in the street and hold a sign, but I really admire the people who do it because they do it well," he says, sitting in the Pierce family kitchen set. "What I'm good at is what I'm good at: telling stories. So I use that as a way to be active and show things [I believe in]."
Akil knows that "because [he's] not a woman," he needed to hire women to bring their voices to the show. "I have women in our writers room and I have a woman who runs our company and I have [my wife and producing partner] Mara [Brock Akil], so I have very strong voices around me that I allow myself to hear," he says. "We have a woman as our post producer. I have a lot of women around me and so their voices are heard. That's how I interact and get the voices for the ladies on the show."
Launching into somewhat of a controversial take, Akil reveals that he doesn't believe men can be feminists — but, he says, they can be allies. "For me, at least, any time men get involved in talking about women's issues, sh*t gets f*cked up and stalls," he says. "In a lot of ways, it's time for men to step the f*ck back and relax, get off this sh*t that we've been on for a while. And I'm including myself in that."
In the first three episodes of the new season, Akil's commitment to elevating female voices is clear as Anissa's journey to becoming a superhero in her own right takes another step forward as she matures in her powers and purpose. "Little girls are finally seeing black superheroes who look like them with corn rows," Williams says with a big smile as she leans back in her chair upstairs in the Pierce family house set. "I really feel like I'm walking in my purpose. I've never been more passionate about a job. So many young black women have never seen themselves on TV, especially black lesbians, and when you turn on the TV you want to see people who look like you, who are going through the same issues as you, you want to know that you're not alone, and I believe that Anissa is that for them."
If Season 1 was all about Anissa discovering her powers, learning the truth about her father's secret superhero life and putting on a suit for the first time, Season 2 is her stepping out from her father's Black Lightning shadow and making a name for herself on her own as Thunder. She'll also dive deeper into romance.
"Now she knows who she is and now its like, 'Let's see how I can balance my love life,'" Williams says. "She's still young, you'll see her go out and party and date and live. It's very normalized. She's making time for love and that's important. I didn't have that to look up to [when I was younger], a superhero who looked like me, so I get emotional knowing that [little girls] have that and history has been made. The women on this show are so strong and confident in who they are and I so appreciate Salim and Mara writing such strong female characters."
But in stark contrast, now that Jennifer knows the secret about her father and sister, her struggle with accepting and controlling her own powers will be a very different journey from Anissa's last season.
"Thunder accepts the obligation [of being a superhero] and she loves the fact that she has superpowers," McClain says, sitting on a chair just outside of Jennifer's bedroom set. "I really like that Jennifer is the opposite side of the coin. She's so clear in not wanting her powers and she deals with it so head-on, and I think that's really going to resonate with viewers because there are things that I feel obligated to do that I don't want to do."
Akil does promise that Jennifer will get her Lightning superhero suit this season, but the road to get there will not be smooth. "You will see her step up and at one point even put a suit on," McClain adds. "Hopefully that encourages viewers to accept their obligations and this is life. You're going to have to deal with it at some point so might as well accept it."
One of the biggest changes from Season 1 to Season 2 is how Jefferson's wife Lynn went from reactionary to proactive. "I looked at the first season and I thought Lynn was soft," Akil says. "I didn't want that to be the case, so towards the end of the season I put a gun in her hands and let her blast somebody. This season, she's getting totally involved."
As Lynn digs into the Green Light Babies experiments and tries to help the kidnapped metahuman kids wake up safely from their pods, amidst all the science-fiction/comic book aspects, there are some kernels of real-world headlines that will hit home for a lot of viewers.
"What disturbs me the most that I've seen recently is the snatching of people's children away from them and using the excuse of laws to do something that morally you know is incorrect," Akil says of the Green Light Babies story this season. "One generation ago, there were Jim Crow laws — that didn't make it right. So you can't always use laws to condone what you're doing. It's never good to be taken away from a parent."
He continues, "I never try to point fingers but it's all our fault. We're all allowing these children to be taken from parents. So what I'm trying to do is have a conversation, not point fingers. Obviously I have an opinion but I also try to make room for the other side of the coin. It's incumbent upon all of us to educate each other before we start yelling at each other. Hopefully that happens this season because there's some sh*t coming down the road this season that even I'm scared of."
Series star Cress Williams adds that he's proud to be a part of a show that is tackling real-world stories in such a frank way. "People want more than just entertainment, they want answers, they want to feel hope and feel inspired," he says, sitting upstairs in the Pierce family home set. "That's what our show does. It's time for film and television to properly reflect the world, and for so long it just hasn't. So Season 2 is going to be even better than Season 1 in that regard." And now that Black Lightning is finally back, viewers can decide that for themselves.