'Black Panther' Star Danai Gurira Didn't Let The World Tell Her What Black Women Could Be. She Showed Them.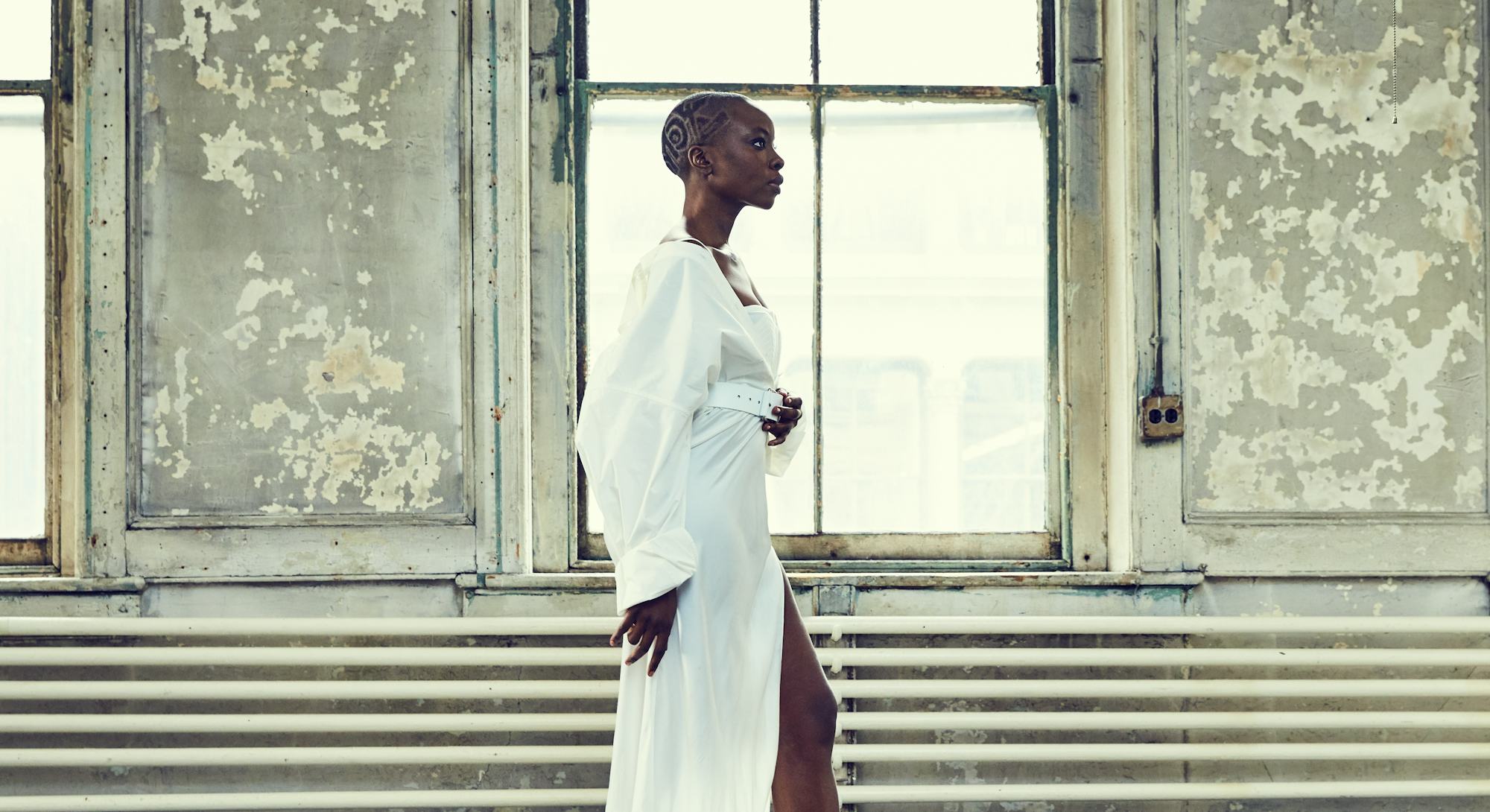 It's her birthday — Valentine's Day — and Black Panther and Walking Dead star Danai Gurira is celebrating by working. She is resplendent in all-white, lit by the glow of a dusty studio window overlooking the Manhattan street below, as if surveying a kingdom. It's obvious in a glance why Gurira was chosen for the role of Okoye, elegant and dutiful leader of Black Panther's all-female bodyguards. What isn't obvious is that the actor, writer, activist, and storyteller wasn't always this comfortable in her own skin. After moving from Iowa to Zimbabwe when she was five, Gurira — then known as "Dede" — wore her American name like armor in this foreign land. Until she realized that it wasn't armor — it was a weight, chaining her to the idea that she, Danai Jekesai Gurira, was not good enough exactly as she was. It's a weight that every black woman is familiar with; the lesson that we are not enough is constantly taught to us in big ways and small ways by the world around us. But Gurira refused to learn that lesson, and now she won't let other black women fall for it either.
"I was in a country that was recently out of colonization, so there was a lot of regrouping the country was doing around its identity vs. the identity of their colonizer [the United Kingdom]," she says, languidly laying on a chaise lounge, in reference to her time living in Zimbabwe. "There [are] a lot of ways that I was being influenced by that culture, but there comes a point when you're like, 'wait a minute, what is so wrong with what we've got going on already? And why is it so diminished even in our own eyes, on our own land?'"
The actor first opened up about her background in an essay she wrote for Glamour about embracing her Zimbabwean name. Though her parents — a university librarian and a lecturer in the University of Wisconsin-Platteville Department of Chemistry — had been born in Zimbabwe, Gurira was born in a city called Grinnell. She was given the nickname "Dede," a name that she retained even after her mother taught her Danai, even after her parents moved her to the Zimbabwean capital of Harare in 1983 — three years after the country gained their independence from the United Kingdom. It wasn't until her teens that she began to question why she was so determined to reject her heritage.
Once she began to ask questions about her culture, she experienced a "series of awakenings" that led her to the truth that she lives by today — a truth that many black women are still struggling with. "To me at this point, it's just so clear. Why would you not find value in all the stunning things that are of you?" she says. Even wrapped in a fuzzy orange jacket with her legs propped up on the couch, she looks like an orator. "There's such a fascinating exploration to embark upon once you have embraced your truth and the truth of your people, your heritage, and your history. And then you realize that you have a very particular role to play in perpetuating even more of your people's greatness. You don't actually have time to dally about in other people's idea of greatness and diminishing of you. You don't have time for that."
Photographer: Meredith Jenks. Jacket: Off-White. Jumpsuit: Tom Ford.
Photographer: Meredith Jenks. All clothing and accessories: Louis Vuitton.
Gurira certainly doesn't have time for that. Yes, she plays Okoye in Black Panther and Michonne on The Walking Dead, the latest in a resume that extends from the big screen to the small screen to the stage. But she's also a writer who penned four plays on and off-Broadway — In The Continuum (2005), Eclipsed (2009), The Convert (2012), and Familiar (2012) — and an upcoming untitled film about elephant poaching in South Africa that will be produced by Jessica Chastain. And she's an activist, who, in addition to participating in other programs, co-founded Almasi Arts Inc. (a nonprofit organization devoted to "see[ing] the Zimbabwean dramatic artist developed to their fullest capacity") and Love Our Girls (a nonprofit organization that seeks to "validate our girls and women globally and lessen the gender gap inch by inch"). One can only wonder when she finds the time to sleep.
Perhaps unsurprisingly, her Black Panther character General Okoye exceeds Gurira in accomplishment — mainly because, in the hero's home country of Wakanda, all women are given the means and the space to achieve greatness from birth. Not only have the Wakandans created technological marvels far beyond what the rest of the world has accomplished, but women in Wakanda stand as true equals to men — something the actor delights in. They are warriors and scientists, queens and spies, all respected and revered and allowed to reach their full potential without fear of sexual assault or being undervalued for their work. And whether she is a lover or a warrior, whether she's wielding a weapon or wearing a ball gown, whether she's doing all of the above at the same time, Okoye is always the agent of her own destiny without anyone in the film questioning how a woman can be so many contradicting things.
From Queen Ramonda to Princess Shuri to General Okoye, the women of Wakanda are powerful in a way that Gurira considers subversive — and it's something we can learn from. "I think that a powerful woman of today has to be subversive, because what is conventional is not acceptable for us anymore. It's unacceptable," she says. "I'd say if there's any little bit of Okoye I'd love anyone to have, including myself, is to subvert any lies that we've been told. [For example], she's fierce and feminine. The two things live together quite contentedly in her, and I think that... we've been lied to about that too, and we can't let that be perpetuated anymore. We can be all those things."
Of course, while this is an easy thing in Wakanda, it's more difficult in the real world where black women face challenges to our dignity and humanity at every turn. A 2017 study by Georgetown University found that adults considered black girls to be "less innocent" and more "overly aggressive" than white girls. Black teens have been sent home from school because their afros and braids are deemed "distracting" — unless, of course, a white model is rocking one in a video or Kylie Jenner is wearing cornrows on Instagram. Then it's "trendy." And black women are paid 53 cents to every dollar that a white or Hispanic male makes, were more likely to be sexually assaulted than white, Asian, and Latina women, and experience poverty at higher rates than even black men. From childhood to adulthood, being a black woman in America is to listen to a constant bevy of invisible voices telling you that you don't matter and you are not enough.
"There are some esteem issues that come with the assault of being colonized and being dominated and being marginalized. But we have to push through those and embrace and immerse ourselves in the stunningness that is of us," Gurira says, her fist hitting her palm once again. "You have to get on that one man boat and go out into the raging storm until you get to the break of a new day. You have to get to the point where it's like this is not truth, and consequently it is no longer going to be my truth. And now I'm going to embrace the power of who I am and where I'm from."
And while the road may seem daunting, it's not one that any black woman has to walk alone. "I stand on other people's shoulders," Gurira says with unblinking eye contact, equal parts humbled and inspired, humbling and inspiring. "I stand on the shoulders of those from Lorraine Hansberry to Cicely Tyson. I stand on the shoulders of people who broke through in a much trickier time than this, believe it or not. We have no excuse. I have to make my shoulders sturdy enough for others to stand on."
By this point in our conversation, it is nearing 3 p.m. on Gurira's 40th birthday. She has been on her feet in heels like skyscrapers, taking photo after photo with breaks only to change outfits. She's been hanging on to a bottle of water this entire time, but at no point did she actually pause to quench her thirst. If she's tired, then it doesn't show, because there is fire in her eyes and in her words — and the passion is not just hers. It's inspired by those who have come before, and by those who will come after.
So, sure, the world may always tell black women that we are not enough — but they're wrong. And once we recognize that truth, our truth — like Gurira did — we can prove it.
Hair: Vernon Scott
Makeup: Kim Bower using Viseart/TraceyMattingly.com
Manicure: Elizabeth Garcia using CND
Styling: Senior Fashion Market Editor Gabrielle Prescod
Deputy Fashion & Beauty Editor: Kara McGrath
Creative Director: Adrian Moreno
Bookings Manager: Guillermo Perez
Photo Editor: Clare Thigpen