Black Panther's Sister Shuri Is Getting Her Own Comic Book Series & It's Happening SO Soon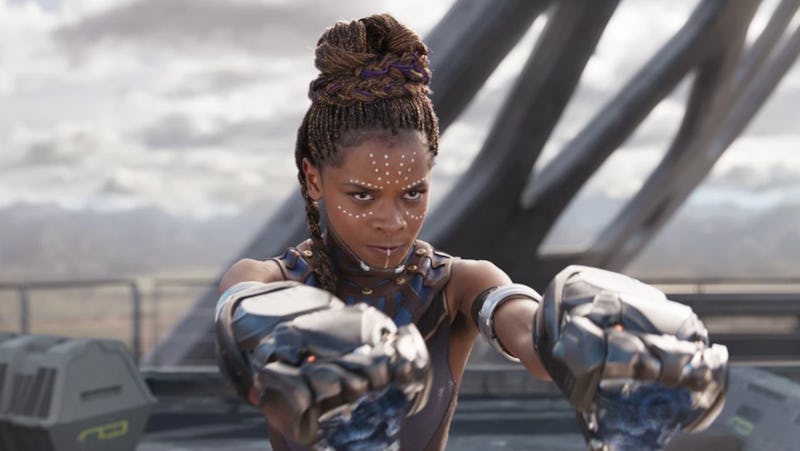 Marvel Studios
While Avengers: Infinity War was a bit of a depressing moment for Marvel fans (sure, something big is going to happen and it will probably all mostly be OK), it's important to remember there's a great big world of Marvel outside of the films, where heroes' lives aren't exactly... completely on hold. A handy reminder in that plight is the latest news from Marvel Comics that a new standalone comic book series about Black Panther's little sister Shuri is on the way, which Bustle can confirm exclusively.
The brand new series will be available in October 2018 and will focus on Shuri's journey in the face of a tragic event: Black Panther is lost in a mission in space, leaving Wakandans asking questions about who should lead in his absence. As his little sister, and the next in line for the throne, Shuri is pulled from her happy place (her lab full of impossibly genius, high-tech gadgets) and into a much heftier role. According to the official Marvel synopsis, "Shuri is happiest in a lab, surrounded by gadgets of her own creation. She'd rather be testing gauntlets than throwing them. But a nation without a leader is a vulnerable one — and Shuri may have to choose between Wakanda's welfare and her own."
This compelling battle within the self and the impossible question of duty over passion will come to life in the new series thanks to Eisner-nominated artist Leonardo Romero and Afrofuturist author Nnedi Okorafor. Okorafor is an award-winning Nigerian-American writer, known for her work across the sci-fi genre, from young adult fiction to short stories and adult fiction. One of her most acclaimed works, a novel titled Who Fears Death, not only saw multiple award nominations and a World Fantasy Award for Best Novel, but it's also on its way to becoming an HBO series with George R.R. Martin as an executive producer. And, as if there was any doubt about her writing pedigree, Okorafor has already contributed to the Black Panther storyline with her issues of Black Panther: Long Live The King, which followed a storyline penned by acclaimed journalist and author Ta-Nehisi Coates, and her continuing work on the Wakanda Forever series, which follows the Dora Milaje (Wakanda's badass warrior ladies, for those that need a refresher) as they team up with other heroes from the Marvel Universe. And as she sets to work on the Shuri series, Okorafor is, in a word, thrilled.
"[Shuri is] an African young woman of genius level intelligence who is obsessed with technology and has traveled spiritually so far into the past that she's seen Wakanda before it was Wakanda. The Ancestors call her Ancient Future. And she's super ambitious. What do I love about her? Alllll that and more," Okorafor tells Bustle via email. "She's a character in the Marvel Universe who really sings to me."
On the film side, Marvel fans were quick to take a liking to Shuri when the character debuted in the MCU in Black Panther. British actor Letitia Wright's pitch-perfect performance as the hilariously sarcastic sister to Chadwick Boseman's T'Challa made her an instant favorite. In fact, it didn't take long for fans to start theorizing that the brilliant head of the Wakanda Design Group might soon start using her smarts to take over the Technologically Savvy Avenger slot once Robert Downey, Jr.'s Tony Stark eventually (probably) retires.
Now, fans will have the chance to spend more quality time with the strong-willed character in the comics, and hopefully be inspired by her ingenuity and strength. Or, as Okorafor suggests, readers just might rethink the monarchical term that Wakanda's resident super-genius just happens to bear: "Don't let the title of 'princess' fool you," she warns.
Of course, Shuri super fans are already way ahead of her.