Black Women Leaders Want Paul Ryan To Take Back His Demand That Maxine Waters Apologize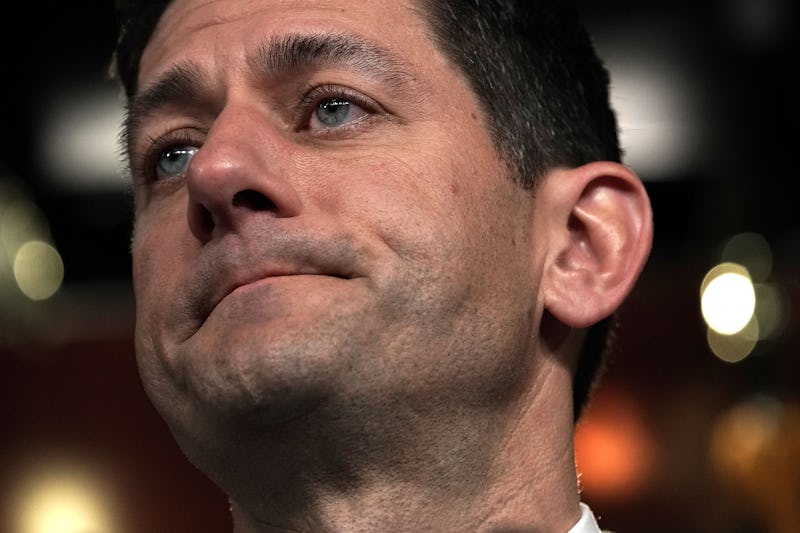 Alex Wong/Getty Images News/Getty Images
Pressure is mounting on one of the most powerful Republican lawmakers to say sorry to a prominent African American congresswoman. A group of black women urged Paul Ryan to apologize to Maxine Waters in a letter, according to BuzzFeed News.
In the letter, which BuzzFeed News obtained, the women, who are described by the news outlet as leaders in media, politics, business, and technology, directly address Ryan. The letter calls on him to publicly withdraw his demand that Waters apologize for her statement about confronting Trump officials over the administration's immigration policy.
"As the Speaker of the House, the third highest-ranking elected official in the nation, it is your Constitutional duty to lead all Americans and we ask you to demonstrate leadership now by calling for an end to these unmerited assaults against Congresswoman Waters' character," the letter read, according to BuzzFeed News.
Earlier in June, Waters, one of Trump's most vocal critics, encouraged people to confront administration officials over its "zero-tolerance" immigration policy. "Let's make sure we show up wherever we have to show up. And if you see anybody from that Cabinet in a restaurant, in a department store, at a gasoline station, you get out and you create a crowd. And you push back on them. And you tell them they're not welcome anymore, anywhere," Waters said. "We've got to get the children connected to their parents."
Without mincing her words, Water added, "They're in prisons. They're in jails. I don't care what they call it, that's where they are and Mr. President, we will see you every day, every hour of the day, everywhere that we are to let you know you cannot get away with this."
The backlash against Waters' comments was swift, ranging from calls to recant her remarks to death threats, according to some reports.
Ryan responded to Waters' comment at the time, calling it "dangerous." "When we, in this democracy, are suggesting that because we disagree with people on political views, on policy views, on philosophical views, that we should resort to violence and harassment and intimidation that's dangerous for our society, dangerous for our democracy, and she should apologize and there's just no place for that in our public discourse," he said.
It was criticism that was echoed by some leading Democrats, though slightly less charged in tone. Senate Minority Leader Chuck Schumer condemned Waters, saying: "I strongly disagree with those who advocate harassing folks if they don't agree with you. If you disagree with a politician, organize your fellow citizens to action and vote them out of office. But no one should call for the harassment of political opponents. That's not right. That's not American."
On Change.org, a petition under #IStandWithMaxine demanding that Democratic leaders support Waters has garnered over 1,000 signatures. "We, the undersigned, write to express our full support for Congresswoman Maxine Waters, who has recently been unjustly attacked by Republicans and Democratic Party leadership for speaking truth to power in challenging the Trump Administration to do the right thing by ending a 'Zero Tolerance' immigration policy," the letter read.
The administration's zero-tolerance policy has led to over 2,000 migrant children being separated from their families; in some cases, children who were recently reunited with their parents are reportedly unable to recognize them. Mental health experts have expressed alarm and concern about the possible psychological trauma migrant children might face when separated from their families.
In spite of the criticism leveled at her from high-ranking lawmakers from both sides of the political spectrum, Waters' supporters have staunchly backed her up. On Twitter, through the use of the hashtag #IStandWithMaxine, hundreds of people have expressed their solidarity for the congresswoman. This letter to Ryan is only the latest in her supporters' efforts to defend her.