Blake Is Having A Meltdown On 'The Bachelorette' But He Has Bachelor Nation On His Side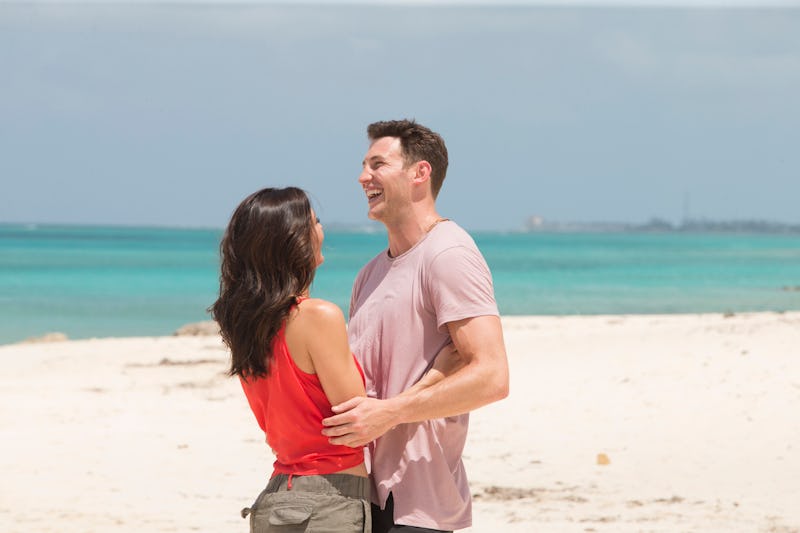 Paul Hebert/ABC
Now that we're seven weeks into The Bachelorette, things are getting real — and that means that tensions are running high. With hometown dates happening next week (already?), some of Becca Kufrin's guys are feeling the pressure, including Blake. In fact, on Monday night's episode, Blake had a meltdown on The Bachelorette after stressing out that his relationship with Becca wasn't moving quickly enough, but honestly, fans have been rooting for him all along, and he may just have less to worry about than he thinks.
It makes sense that Blake would feel a little intimidated. Since Becca and her guys arrived in the Bahamas for the first international leg of this season, she had one-on-one dates with both Colton and Garrett, so it's not like Blake has had a chance to spend any personal time with her. And like the other guys pointed out, the cracks in Blake started to show.
Blake admitted that he was concerned he wouldn't get a one-on-one date with Becca while other guys got to spend more time with her, and it was definitely something that Becca picked up on during their time together.
"I was really confused if I wasn't able to get a one-on-one," Blake admitted while talking to Becca. "It affected me like I didn't think it would. It's a good sign that I was freaking out. It was hard, but it just shows how much I really do care about you."
Becca, fortunately, could totally relate to how he was feeling, being that she was on The Bachelor and all. She admitted that she actually could sympathize with Arie in a way, because she could understand how he could have feelings for more than one person, since it was something she was experiencing herself — and at the same time, she could also understand where Blake was coming from, because she'd been in his shoes before.
But when it came time for Blake's interview, he admitted that he was still struggling knowing that he wasn't the only guy that Becca had feelings for. He said:
"She clearly cares about more guys than me, and that hurts. I started to question and doubts started to get in my mind. But tonight I want so badly to explain why I am the way I am because I want to make sure mine is the strongest connection with her."
And when he and Becca had the chance to chat over dinner, he did get to open up to her more, admitting that because of the way he grew up and dealing with his parents' divorce, he's had a hard time talking about things that are important to him. According to Blake, his mom had an affair with his English teacher and basketball coach, and it really ended up taking a toll on him... as it would have on any teenager.
"If I've learned anything it's that I want openness in my family," he told her. "I don't want to raise my kids that way. I want to put family first over everything."
And unsurprisingly enough, Becca agreed with that, saying that she wants the same for her future family, and that really seemed to cement that connection between them that Blake was so worried about earlier that day. He even admitted that he's in love with her, which is a huge step, but he didn't seem afraid to take it. It's not just fans who are rooting for Blake — it really seems like Becca's into him, too, even if she does have feelings for a few different guys at this point.