Baby Spice's Response To The Photo Of A Young Blake Lively Dressed Up As Her Is EVERYTHING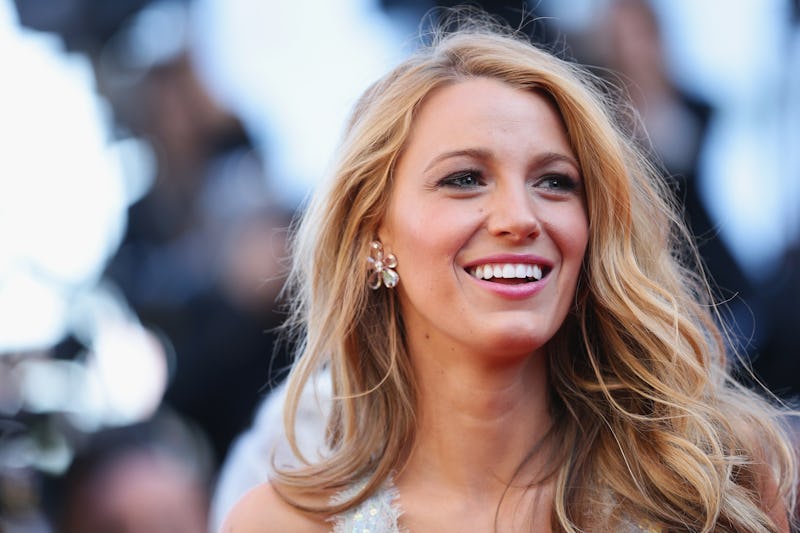 Vittorio Zunino Celotto/Getty Images Entertainment/Getty Images
The Spice Girls were *it* in the '90s. If you grew up during that decade, there's a chance that you — or at least someone you knew — dressed up as a Spice Girl at one point or another. And it turns out, stars did too. Blake Lively dressed up as Baby Spice (aka Emma Bunton) for one of the group's concerts back in 1997, according to a throwback photo Lively posted via Instagram on August 5, and Bunton's response to her tribute will have you screaming.
First of all, let's talk about the photo. Only a young teenager in the photo, Lively managed to nail the costume — like, down to every detail. The actor had her golden locks done up in Baby Spice's signature pigtails, and appeared to be wearing a replica of the singer's signature "Baby" nameplate necklace. She also wore a baby blue, sparkly, marabou-trimmed dress, which was pretty damn close to a similar number Bunton once wore while performing.
Finally, the pièce de résistance of Lively's costume: her white, sky-high platform sneakers. How she (and Bunton) managed to wear those things and never break an ankle, the world may never know — but she knocked the whole look out, head to toe.
The photo first surfaced on August 4, thanks to Twitter user @briamadrid. Apparently, Madrid got a photo with the yet-to-be-famous Lively at the show in '97, and just now realized who that Baby Spice look-a-like grew up to be. She tagged @blakelively in her tweet, and the following day, the actor re-posted the photo to Instagram with the caption, "Pretending to be someone else... since 1997 (Thanks @briaaamadrid for the photo of us at the Spice Girls concert. Sorry -not sorry- I tricked you into thinking I was @emmaleebunton)."
Bunton took notice of the photo Lively posted, and made a comment that would make any Spice Girls fan — big-name actor or not —  totally flip. "So cute, you're rocking those pigtails @blakelively," Baby Spice wrote.
Lively was clearly star-struck by Bunton's response and replied, "@emmaleebunton I'm officially [four skull and bones emoji, aka "dead"]. Forever bowing down to you. I cannot believe you know who I am. This will never be normal."
This chance photo discovery likely had everyone involved totally losing it. First Madrid, who, after realizing she met Lively way back in the day, shared the photo and saw Lively re-post it. Then Lively, who, after posting the photo on Instagram and tagging Bunton, got an amazing response from Bunton herself. Lastly, Bunton probably thought it was at least a little cool that she's long-had a Hollywood A-lister as a fan. The whole thing is pretty great.
While Lively is probably busy recovering from being noticed by an icon, though, perhaps everyone should start digging through their own old photos. Maybe you had a moment with a pre-fame star and never knew it! And maybe, just maybe, if you do find such a photo and share it on social media, you might end up getting a "four skull and bones" moment of your own.