If You Wannabe First In Line For The New Spice Girls Tour, Here's What We Know So Far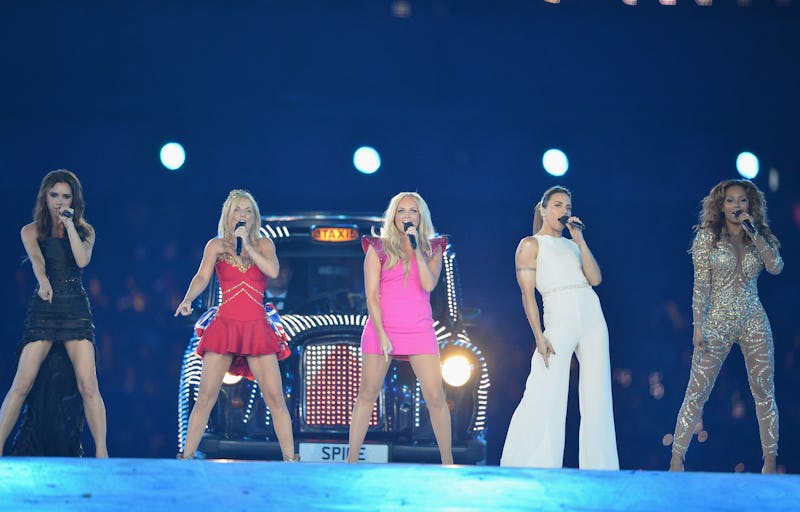 Jeff J Mitchell/Getty Images Sport/Getty Images
Spice Girls fans, this is an official alert. The reunion tour is coming. So what kind of tour are we looking at? When will Spice Girls tickets go on sale? Before all of that, it's first important to make sure you're in the right frame of mind.
Update: As of Monday 5 November, the Spice Girls announced that they would be returning on a UK arena tour in the summer of 2019. Tickets go on sale on Saturday 10 November at 10:30 a.m. via the Ticketmaster website. The tour will visit Manchester, Coventry, Sunderland, Edinburgh, and Bristol, before finishing up at London's Wembley Stadium.
Earlier: It's time to venture deep into the garage. Push aside the pile of Furbies that are somehow still talking, twenty years after they were last seen by human eyes. Wade through the Tamagotchis, all of them long dead from neglect. Don't get distracted by your primary school diaries, bound in pink faux fur and secured with a flimsy heart-shaped lock — there is no time to revisit the day Shannon was spotted holding hands with Aaron in the playground and your heart broke for the first time. Somewhere, underneath all the detritus of the '90s childhood that once was, there is a pair of gleaming white platform trainers. Slip them on. Lace them up. Tell yourself, quietly, that it's finally happening. The Spice Girls are reportedly coming back.
As of yet, no official details have been announced yet, so this is a task for the truly dedicated. The ones who've never stopped believing in girl power. The ones who seize every fancy dress party as an opportunity to tie a Union Jack over their underwear and call it a day. The Spice Girls are a national institution, and the whole world will be jostling for a ticket. But you love them more. So arm yourself with every available detail; then, when that pre-sale link drops, you'll be first in line. You'll be close enough to hear Sporty Spice's trackies rustle. You've been waiting for this moment for your whole life.
Here's what we know about the tour so far. Speculation started up (again) in February, when Victoria Beckham posted a picture of the fivesome reunited — but she subsequently quashed any rumours of a tour in Vogue, saying, "I'm not going on tour. The girls aren't going on tour." The Sun reported that the ladies had other projects in the works, including TV shows and a compilation album.
And then, the unexpected blessing. Mel B confirmed the tour on The Today Show on June 27, telling Hoda Kotb, "We are going to be performing. Finally they've got it together." She wasn't interested in entertaining Posh Spice's denials, either, saying, "She's always bloody saying that. Stop it! We are touring!"
Naturally, the internet erupted:
So, the details. Venues? Let's assume the biggest: Beyoncé and Jay-Z's "On The Run II" international tour covers the London Olympic Stadium, the City of Manchester Stadium, the Stade de France, Paris, and the MetLife Stadium in New Jersey. Or if we're looking at comparable reunion tours, Take That's 2006 "The Ultimate Tour" spanned arenas across the UK, including Newcastle's Metro Radio Arena and London's Wembley Arena. Or maybe they'll pull a Backstreet Boys and take up a Vegas residency.
Speaking of the Backstreet Boys, could they be involved? In February, as the Sun reports, AJ McLean reposted the Spice Girls' reunion snap to his Instagram, captioning it, "I'm just saying??? Who wants to see this dream, and long mentioned rumor become a reality. Would you come?" He even tagged it "#makeithappen #supertour #bsbanspicegirls". He hashtagged #supertour, world! Honestly, who am I to question a single thing that the Backstreet Boys' AJ McLean posts on Instagram?
As for a setlist, the Sun notes that the Spice Girls last toured in 2007/8, on their "Return of the Spice Girls" tour, and would most likely stick to the same tracks since they haven't released any new music. Listen: don't dwell on the fact that was ten entire years ago. Dwell on the fact that the Spice Girls are returning!
Though there's no news yet about tickets (or dates, or venues, or whether the ladies will be cruising the globe in the Spice Bus) Mel B has given us the greatest gift imaginable: hope. It seems likely that any tour would sell tickets through Ticketmaster, so do yourself a favour and sign up for ticket alerts via their website. The Spice Girls will stand on stage before us once again. The '90s will never die. Viva forever!