Blake Lively Continues Being Ryan Reynolds' Most Dedicated Instagram Troll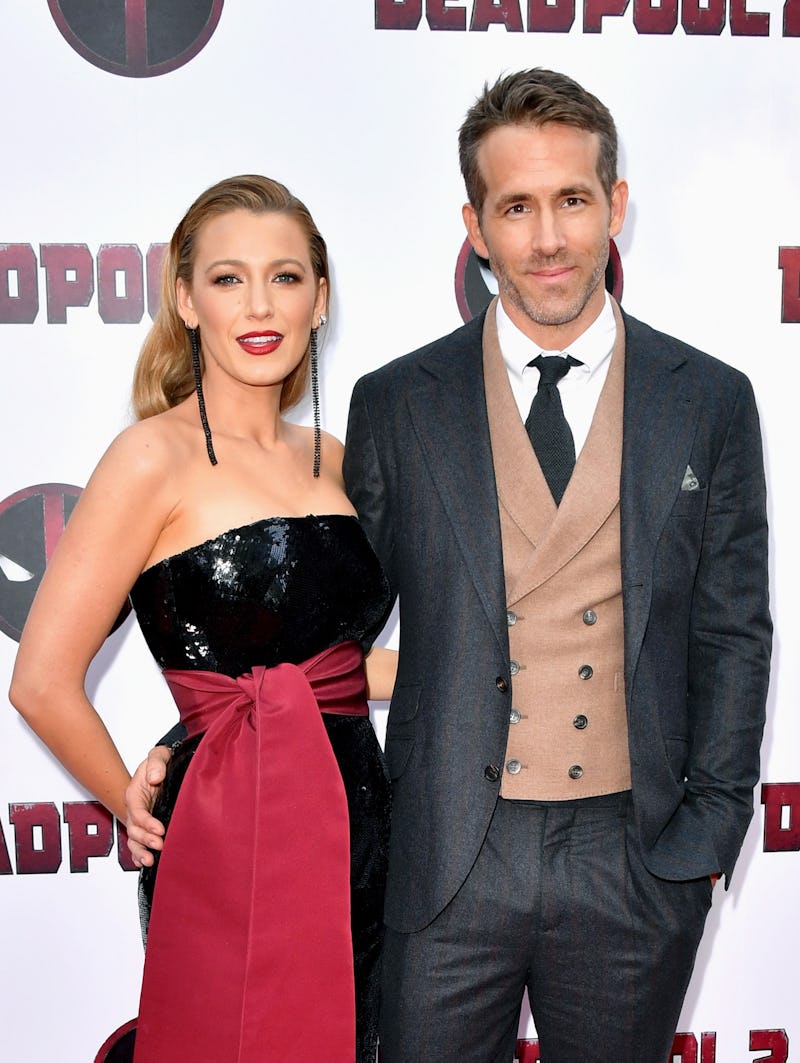 Michael Loccisano/Getty Images Entertainment/Getty Images
The couple that trolls each other on social media stays together, right? Well, that may not be the case for all couples, but it is definitely an accurate sentiment about Blake Lively and Ryan Reynolds' relationship. Lively trolled Reynolds on Instagram when he posted an advertisement for his liquor company, Aviation Gin, according to People. The Deadpool actor shared an ad for Aviation Gin, featuring a giant photo of himself plastered across a big truck. He wrote in the promotional caption, "Turns out the driver really doesn't carry cash. But he DOES carry pepper spray... and a sh*tload of @aviationgin #Aviationowner"
That ad may be enough to convince almost anyone with eyes to purchase the product, but it really spoke to the Gossip Girl alum, specifically. As pointed out by the Instagram account Comments By Celebs, Lively commented on Reynolds' Instagram post, "Who needs a mini van?! I'm driving this from now on. Subtle, gorgeous, and OHMYGAWDYOUREUHGE."
Of course, she could easily score some free bottles of Aviation Gin if she wanted to, but even if that wasn't the case, it's clear that she is a huge fan of the advertisement... and her own husband, obviously. Nevertheless, Lively has been messing with Reynolds for years, especially on social media.
On June 20, the A Simple Favor actor posted a promotional photo of herself with her co-star Anna Kendrick. Lively killed two birds with one stone in regard to this social media post: She brought attention to her movie and she got to throw some lighthearted shade at her own husband. In the caption, Lively joked, "@annakendrick47 is the hotter, female(r) version of my husband... so, would it reaaaally count as cheating??"
The only way something just might count as a "cheating" is if Lively starts shading someone else on social media.
Yes, she does like taking some faux jabs at her husband here and there, but it's just all in good since she's also a super supportive wife on social. Lively somehow manages to be both humorous and proud of him. On May 16, she shared a close-up shot of her purse, manicure, and jewelry from a Deadool 2 premiere. Lively wrote,
"THE cassette tape as a clutch, a portrait of Deadpool on my nail, an X-Force nail, a full DP heart on, and a ring like Collossus' fist. Can you tell I'm proud of my Deadpool? I mean my husband. I mean Deadpool. Honestly I can't tell the f@*#%ng difference... #deadpool2."
A couple of days later, she shared photos of herself and her husband at a Deadpool premiere red carpet. She joked, "Round 2 with this guy? Yes. Yes please. #deadpool2 I've seen it 3 times THIS WEEK ...the movie, that is."
Aside from supporting her husband's film work, the mother of two has also been sharing some funny social media love for the Aviation Gin brand. On Aug. 14, Lively posted a photo from an Aviation Gin event and captioned it, "Best friend. Owner of @aviationgin. Sexy AF. Here's lookin' at you, kid. ♥️ @vancityreynolds."
On June 19, Lively managed to incorporate both her movie A Simple Favor and Reynolds' company Aviation Gin in one Instagram post. She, "Dear Nation, Happy Martini Day. Otherwise known as every f*#%ing day of the week to Emily. @asimplefavor @aviationgin." Lively also rocked an Aviation Gin hat in a post she shared on May 27 with a little bit of sass thrown into her caption.
If Lively and Reynolds' marriage has taught their fans anything, it's that couples need to strike that perfect balance of lighthearted jabs and full-on, unwavering support.