Blake Lively Wore A White Blazer & GIANT Pants To The VMAs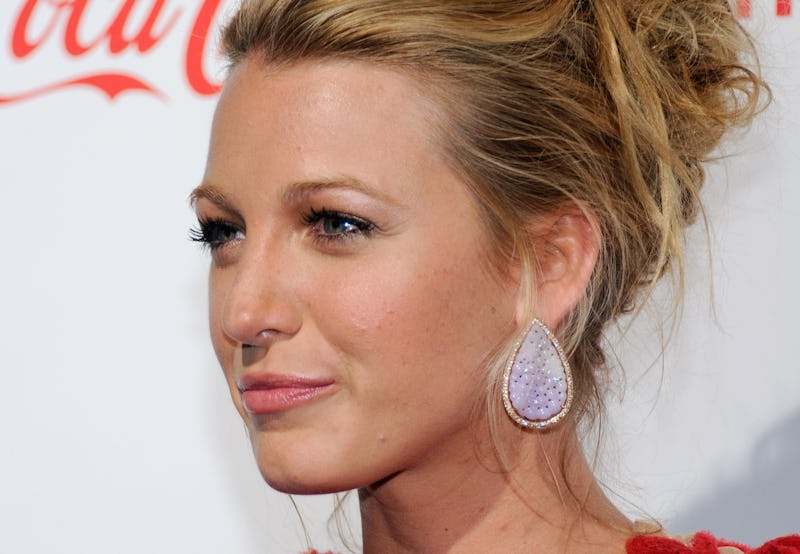 Ethan Miller/Getty Images Entertainment/Getty Images
Blake Lively has one of the most unique and talked about senses of style in Hollywood. For the 2018 VMAs, Lively wore a white blazer and guachos, and this should surprise no one, given her style history — especially lately. Whether she's layering velvet suits in the middle of summer or wearing the most amazing gown to the Met Gala, Lively knows exactly what she wants to wear and how she wants to style it.
Lively is currently on a press tour for her upcoming dark comedy A Simple Favor (also starring Anna Kendrick and Henry Golding). The 2018 VMAs are Lively's next stop on the press tour, but even though Lively isn't nominated (she's an actor and not a musician, after all), she still brought her fashion A-game. The actor has been wearing suits left and right on her press tour for the film, so this choice isn't entirely surprising. The wide leg pants and sparkly lapel are definitely new style choices, though. And while the look might not be everyone's cup of tea, it's definitely true to Lively's personal sense of style.
Wearing a white head to toe, Lively looked absolutely gorgeous as she walked the red carpet and prepped to present an award. Lively is known for taking risks when it comes to style, and this VMAs appearance is no difference. When you look back on Lively's most recent outfits and red carpet appearances, you can tell that Lively doesn't have just one sense of style — instead it's an eclectic mix.
The fitted blazer with statement buttons and those giant, flowy pants are a totally new silhouette for the star, but she looks totally comfortable walking the red (pink?) carpet in the ensemble.
If you take a look at Lively's 2018 Met Gala gown, which was on many a best dressed list after the big event, you can see just how different her style can be at times.
Compare this gown to her Deadpool 3 premiere look, and you'll see just how varied her style can be.
If you go even further back, you will see evidence of the aforementioned affinity for suits Lively has been showing lately. Lively has indeed been wearing almost only suits while doing press for A Simple Favor. See the navy suit dress below, for example.
But even though Lively has been really into suits lately, she also loves layers in general — and not necessarily blazers. Take this patent leather bright red coat paired over a shirt and tie, for example.
When you look at all the looks back-to-back, they all complement each other while still being completed different. This, in a sense, is Lively's entire sense of style. If you look at each outfit individually, they might not seem coherent, but her style as a whole is definitively hers. It might not be for everyone, but Lively always looks confident and gorgeous in her style choices, and that's all that really matters after all.