Blink-182 Canceled Their Tour With A Heartfelt Statement About Travis Barker's Health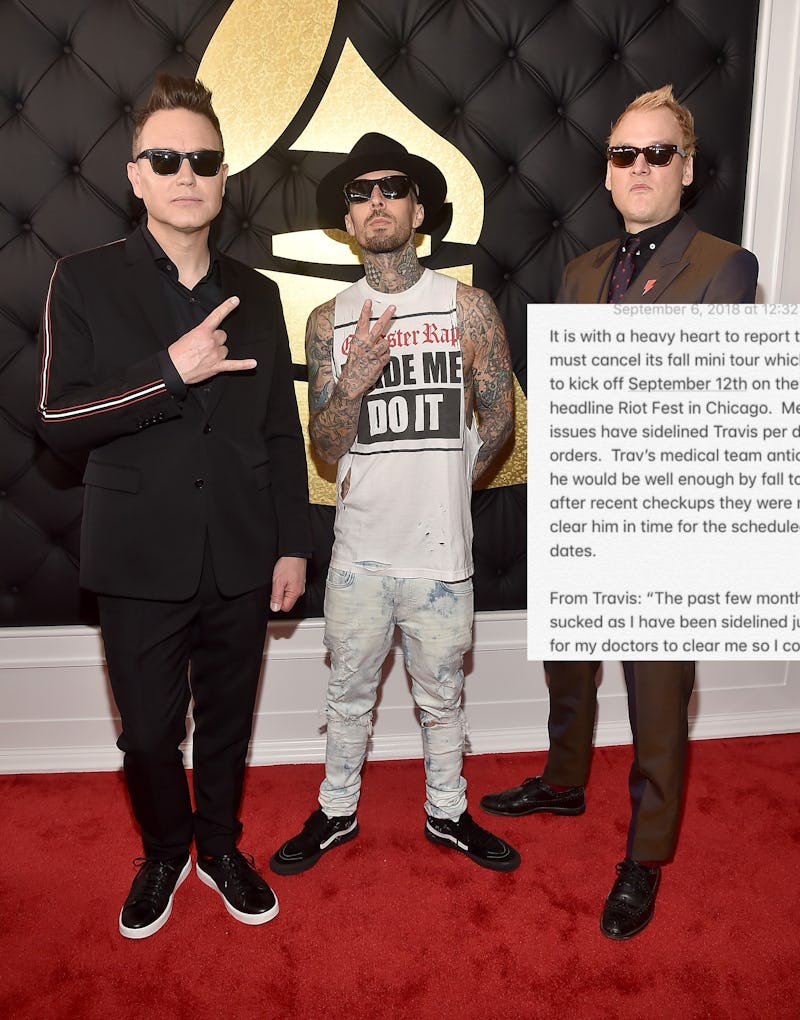 Alberto E. Rodriguez/Getty Images Entertainment/Getty Images; Blink-182/Twitter
Say it ain't so. On Thursday night, it was announced that Blink-182 canceled another leg of their tour. In a statement on Twitter, the band announced that drummer Travis Barker would not be able to get back on the road for the band's mini fall tour because of his health issues that arose earlier this year, as the "risks associated with drumming are too great." In another words, thrashing too hard would have been detrimental to Barker's health.
The mini tour was scheduled to kick off on Sept. 12. Additionally, there was a performance scheduled on Sept. 8, and they were going to headline Riot Fest in Chicago from Sept. 14 to 16. "Medical issues have sidelined Travis per doctors' orders," the band wrote. "Trav's medical team anticipated that he would be well enough by fall to tour but after recent checkups, they were not able to clear him in time for the scheduled run of dates."
Barker addressed fans directly in part of the statement, writing:
"The past few months have just sucked as I have been sidelined just waiting for my doctors to clear me so I could get back on the road and perform with my band. Unfortunately, the risks associated with drumming are still too great. I am doing everything I need to do so I can get back on the road as soon as possible. I want to thank my fans, family, friends, and bandmates for all the love and support."
In June, Blink-182 was forced to cancel their Las Vegas residency at the Palms Casino because Barker was suffering from blood clots in both of his arms. "He has been ordered by his doctors to refrain from any activity that may cause further damage or cause the clots to travel," the band wrote in a statement on their Twitter at the time, thanking fans for their continued love and support. His bad luck kept coming though, and sadly, Barker was involved in a serious car accident with a school bus that ran a red light and hit his SUV on July 13, though he walked away unscathed, according to TMZ.
According to E! News, Barker's 14-year old son Landon Asher and his son's friend were also in the Mercedes that he was driving that reportedly crashed into the school bus in Calabasas. Barker appeared at BeautyCon 2018 in Los Angeles just the next day, though, with his 12-year-old daughter and gave E! News a health update. "Yesterday, I was in a really bad car accident but I came out unscathed, which is pretty awesome," he said. "My car is totaled but I pretty much walked away OK, which is awesome."
Fans have been offering lots of words of support on the band's Twitter post and on their Facebook post for Barker, as well. The 42-year old drummer has had his fair share of scares: 10 years ago, he was involved in a deadly plane crash that left burns on over 65 percent of his body. Barker had to spend four months in a burn unit and get 27 surgeries, according to ABC News.
This man really does deserve a break. Well wishes to Travis Barker and Blink-182 for a speedy recovery.