'Bloodline' Cast Hints At Their Characters' Endings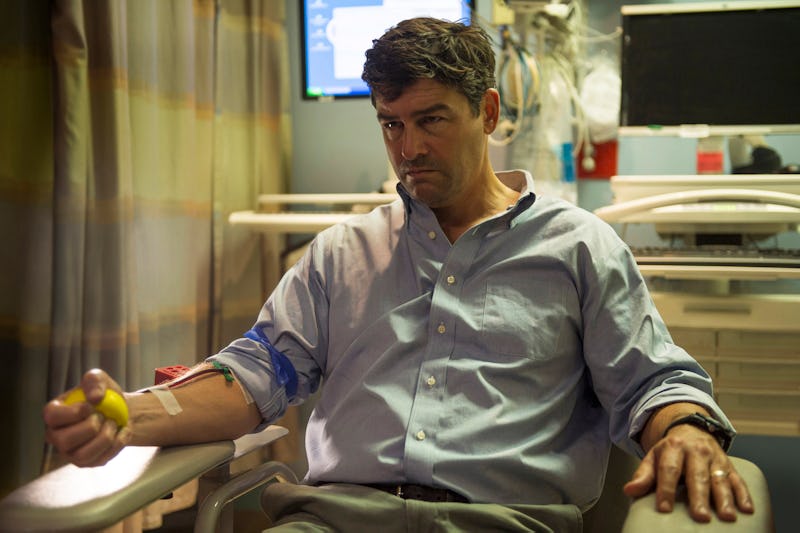 Netflix/Jeff Daly
The Rayburn's aren't necessarily bad people. They're just a family who's done a lot of really bad things. After two dark, twisty seasons of the Netflix thriller, Bloodline's final season hits the streaming service on May 25, and fans will finally learn if the royalty of the Florida Keys will come crumbling down — or if they'll get away with it all. Just a few nights before the Season 3 premiere, I catch the cast in LA as they shed a little light on the climactic moment fans are anxiously awaiting. Will the Rayburns get a happy ending or will they have to pay for it all?
It all started when the tight-knit family's skeletons started emerging from the closet after estranged brother Danny (Ben Mendelsohn) returned to ruffle feathers. His younger brother and the local sheriff's deputy John (Kyle Chandler) drowned and killed Danny after he brought drugs into the family business, threatening to destroy them. Ever since, John, and his siblings Meg (Linda Cardellini) and Kevin (Norbert Leo Butz), have held this burden, told lies, and even killed to cover it up and protect their name. The cast weighs in on what's ahead and why happy endings for this clan are pretty unlikely.
"I don't like happy endings," Chandler tells me. Jacinda Barrett, who plays his on-screen wife Diana, agrees. "They should get what they deserve," she says. Keep in mind, these guys obviously know what will come to fruition in the show. "I don't think this show suites a happy, glossy ending. I think it's way more gritty than that and the characters get their comeuppance."
Comeuppance, eh? That seems like a threat. John Leguizamo, who plays Ozzy, a man from Danny's past who's seeking justice, promises things won't turn out well for him. "I don't have a happy ending. I didn't have a happy ending at the end of episode 2. I'm not gonna have a happy ending at the end of this season either," he tells me. "I know for a fact."
But will John pay the ultimate price of death? It's a possibility. "I think anybody who killed anybody has to pay the price," Leguizamo says. "Morality's gotta kick in... There's always some kind of moral message. Especially American storytelling." But is that too predictable? Maybe John and his family will get away with it all. "Yeah, you might be surprised," hints Leguizamo.
Sissy Spacek, who plays Rayburn matriarch Sally, confirms that "all hell breaks loose" when she learns the truth about Danny's death. And while she admits the ending is "gonna be dark," she also teases that'll take fans by surprise. "There's a twist that kind of shook me up and I said, 'Are you sure?' And they said yeah," she tells me. It's about to go down. "It's better to go out with a bang," Spacek says. Why do I have a feeling she means a literal bang?
For others, a happy ending could possibly be in the cards. Cardellini, who plays Meg Rayburn, explains why her character will suffer regardless. "I think for her, the idea of justice being served is terrifying because she's part of something that she never thought she'd actually set in motion herself," she says. "I think they'll always be haunted by what happened."
Owen Teague, who plays Danny's secret son Nolan, is convinced his character will serve Danny justice and accomplish his mission. "I'm definitely trying to find my own personal redemption and also lead the Rayburns to some kind of right for what they've done," he says. "He could have a happy ending, I think."
But do the Rayburns deserve a happy ending?
The cast is mixed. "That flew out the window Season 2," says Brandon Larracuente, who plays John's son Ben. Leguizamo agrees and says their tight-knit crew doesn't justify their behavior. "The thing that keeps you loving this family or at least forgiving them is that they love each other and they'd do anything for each other," he says. "But is it enough in our quasi-moral society? I don't think so."
Other cast members are pulling for the Rayburns to get away with it all. "I love us. I think we somehow just made a wrong turn," says Spacek. Her on-screen daughter, Cargeillini, agrees, calling the family complex and human. "They have some redeemable qualities. I do think there was some loyalty along the way, some love. But it's been tested," she says. Barrett explains why their behavior, although dark and immoral, could be understood in the end. "You see how they got to be the way they are... the loss an the violence. They would do better if they knew better," she says.
Until Season 3 drops on Friday, fans will have to wait and see. In the meantime, Chandler wants his idea for John's death to be known: "I was hoping there's a hot air balloon like a parade going on and John was accidentally walking by and someone locked one of the ropes onto his feet and up he went, he then broke loose and fell and splattered," he says. "It's very similar to that. It's gonna be good." It's not even that far-fetched, is it?