This 'Bob's Burger'-Themed Meal Kit Will Ship 3 Iconic Recipes Straight To Your Door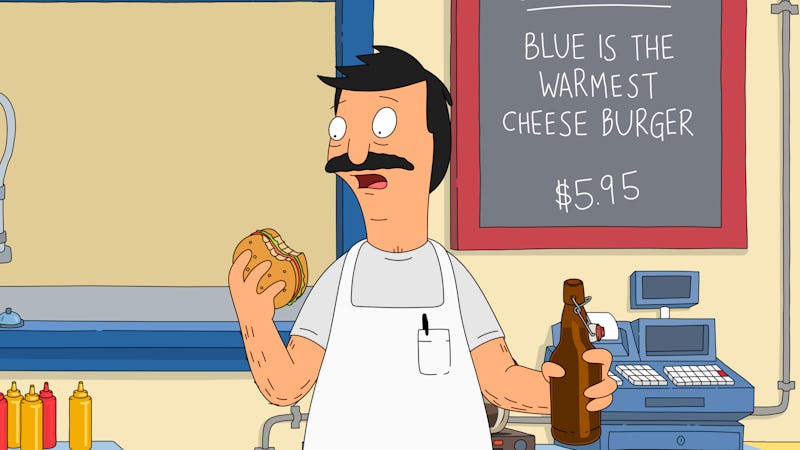 20th Television
Like burgers? Like Bob's Burgers? Like food delivered conveniently to your home so you can cook your own meals while putting in minimal effort? Are you saying, "Yes, yes, yes! Get to it already"? OK, fine. Bob's Burgers and Blue Apron meal kits are being released, so Bob's Burgers fans and just plain burger fans alike can cook up some punny creations in their own homes. Get your apron and sassy life advice ready, it's time to get cooking.
What will you be making exactly? Blue Apron is releasing three Bob's Burger burgers — one each in July, August, and September — and all inspired by burgers featured on the show. They've already shared the names and toppings for the first two burgers.
First up, we have The Quantum of Salsa Burger. This one features a beef patty on a potato bun topped with onion rings, corn and pepper salsa, Monterey Jack cheese, and chipotle mayo. And since this is Blue Apron, you can bet you'll be making that salsa yourself, not just assembling already prepared toppings onto the bun. The Quantum of Salsa Burger will be shipped out the week of July 23, and anyone who wants it has to order by July 17.
Then, August's burger is The Gouda Wife Burger, which, again, is a beef patty on a potato bun, but this time it's topped with sweet potato wedges, cucumber radish salsa, smoked gouda cheese, and creamy mustard sauce. This burger will be sent out the week of August 20 and must be ordered by August 14.
The final burger, the September burger, has not yet been revealed on the Blue Apron site, but Food & Wine reports that it is inspired by a burger that will be featured on the Bob's Burgers Season 9 premiere (the other two burgers were on the show this past season). According to Food & Wine, the third burger will be The Absentee Shallot Burger and will reportedly include caramelized shallots and Fontina cheese fries.
If these burgers all sound good to you — and all taste good to you, if you actually end up making them — you can thank chef Alvin Cailan, who created the recipes for Blue Apron. Cailan is the chef behind Eggslut, the now-famous egg sandwich shop that serves up glorious-looking food. Basically, the guy knows how to deliciously assemble things on a bun.
So, do you want to actually get your hands on these burgers? Well, if you're a Blue Apron subscriber, then you're set to go ahead and order as the burgers become available. If you're not a member, Blue Apron is offering $60 off over your first three orders for first-time subscribers. Or, if you don't want to subscribe at all, since Blue Apron shared the toppings that are on each burger, you could do your own thing and come up with your own recipes based on these ones.
In addition to the burgers, the Blue Apron and Bob's Burgers crossover event includes two other aspects fans of the show might be interested in. Blue Apron is giving a box of Bob's Burgers swag to three winners who will be chosen from those who order Bob's Burger burger meal kits. Subscribers to the meal service can also purchase a Bob's Burgers apron through the site. Blue Apron worked with chef supplies brand Hedley & Bennett to create the apron. A portion of the proceeds from sales of the aprons will go to the Bob's Burgers National Cheeseburger Day fundraiser, which benefits Feeding America.
If you're a Bob's Burgers fan who has always wanted to eat a Bob's Burgers burger, well, the time is now. As Tina Belcher would say, it's time to get those buns out.