'Blue's Clues' Is Coming Back To Nickelodeon & '90s Kids Will Have SO MANY Feelings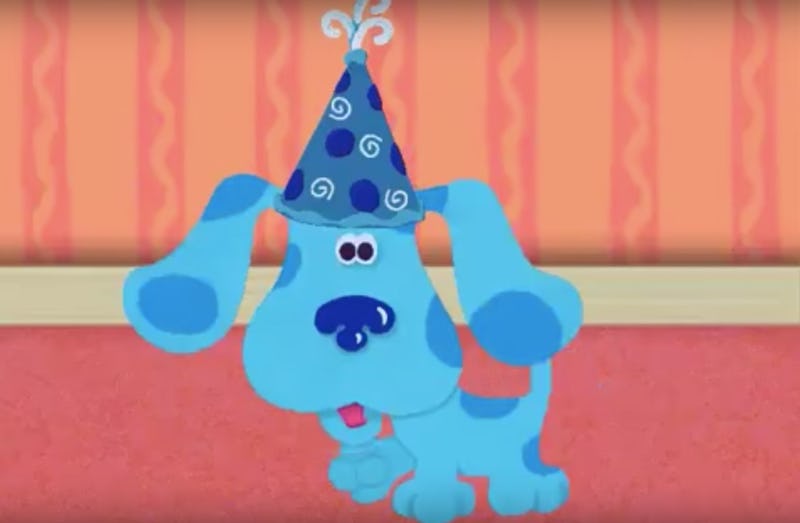 Nickelodeon
There's a dose of the good, old days in Tuesday's news, because Deadline reported on March 6 that Blue's Clues is coming back to Nickelodeon. But, with a "refreshed signature look," the iconic children's show may not exactly be how fans may remember it, because there will also be a new face in addition to Blue's new look. Still, Blue's Clues' signature messaging and programming seem to still be at the core of the reboot.
According to Deadline, the series will return for a 20-episode run after it went off the air in 2004. Until more information is presented at the network's annual Upfronts presentation in NYC, Nick is revealing its new addition: a host. An iconic element of the show, which began in 1996, was Blue's owner Steve (Steve Burns). Burns famously played Blue's caretaker until he mysteriously disappeared from the show in 2002, when actor Donovan Patton took over to play his brother Joe.
Before production begins this summer, Nick is on the hunt for a new face for the series. Deadline reports that the network is having an open casting call for a "high-profile" host in California, mid-April. Maybe the network will pick up-and-coming talent. Or maybe, just maybe, it'll choose a woman to really give the show a fresh, new spin.
Many '90s kids may remember the conspiracy around the show's iconic host Steve. For a while, theories had fans convinced that Steve had died, especially because he disappeared out of nowhere and went totally MIA. In 2017, the actor reemerged to tell his story. According to The Daily Mail, Burns admitted he didn't want to go bald on TV, which is why he left the show. "I was going bald and I kind of looked around and I'm like – the people who decided that I should wear these pants are not going to choose a wig with any dignity for me. It's just not going to happen," he told The Daily Mail.
The long-awaited answer may have seemed anticlimactic to fans, but Burns didn't mean to create drama. "Everyone wants there to be a dramatic answer and there's not," he continued to The Daily Mail. "It just seemed like time to go. It just seemed like the right time." He seems to still get a kick out of all the death hoaxes though. After all, his Instagram handle is @steveburnsalive.
As pointed out by Deadline, Blue's Clues was incredibly impactful, especially for giving children more educational TV options than just the consistently reigning Sesame Street. Its interactive approach is not only nostalgic for '90s kids, but entertaining for adult viewers. Each 30-minute episode would solve a case and have a specific message, and the host would directly speak with the audience when gathering clues and figuring out what they meant. And who can forget the insanely catchy songs?
The most memorable tunes are ones like "Mail Time," the Blue's Clues theme song, and the "So Long Song." Hopefully, the return of the show will keep some of these classics around. Cyma Zarghami, President of the Nickelodeon Group, hasn't confirmed if the beloved music will be the same. She does, however, promise that Blue's Clues will be a lot like the show fans remember and love.
"The new, modern version of Blue's Clues will capture all the original's creativity and visual identity for a whole new audience ready for its fun adventures and expertly designed problem-solving curriculum," Zarghami said, according to Deadline.
A new host and curriculum will provide for many fresh and new spins of Blue's Clues. But hopefully the reboot isn't too much of a departure from the original series, because fans really did love it and still do to this day.
Editor's Note: This story has been updated to include Nickelodeon's image of the new Blue.