A Senator Got Into A Fight With Trump On Twitter: "The White House Has Become An Adult Day Care Center"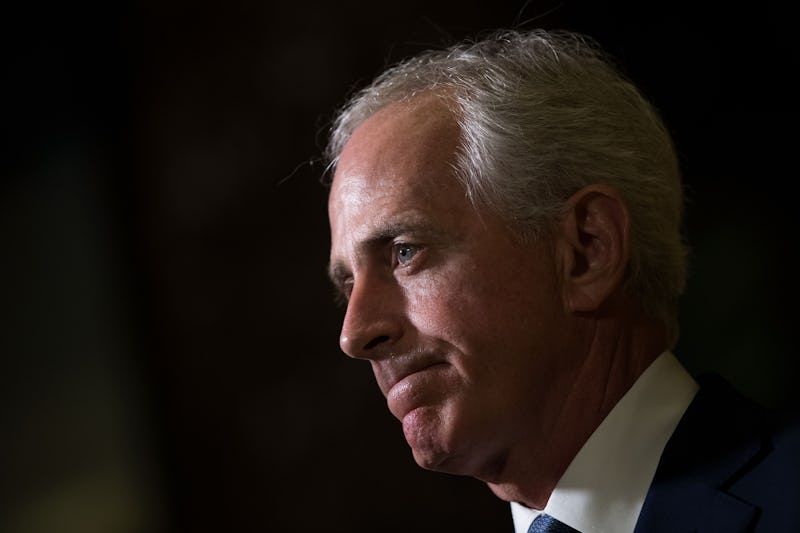 Drew Angerer/Getty Images News/Getty Images
On Sunday, the President once again used his personal Twitter account to lambast a member of his own party. This time, his target was outgoing Republican Senator Bob Corker, who Trump called a "negative voice" with no "guts" in an early-morning tweetstorm that has since escalated into an all-out war of words between the two men. Trump's tweets about Senator Corker, who announced last month that he will not seek re-election in 2018, come just days after Corker publicly criticized the President.
"Senator Bob Corker "begged" me to endorse him for re-election in Tennessee," Trump tweeted on Sunday, "I said "NO" and he dropped out (said he could not win without...my endorsement). He also wanted to be Secretary of State. I said NO THANKS!"
According to a September report by the Associated Press, Trump's comments are not accurate. In fact, Trump reportedly encouraged Corker to run for another term in the Senate. Still, that didn't stop Trump from continuing his public rebuke of the outgoing U.S. Senator.
Trump concluded his tweetstorm by stating that, had Corker decided to stay in the Senate, he "would fully expect Corker to be a negative voice and stand in the way of our great agenda."
Needless to say, Corker responded appropriately: by questioning Trump's fitness for office.
"It's a shame the White House has become an adult day care center," Corker tweeted. "Someone obviously missed their shift this morning."
Trump and Corker have previously had a positive working relationship in the past. In fact, Corker was a supporter of Trump's 2016 presidential campaign, and Trump even reportedly considered him a potential running mate. But their relationship has turned sour in recent months as Corker has publicly admonished many of Trump's more controversial decisions.
In August, after Trump failed to condemn white supremacy groups for the death of 32-year-old Heather Heyer at an alt-right rally in Charlottesville, VA, Corker questioned Trump's "stability" and "competence," and suggested that the president doesn't have the temperament to be successful in office.
Corker took his public rebuke a step further last week, telling a group of reporters that it is key members of the Trump Administration, and not Trump himself, who are actually running the country.
"I think Secretary Tillerson, Secretary Mattis, and Chief of Staff Kelly are those people that help separate our country from chaos," Corker said. "And I support them very much."
It seems to be these comments that may have pushed Trump towards lashing out at the outgoing U.S. Senator. Traditionally, Trump has very publicly condemned other officials who have disagreed with him or questioned his policies. Just last week, he tweeted that his own Secretary of State Rex Tillerson was "wasting his time" trying to negotiate with North Korea, and he has also tweeted various insults aimed at Attorney General Jeff Sessions since Sessions recused himself from investigations related to Russia's interference in the 2016 presidential campaign.
Given that Corker is still a sitting U.S. Senator — and that Trump is still a president who relies on the support of his party to pass his legislative agenda — Trump's latest tweetstorm could put the President's efforts to overhaul the tax code in jeopardy.
Trump's tax proposal can only afford to lose two Republican votes, assuming that all Democrats oppose the measure, which means that he pretty much depends on Corker's vote to be successful. Corker has expressed skepticism about Trump's tax plan in the past, citing concerns about adding to the national deficit, and while it's not yet known whether he will vote to support the measure, his decision to call Trump a child in a Twitter-feud doesn't exactly look promising for the President.